Some Clark County schools asking parents to save teaching jobs
Updated September 17, 2018 - 8:43 pm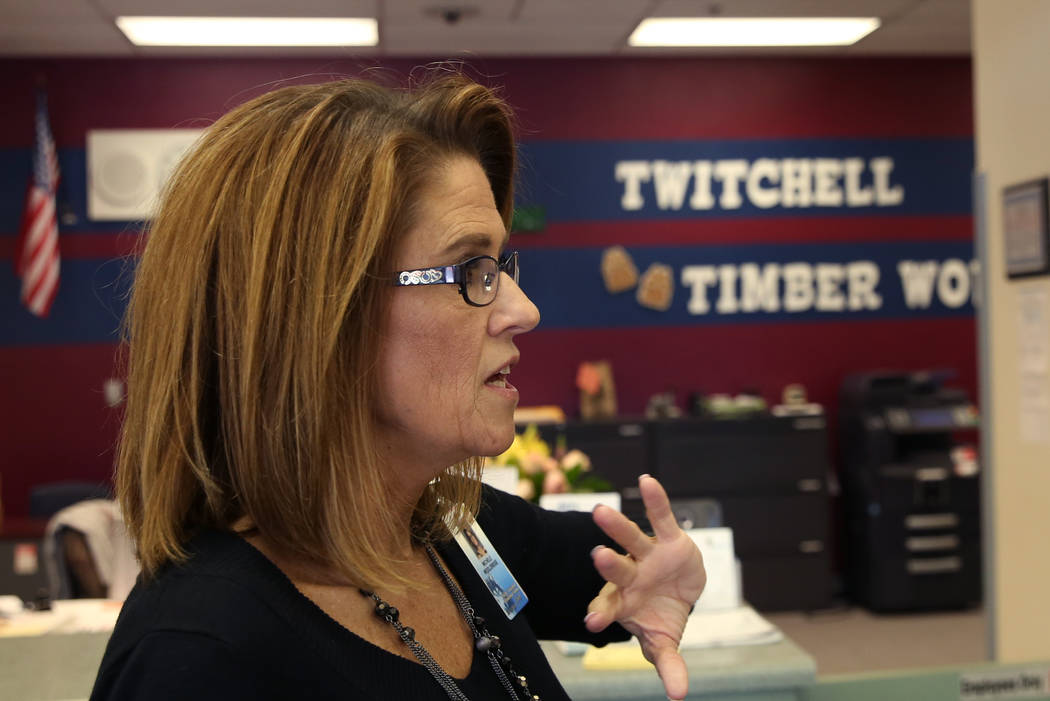 In her 12 years as a principal, Michele Wooldridge has never faced such a steep budget cut.
Enrollment at Twitchell Elementary School in Henderson came in 60 students lower than projected for this school year. That means a cut of $214,000, including the elimination of three teaching positions.
"We had a decision to make," Wooldridge said. "We either just let it happen and lose my teaching staff and have the kids be affected, increased class sizes, or we could do something about it."
So Wooldridge sent out an "SOS" to parents asking for donations to stave off the cuts and "save our staff."
And she isn't the only one seeking help.
At least five Clark County schools have asked parents or local businesses for donations to offset lower enrollment or the budget deficit the district faced earlier this year.
The initiatives also highlight a divide among schools, giving affluent schools with parents willing to donate a staffing edge over those in lower-income neighborhoods.
Richard Bryan Elementary in Summerlin, a Title I school with a high number of low-income families, appealed for $79,833 to "buy a teacher" during budget cuts in May, but that effort only raised a little over $1,000. The school ended up losing one fifth-grade teacher, said parent Jeana Taylor.
"When you have 40 percent who are on free and reduced lunch … I think even those asks are tremendous asks," said Taylor, who helped with the effort.
Back-to-back cuts
Like other schools, Twitchell Elementary was forced to cut its 2018-19 budget before classes began because of a districtwide deficit.
Now it faces the loss of three teachers at a cost of roughly $185,000. The school hopes to save at least one position by raising $62,000.
If Twitchell can't raise that much, the money will be used to hire temporary tutors to ease the burden of overcrowded classrooms, Wooldridge said.
Nearby Vanderburg Elementary is launching a similar initiative, hoping to avoid losing a first- and second-grade teacher and increasing class sizes from 21 to 24 students or more, Principal Catherine Maggiore wrote in a letter to parents Sept. 10.
Raising $53,000 would save one teaching job, while $94,000 would save two, according to a flyer sent to parents.
Bob Miller Middle School in Henderson also stands to lose at least two teachers, plus administrative and support staffers.
"Unfortunately, after years of catastrophic budget cuts, there is nothing left to cut within our budget, and we expect to increase class sizes and lose teachers beginning in October," Principal Nicole Donadio wrote in a Sept. 10 letter to parents.
Lamping Elementary in Henderson is in the same predicament, scrambling to raise $59,000 to save at least one of three teachers it could lose as a result of lower enrollment. The school has partnered with Chick-fil-A on Eastern Avenue and Ione Road for a fundraiser Wednesday.
Necessary sacrifice
Parents are supporting the fundraisers but calling for changes to Nevada's system of funding education.
"I think some of the things we have to take a look at, though, is how did we get here," said Byron Brooks, a Twitchell Elementary parent. "How did we get to a place where parents now essentially have to privately fund teachers for our kids' education?"
Brooks said the Legislature-mandated reorganization of the district, which requires that 80 percent of money be spent in schools, is adding to the pressure.
"It might be time for our legislative body to implement a financial manager to oversee spending and budget issues," Brooks said. "Because the Clark County School District, in my opinion, is in a financial distress."
Shanon Paine-Ayala, another Twitchell parent, called for more marijuana tax revenue to be sent to schools, not the state's rainy day fund.
"I just feel like over the last few years it's gotten worse and worse," she said. "I think that it's just a call to arms."
Jana Bainum, a single mother of a Vanderburg student who said she short-sold her condo to move so her son could attend the school, will try to give $100.
"I'm going to give it because I can, but I still don't feel like we should have to because where is the money going," she said, questioning the district's overall finances. "I think the whole school district needs to be audited."
But Vanderburg parent Vannesa Amico said she won't donate. Her daughter has had a substitute teacher all year, although she knows the issue is out of her principal's hands.
"If we help the school in this way, by making donations, it's not getting to the root of the problem," she said. "There's not enough funding."
Contact Amelia Pak-Harvey at apak-harvey@reviewjournal.com or 702-383-4630. Follow @AmeliaPakHarvey on Twitter.
Are charters responsible?
It's unclear if the opening of seven new charter campuses in Clark County played a role in the enrollment shortfalls. Those schools have a total approved enrollment of 3,855 students, according to State Public Charter School Authority data.
Other schools, such as Goynes Elementary in North Las Vegas, saw enrollment slide but will be able to avoid cutting staff by trimming other expenses.
Principal Stacie Nelson attributed the loss of 67 students largely to the opening of a new Somerset Academy charter campus around the corner.
"I think that's one of the biggest challenges I've had over the last couple years, because we've had several charters open," she said. "This is probably the largest one and the closest one to our school."