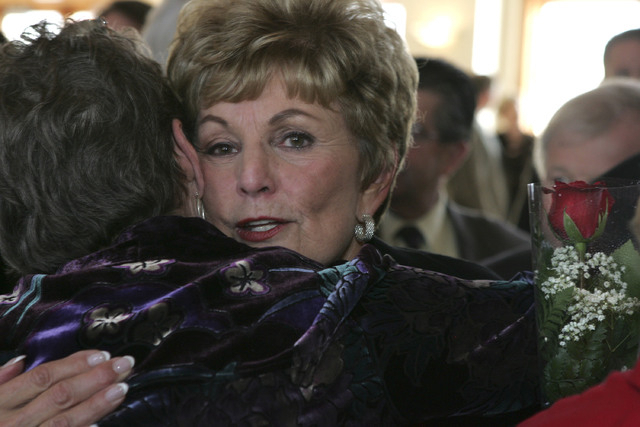 Women and minorities have been overlooked and underpromoted by the University of Nevada, Las Vegas, according to a letter written by eight faculty members who call for the return of former UNLV president Carol Harter as acting president because of her willingness to address these issues.
"We see her as someone with a strong vision and a strong voice of advocacy," said assistant professor Lynn Comella, who signed the letter along with Anita Revilla, Stacy Macias, Danielle Roth-Johnson, Kelly Mays, Barb Brents, Peg Rees and Ann McGinley.
"It became clear from conversations we've had with female faculty that there's a growing concern that UNLV is out of step with 21st Century universities," Comella said. "Some of us have joked that UNLV is the 'Mad Men' of universities."
The letter's authors emailed Chancellor Dan Klaich and the Board of Regents Dec. 4 expressing strong support for Harter to temporarily lead UNLV when President Neal Smatresk steps down and a national search for a president begins.
The letter noted Harter's "demonstrated commitment to forwarding the interests of women and other groups on campus whom we strongly believe have been largely overlooked in recent years, despite their increasing prominence in our student body and the larger community we serve."
Fifty-five percent of UNLV's students are women and 47 percent are minorities.
The letter stated that while the university has been designated a Minority-Serving Institution by the U.S. Department of Education, it has no ethnic studies department and the Afro-American Studies Program has been placed on hold. Though the majority of students are women, the women's studies department lost departmental status in 2011 and two of four faculty positions were eliminated.
"As or more importantly," the letter states, "the university has arguably lost rather than gained ground when it comes to hiring, retaining, and promoting faculty and administrators from traditionally under-represented groups and to achieving parity in pay when it comes to staff and faculty."
Based on 2012 statistics, 50.5 percent of university employees are men, and 49.5 percent are women.
Reached for comment Thursday evening, Regent Michael Wixom said "they're absolutely legitimate issues," and that he is grateful for group's input.
He said UNLV has one of the most diverse student bodies in the nation, but he said if needs are not being met he wants to know.
Regent James Dean Leavitt said the regents are committed to diversity and care about women's studies, which "emcompasses one half of the population and effects the other."
"When you look at leadership of our institutions, the board has a good track record of hiring the best person for the job," Leavitt said. "I think the board is colorblind."
Leavitt pointed to Harter's 10-year presidency at UNLV, as well as former Western Nevada College President Carol Lucey and Truckee Meadows Community College President Maria Sheehan.
Regent Cedric Crear said he has also received recommendations for Don Snyder, executive dean for Strategic Development, and John White, executive vice president and provost of UNLV.
"Nothing is finalized by any means," Crear said. "People have definitely suggested that we look to her, but I think it's still open."
An acting president will likely be named in a special meeting Jan. 24.
Contact reporter Kristy Totten at ktotten@reviewjournal.com or 702-477-3809. Follow @kristy_tea on Twitter.