Spring Valley English teacher named Nevada Teacher of the Year
December 19, 2014 - 4:26 pm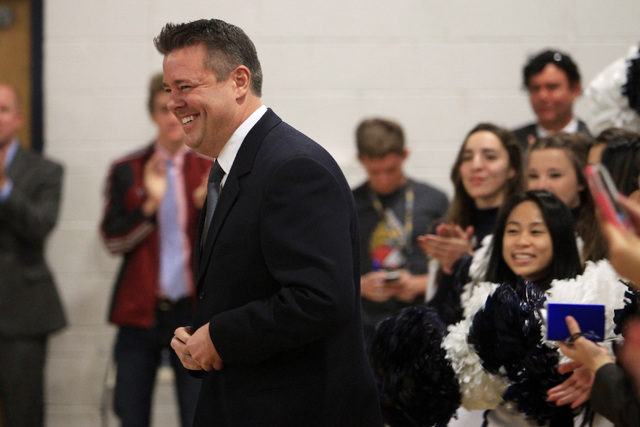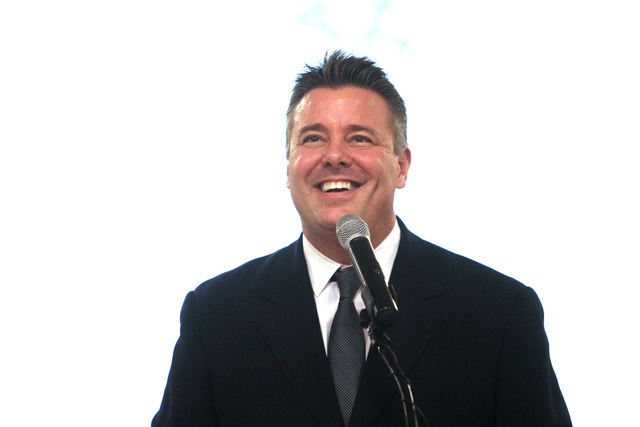 It was just another Friday at Spring Valley High School for English teacher Ian Salzman, until he walked into the gym.
Hundreds of his cheering students crowded the bleachers. Beneath them stood the governor, the state superintendent of public schools, the Clark County School District superintendent and other government officials surprising him with the award for Nevada's 2015 Teacher of the year.
"Wow, I am without words which, for an English teacher, sounds strange," said 46-year-old Salzman, who became a teacher nine years ago after leaving the Fortune 500 world, where he was in sales and marketing.
He had worked for companies like Intel for 13 years, but came to a realization.
"It wasn't fulfilling work," Salzman said.
He looked to the family trade: teaching. His mother is a teacher and so were relatives before her.
With his bachelor's degree in English, he entered Nevada's alternative route to licensure program, allowing him to expedite the process of becoming a licensed teacher and land a job at the Las Vegas school near Flamingo Road and Buffalo Drive.
Ever since then, he's taught English to juniors and seniors, but so much more. He chose another responsibility: Focus on students who are skating along with average grades and come from poverty, then get them to be the first in their families to graduate high school. But he doesn't stop with that. He gets them to college.
To get there, he takes these students into a four-year course. The program is called AVID – Advancement Via Individual Determination – and Salzman even takes these students on annual college tours, as well as to Washington, D.C. trip for the seniors.
He has 310 AVID students.
"That program is really close to my heart," said Salzman.
And students love him for it, said Dale Erquiaga, state superintendent of public schools, who picks the state's annual Michael Landsberry Teacher of the Year Award. The honor was renamed last year for the Sparks Middle School math teacher killed in October 2013 trying to talk a 12-year-old shooter into putting his gun down at the northern Nevada school.
Since renaming the award Erquiaga said he looks for a teacher that students see as a hero.
"He just jumped off the page," Erquiaga said of Salzman. "He so personally connects with students."
"He's truly changing students' lives," added Mark Newburn, a member of the Nevada State Board of Education.
A perfect example would be the time Principal Tam Larnerd asked Salzman to tutor 13 students who wouldn't graduate if they again failed the state's exit exam in English, which they had already failed multiple times.
All but one student passed.
"He teaches every child," Larnerd said.
But the teacher didn't take credit Friday for his successes, or even the award. Salzman started as a teacher who "didn't know a whole lot about teaching," he acknowledged. Other Spring Valley teachers showed him the way.
"I'm standing in front of you today because of what they did for me," he said and then looked to all the other teachers in the gym. "You have transformed me."
Contact Trevon Milliard at tmilliard@reviewjournal.com or 702-383-0279. Find him on Twitter: @TrevonMilliard.