Stewart school's intimate graduation celebrates students' strengths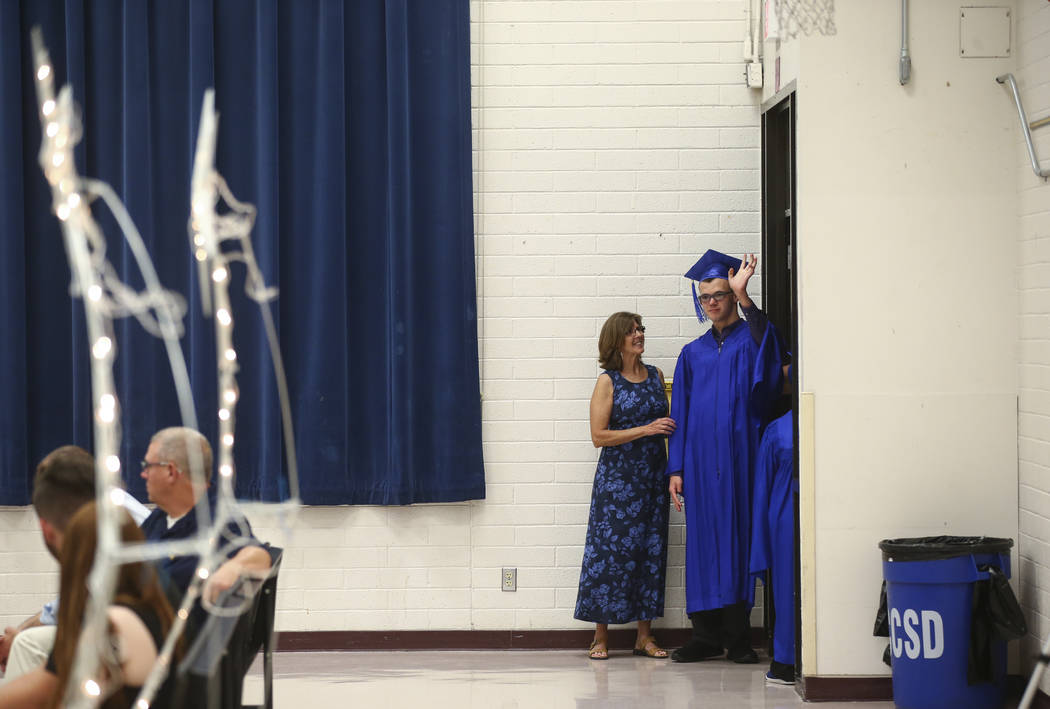 Richard Fuller gave everyone a fair warning Wednesday night at Helen J. Stewart School.
"Families, it's time for you to break out the cameras, or the tissues, perhaps," the assistant principal said.
As three special needs graduates crossed the stage for graduation, proud parents whipped out cellphones to record the special moment.
Stewart's ceremony marked the first graduation for the Clark County School District this year. The intimate ceremony included a description of each student's strengths and what each contributed to the school community.
Up first was Sterling Esch, described as a willing helper who embodied the true spirit of a Mighty Turtle, the school's mascot.
Next came Stephen Ladwig, a basketball star, and an expert bowler who didn't need to look down the lane after rolling a ball, certain the pins would be knocked down.
And finally, Tenaya Love. Both the homecoming and prom queen, she was celebrated for her love of music, dancing and singing.
"We have seen them grow, we have witnessed them overcome numerous obstacles," said Patricia Schultz, the school's principal. "There is much to celebrate tonight."
The ceremony included all the bells and whistles. The traditional processional, the awarding of the diplomas and the turning of the tassels – the last honor performed by Trustee Erin Cranor and Associate Superintendent Deanna Jaskolski.
Although graduates, the students don't need to leave Stewart quite yet. Because of their special needs, the students can stay in the school, honing their skills until age 22.
Graduates and families joined in a celebration of cake after the event, posing to take pictures and share hugs.
It was a particularly proud moment for Julie and Edesio Lanza, foster parents of Ladwig and two other students at the school.
Ladwig, who is autistic, has been with the Lanzas for 11 years, and Julie Lanza remembered watching him struggle in a traditional school.
That changed when he enrolled at Stewart.
"It really changed his life," she said. "I'm so happy for him."
The Lanzas were joined by members of Ladwig's family to celebrate the occasion.
Thousands more will join in the celebrations in the following weeks, as the rest of Clark County's schools hold graduation ceremonies, sending students off into the world for whatever comes next.
In 2016, the district graduated 17,232 students, a 74 percent graduation rate, according to the district. The Class of 2016 included 18 National Merit finalists and 98 service academy appointments. The district did not immediately have figures ready for the 2017 graduation season.
Contact Meghin Delaney at 702-383-0281 or mdelaney@reviewjournal.com. Follow @MeghinDelaney on Twitter.
Graduation Schedule
The Clark County School District has released an updated list of 2017 high school graduations. Graduations begin on May 24 and run through June 16. Find your school below, listed in alphabetical order.
Adult Education & Desert Rose High School: Tuesday, June 6, 6 p.m., Thomas & Mack Center
Arbor View High School: Saturday, June 10, 12 p.m., Thomas & Mack Center
A-Tech: Monday, June 12, 9 a.m., Orleans Arena
Basic Academy: Friday, June 9, 3 p.m, Orleans Arena
Bonanza High School: Monday, June 12, 12 p.m., Orleans Arena
Boulder City High School: Friday, June 9, 7:30 p.m., Boulder City High School
Burk Horizon/Southwest Sunset High School: Monday, June 12, 3 p.m., Las Vegas Academy
Canyon Springs High School: Monday, June 12, 3 p.m., Orleans Arena
Centennial High School: Friday, June 9, 12 p.m., Thomas & Mack Center
Chaparral High School: Wednesday, June 14, 3 p.m., Orleans Arena
Cheyenne High School: Monday, June 12, 6 p.m., Orleans Arena
Cimarron Memorial High School: Saturday, June 10, 3 p.m., Orleans Arena
Clark High School: Friday, June 9, 6 p.m., Thomas & Mack Center
Coronado High School: Saturday, June 10, 3 p.m., Thomas & Mack Center
Cowan Sunset Southeast High School: Monday, June 12, 3 p.m., Las Vegas Academy
College of Southern Nevada High School: Friday, June 9, 9 a.m. Orleans Arena
Del Sol Academy: Thursday, June 15, 9 a.m., Orleans Arena
Desert Oasis High School: Friday, June 9, 9 a.m., Thomas & Mack Arena
Desert Pines High School: Friday, June 16, 12 p.m., Orleans Arena
Desert Rose High School: Thursday, June 8, 6 p.m., Thomas & Mack
Durango High School: Wednesday, June 14, 12 p.m., Orleans Arena
East Career & Tech Academy: Tuesday, June 13, 12 p.m., Orleans Arena
Eldorado High School: Thursday, June 8, 3 p.m., Orleans Arena
Florence McClure Women's Correctional Center Adult High School: Thursday, June 8, 9 a.m., FMWCC
Foothill High School: Friday, June 16, 3 p.m., Orleans Arena
Global Community High School: Wednesday, June 13, 9 a.m., Las Vegas Academy
Green Valley High School: Thursday, June 8, 3 p.m., Thomas & Mack Arena
High Desert State Prison Adult High School: Tuesday, June 6, 8:30 a.m., High Desert
High Desert State Prison Youthful Offender Program: Tuesday, June 6, 12:30 p.m., High Desert
Indian Springs High School: Thursday, June 8, 7 p.m., Indian Springs High School
John F. Miller School: Friday, June 2, 10:15 a.m., Miller School
Las Vegas Academy: Saturday, June 10, 6 p.m., Orleans Arena
Las Vegas High School: Friday, June 9, 7:30 p.m., Las Vegas High School
Laughlin High School: Thursday, June 8, 6 p.m., Laughlin High School
Legacy High School: Friday, June 9, 12 p.m., Orleans Arena
Liberty High School: Wednesday, June 14, 6 p.m., Orleans Arena
Miley Achievement: Monday, June 12, 3 p.m., Las Vegas Academy
Moapa Valley High School: Friday, June 9, 7 p.m., Moapa Valley High School
Mojave High School: Thursday, June 15, 3 p.m., Orleans Arena
Morris Sunset East High School: Monday, June 12, 3 p.m. Las Vegas Academy
Nevada Learning Academy at CCSD: Monday, June 12, 9 a.m., Las Vegas Academy
Northwest Career & Technical Academy: Tuesday, June 13, 6 p.m., Orleans Arena
Palo Verde High School: Saturday, June 10, 6 p.m., Thomas & Mack Center
Rancho High School: Friday, June 9, 3 p.m., Thomas & Mack Center
Sandy Valley High School: Thursday, June 8, 5 p.m., Sandy Valley High School
Shadow Ridge High School: Saturday, June 10, 9 a.m., Thomas & Mack Center
Sierra Vista High School: Friday, June 9, 6 p.m., Orleans Arena
Silverado College Prep & Career Technical High School: Wednesday, June 14, 9 a.m., Orleans Arena
Southeast Career & Technical Academy: Thursday, June 8, 6 p.m., Orleans Arena
Southern Desert Correctional Center: Wednesday, June 7, 9 a.m., Southern Desert
Southwest Career & Technical Academy: Tuesday, June 13, 9 a.m., Orleans Arena
Spring Valley High School: Saturday, June 10, 12 p.m., Orleans Arena
Sunrise Mountain High School: Thursday, June 15, 12 p.m., Orleans Arena
Valley High School: Friday, June 16, 9 a.m., Orleans Arena
Variety School: Tuesday, May 30, 6 p.m., Variety School
Veterans Tribute Career & Technical Academy: Thursday, June 8, 12 p.m., Orleans Arena
Virgin Valley High School: Thursday, June 8, 8 p.m., Virgin Valley High School
West Career & Technical Academy: Saturday, June 10, 9 a.m., Orleans Arena
West Prep High School: Wednesday, June 14, 6 p.m., Smith Center
Western High School: Tuesday, June 13, 3 p.m., Orleans Arena