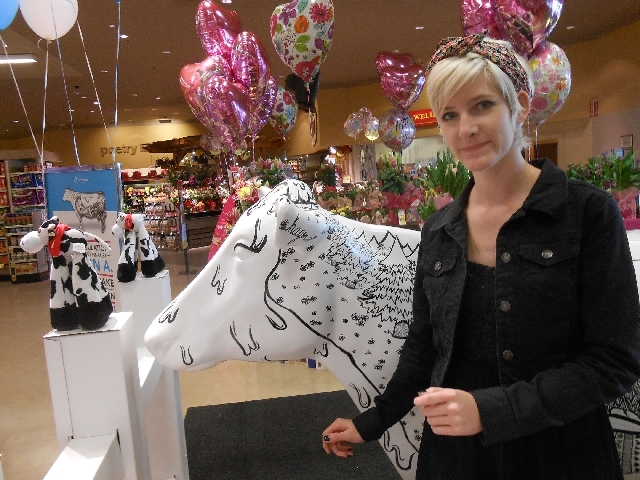 Summerlin resident Hagen Anderson, 18, has always been artistic. Recently, she was named one of nine high school finalists in the eighth annual Art of Dairy contest.
Her artwork was displayed at Vons, 7530 W. Lake Mead Blvd., as part of the contest. Customers received ice cream samples and could vote online for her artwork.
More than 6,400 students submitted a design based on this year's theme of "ImaginDairy Places," in which students were encouraged to express their love of dairy by creating an imaginary world made up of sponsor Lucerne's dairy products on a cow-shaped template.
How difficult was it to come up with the concept?
"It was pretty easy to come up with it," Anderson said. "I just decided to do something that I like, draw something that I like to draw. And princesses (are) kind of my thing."
Jerrilyn Marks Eisen, Anderson's art teacher at Northwest Career and Technical Academy, 8200 W. Tropical Parkway, said this was the fourth year her students had entered the contest. This time, about 200 Northwest students came up with concepts. The students then voted for the top 25.
Did she think Anderson had a chance?
"When it comes to judging, you just don't know," Eisen said. "Is it outstanding? Yes. Is this intricate? Yes. But with a national contest, how the heck do you judge that when you get … thousands of entries?"
The online voting ended May 17. The winners will be announced June 5. For the results, visit artofdairy.com.
Anderson was notified in late 2012 of her finalist status. Soon after, a moving truck appeared at the school with the next step, which was a white fiberglass cow for her to paint. She said transferring from a 2-D concept to a 3-D application did not faze her.
Anderson said she likes to work in black and white and uses fine pens or brushes for the intricate designs. That made it easy to render the design onto a surface that included concave areas and bumps.
"You have to have really steady hands to do those kinds of things," she said.
Tom Nelson, Vons district manager, said most vendors don't go to the same lengths to promote products as the Lucerne campaign.
"I haven't seen any other vendor who does something like this," he said. "Giving back to the community is what it's all about and creating awareness in our stores that Lucerne is committed to giving back to our schools. We do a lot of work with schools and charitable organizations. This is a fun way to let kids get creative with art."
Anderson said she'd like to be an artist, but the more practical side of her is leaning toward psychology or law.
Her "Dairy Princess" rendition could potentially earn her high school's art program up to $20,000. The contest winners will share approximately $46,000 in prizes with their art teachers and their schools' art programs. The grand prize winner will receive $20,000 for his school's art department, plus $5,000 each for the winner and his art teacher.
The first-prize winner receives $5,000 for his school's art department, plus $2,500 each for the student and teacher. In addition, one honorable achievement winner and his teacher will receive $1,000 each. The remaining six finalists will receive $500 gift cards.
Contact Summerlin/Summerlin South View reporter Jan Hogan at jhogan@viewnews.com or 702-387-2949.