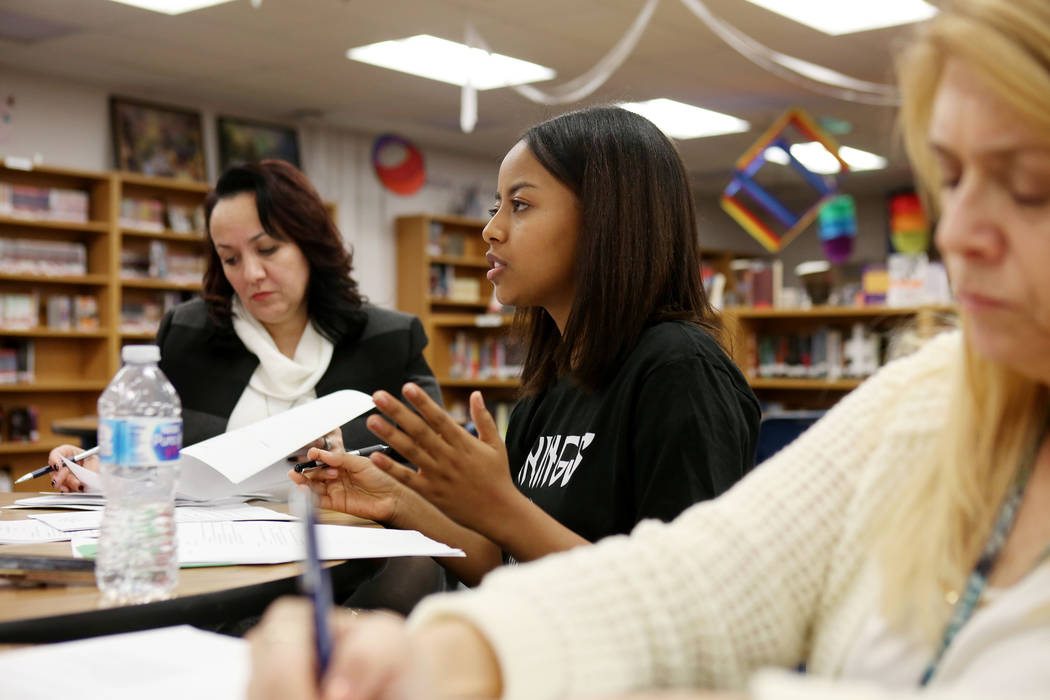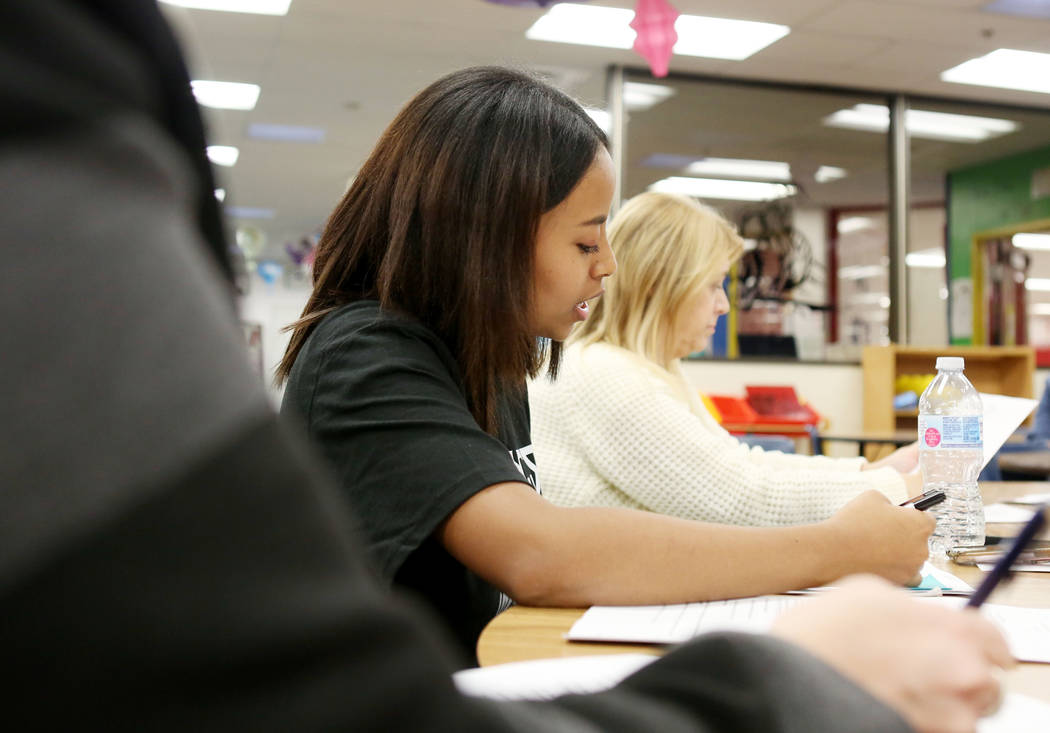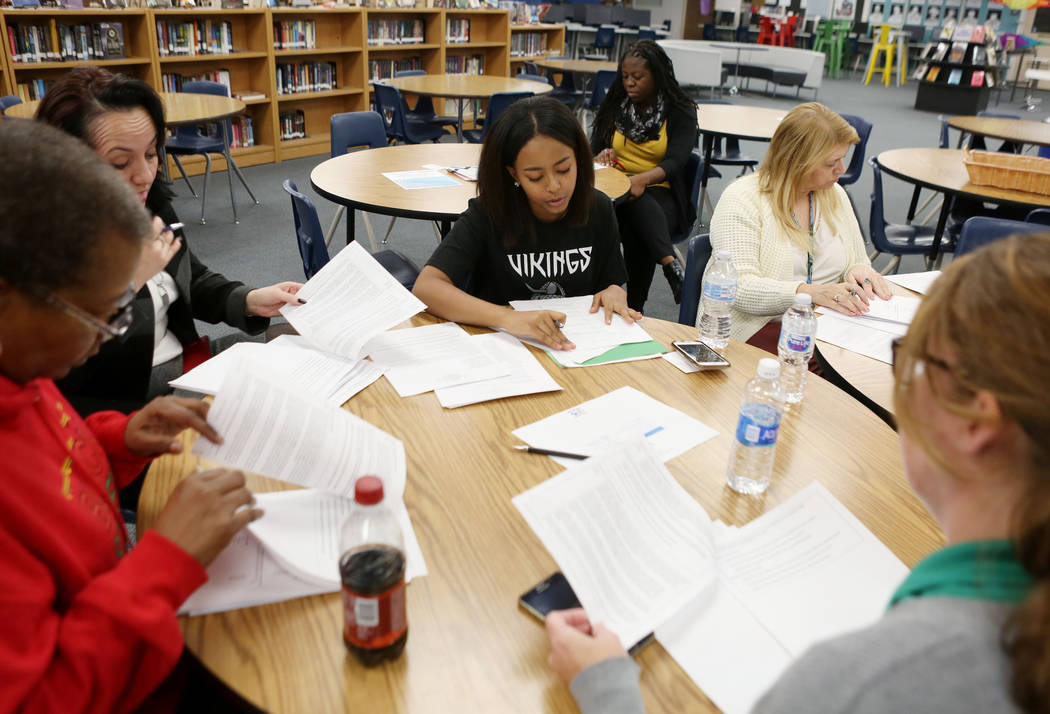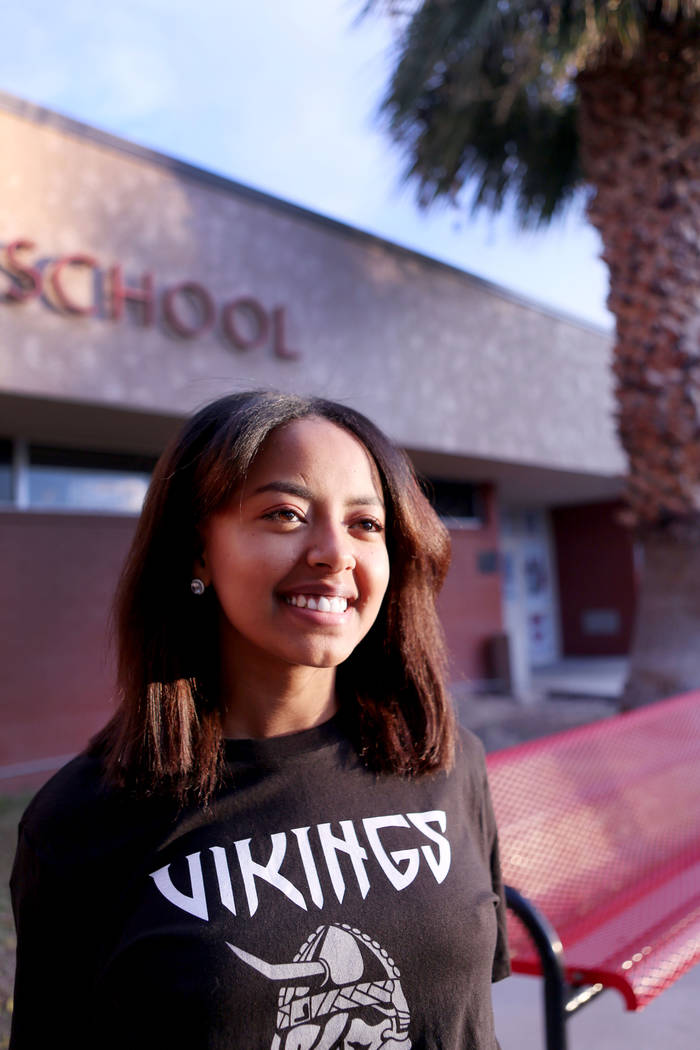 Having a student lead the advisory group that helps Valley High School Principal Ramona Esparza make tough decisions for her school wasn't initially part of the plan. But when it happened, it made perfect sense.
"I defined the roles and it organically happened," Esparza said of how a student came to lead the monthly school organizational team (SOT) meetings. "But I'll be honest with you, I don't think it's an accident. We're really about being a student-centered school. The students really have a strong voice here at Valley."
Under the state law reorganizing the Clark County School District, each middle and high school is required to have a student on its school organizational team, though the students don't get to vote on issues that come before the groups. But Omega Gdeye, a 16-year-old junior and Ethiopian immigrant who was chosen as Valley High's student representative in a schoolwide election, believed to be the only one leading the meetings.
The idea behind the legislation passed in 2015 and reinforced in 2017 is to put more of decision-making power for schools into the hands of those who know it best — the community. Although certain decisions still fall with the principal, the teams are there to help sort through the options and recommend the best outcome.
Schools rolled out their first organizational teams last year, even though the reorganization didn't officially occur until the start of this school year. Last year's Valley High student representative, Shelsea Contreras, also served as the chair.
Running the show
This week marked the first time Omega presided over a meeting of the Las Vegas school's SOT after being was chosen as chair in October. Two teachers, a parent and a support staff member were at the meeting with Omega and Esparza.
"There's a little more weight to this, can a student really be the chair of the SOT?" Omega wondered out loud in a conversation with the Review-Journal before the session.
Before being chosen as chair, Omega did her homework. She attended district-facilitated training events for team members and a workshop on chairing the meetings. In October, she was nominated for SOT leader by one of the teachers on the team, Bradley Evans.
Omega's resume already is lengthy. She's a member of both the Valley High student council, which focuses on improving student life, and student inter-council, which helps advise the principal on student issues. She's also active in the black student union and the school's robotics and feminist clubs.
On top of that, she's enrolled in the school's international baccalaureate program, a rigorous course of study where students can earn a special diploma and get ahead on college credits. She aspires to attend the University of Chicago and be an engineer, though she's still trying to narrow down what type.
Omega says part of her drive springs from her background. She and her mother, Etetu Woldesidk, moved to Las Vegas from Ethiopia in 2009 when Omega was 7. Though they were relatively well off in their homeland, Omega's mother was worried about how her daughter would fare in the future.
"It wouldn't be good for me to grow up there. Now we're at a very good place," Omega said.
Making a leap
With financial help from family and Omega's father, they made the leap. Neither of them spoke English and although Omega mastered the language pretty quickly, she still helps her mother with it.
They settled in Las Vegas because a distant family friend agreed to take them in. Omega's mother began working labor jobs — mostly housekeeping in hotels — and continues to do so today.
"It's heartbreaking to see her do it. It's just motivation for me honestly," she said.
Until she pursues her higher education, her primary concern is bringing the voice of students at Valley to the organizational team. Some concerns have already come her way: students want smaller classes and they want more done to keep the school safe.
The organizational team has started to explore budgetary impacts if the school "bought out" more teachers' preparation periods, a tactic that some schools in the district have used to reduce class sizes. They're also looking at the cost of giving more hours to support staff to monitor students who hang out on campus after hours.
Any changes along those lines would go into effect for the 2018-19 school year. Schools will get preliminary budget information in January and that's when school organizational teams can start to finalize such decisions.
But Omega thinks her job also has an educational aspect for students, many of whom don't understand how funding works.
"You can make empty complaints about why doesn't our school have this, but if they understand how the budget works then they can make educational attempts to get what they need and they can be more understanding," she said.
A good start
Omega said Monday's SOT meeting agenda was light, but she met with Esparza beforehand to go over the materials. Around a few circular tables pushed together in the library, with a jar of mini-chocolates in the middle, Omega called her first meeting to order at 4:34 p.m., just a few minutes late.
The school is up for re-accreditation and as part of that process an outside company surveyed the school community. One of the first measures of business was looking over the results. Without someone on hand to present them, Omega took charge.
"We'll go through the first one together so we can understand what is it and then I'll give you time to look over it and we'll discuss," she said, looking around to make sure other members were on board.
The group spent time discussing the survey and how the results could be improved upon before Omega led them through the rest of the agenda.
At the end, Omega suggested a group picture of the team. They held off, deciding to do it next time when they could wear matching shirts.
As the group dispersed and Omega began arranging a ride home, Esparza told her she had filled the team leader position to perfection.
"You were great!" she said.
Contact Meghin Delaney at 702-383-0281 or mdelaney@reviewjournal.com. Follow @MeghinDelaney on Twitter.
Student scholarships
For the second year in a row, Church's Chicken will help two Valley High School student defray the cost of college through scholarships.
A benefit held Thursday at the chain's outlet at Rancho and West Bonanza drives, will help fund the $1,200 scholarships to be awarded in the spring.
Church's Scholars is a program conducted by the Church's Partners Foundation, created in 2007, to provide scholarships to eligible applicants through annual fundraisers and donations. It also provides support and assistance to franchise employees and their communities.