Students from The Meadows School play Santa for students at West Prep
December 27, 2011 - 12:17 am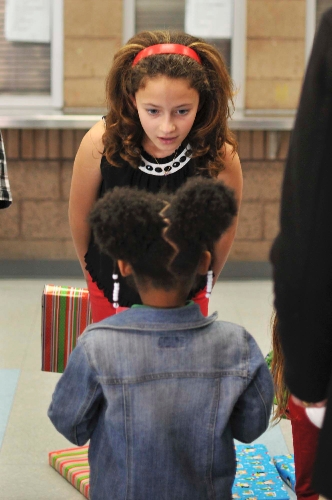 Students from The Meadows School lined up with gifts in hand. Students from West Preparatory Academy lined up opposite them with only thank-yous.
That was plenty.
"I just love watching the smile on their faces," said Sydney Ramenofsky, a fifth-grader at The Meadows School, 8601 Scholar Lane. "I love doing things for other people. Every year I wait for this day to come."
This was the fourth year that The Meadows School held a holiday event for another school and the second at West Prep, 2050 Sapphire Stone Ave. West Prep serves kindergarten through 12th grade. The Meadows School partnered with Hollingsworth Elementary School in previous years.
On Dec. 16, the 420 elementary students at West Prep received new presents, most of which were board games. The Meadows School Parents Association organized the event, collected gifts and helped wrap them.
The association also bought a cookie, a Capri Sun and a candy cane for each West Prep student. While students ate their treats in the cafeteria, students from The Meadows School serenaded them with "The Twelve Days of Christmas."
Some of the West Prep classes prepared cards for The Meadows School volunteers.
Parents and 16 students from The Meadows School volunteered for the event. Kids gladly took responsibility for handing out presents.
Some were shy and never looked at the face of who they were giving a gift to. Others, like Sydney, started a conversation with each student she met and complimented them in some way.
"I know how much this means to the kids that aren't as fortunate as I am," Sydney said. "I know that some of them don't even get gifts for Christmas. Every kid should get a present."
The Meadows School students at the front of the line ended up doing the brunt of the work.
In a recurring scene that was innocent and charming, children would hand off a gift. Then, as if in competition, they would sprint to the shelf behind them to retrieve another, if not multiple, gifts. They would hurry back to the line and hand out the presents as quickly as they could.
West Prep principal Michael Piccininni said 85 percent of his students are on the district's free lunch program.
He said his school is developing plans to perform community service at The Meadows School in return.
"This is something that's gone on in the past that's a meaningful experience for our kids," Piccininni said. "Our goal as a school this year is not to just be on this side of it. We don't want our students to understand that community service is a one-sided event. There's a lot of things you can do that cost nothing but time that can demonstrate not just appreciation but a willingness to help out other people. A partnership is two-sided."
Contact View education reporter Jeff Mosier at jmosier@viewnews.com or 224-5524.