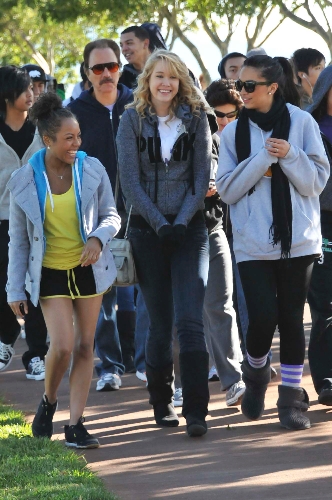 Standing in front of a crowd of 200, Samantha Wayne explained what life is like with her disease, lupus. Her hands, purple-colored and in arthritic pain, gripped a microphone and a piece of paper with notes on it.
"Every little thing you do is a challenge," Wayne said. "From waking up to brushing your teeth, nothing was easy anymore.
"I used to tell my parents it felt like I had just run a marathon in my sleep. For weeks I would wake up and feel pain whenever I breathed. Eventually the pain got so bad that I no longer wanted to breathe. … But eventually pain becomes a way of life."
Wayne spoke before the Step It Up For Lupus fundraiser and walk Nov. 5 at Palo Verde High School, 333 S. Pavilion Center Drive.
Her discolored hands were one of the first indicators that something was wrong before she was diagnosed with systemic lupus erythematosus at 14. Blacking out while playing basketball — her favorite sport — was another indicator. Wayne ended up playing varsity basketball at Palo Verde for four years, though her time on the court was limited.
Now 18 and a student at the University of Nevada, Las Vegas, Wayne suffers mostly from joint pain, muscle weakness and fatigue. She looks like a normal teenager but feels like anything but.
Her mother, Anne Wayne, is the high school's banker, and she helped organize the walk with Palo Verde's Air Force Junior ROTC. Money raised will be donated to Colors of Lupus Nevada, a nonprofit group that supports research and provides resources for families affected by the disease. This was Palo Verde's second year hosting the walk, which raised $6,000 for Colors of Lupus Nevada last year. This year's walk raised $2,000 to date, but donations are still being accepted.
Most in attendance were students from Palo Verde and Spring Valley high schools, but some traveled from California to attend. Several participants in the walk have lupus, including Wayne's friend, 19-year-old Jasmine Jordan, another Palo Verde graduate and a student at UNLV.
Jordan was diagnosed two years ago after experiencing hair loss, rash outbreaks, fevers and fatigue.
"Literally my Sundays consisted of sleeping the entire day," Jordan said.
Anh Nguyen, a junior at Spring Valley High School, 3750 S. Buffalo Drive, also attended, along with members of her Key Club.
Lupus is most likely to develop between the ages of 15 and 44, and 90 percent of those diagnosed are women, according to the Lupus Foundation of America. About 1.5 million Americans are diagnosed with lupus.
Colors of Lupus Nevada estimates that more than 13,000 Nevadans have the disease. It can cause inflammation and tissue damage to nearly every organ in the body. Lupus also is difficult to diagnose because it mimics other diseases.
Prognoses can be mild to life-threatening. There is no cure for lupus, though medication may help suppress some symptoms.
Having the disease has not made those who have it bitter.
"I appreciate life more," Nguyen said. "Some other people have it worse than I do."
Jordan, who had to give up dancing because of joint pain, went even further.
"In the long run it's changed my life for the best," she said. "I really don't take every day for granted anymore. I really value my parents and family and my friends a lot more."
All three want to raise awareness to a disease that is not in the public consciousness.
"Every time I tell someone I have lupus, they don't know what it is," Wayne said. "One day I hope to see … a lupus commercial on TV or just to tell someone I have lupus and for them to understand exactly what I'm talking about."
Wayne still plays basketball when she is able to. She also started creating videos two years ago on YouTube to spread awareness, especially among young people. She has more than 1,050 subscribers and communicates with people around the world. Her videos can be found at youtube.com/livehopelupus.
Colors of Lupus Nevada is headquartered at 2340 Paseo del Prado, No. D-206. For more information, visit colorsoflupusnevada.org, email
info@colorsoflupusnevada.org or call 462-6161.
Contact View education reporter Jeff Mosier at jmosier@viewnews.com or 224-5524.
Colors of Lupus Nevada
Colors of Lupus Nevada is headquartered at 2340 Paseo del Prado, No. D-206. For more information, visit colorsoflupusnevada.org, email info@colorsoflupusnevada.org or call 462-6161.