Subs join new-teacher orientation in Vegas
August 13, 2014 - 2:45 pm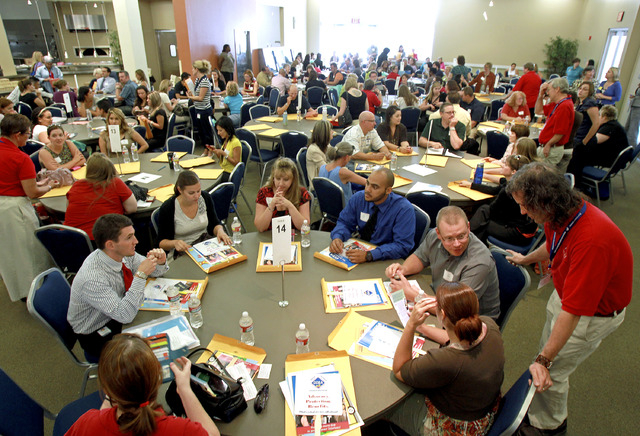 The Clark County School District's 1,200 new teacher hires weren't the only people packed into The Venetian ballroom on Wednesday.
They were joined by more than 350 long-term substitutes retained by the district as it works to fill a shortage of more than 600 teachers.
Substitutes are a critical part of meeting the district's staffing shortage. This is the first year long-term substitutes have been included in the two-day orientation.
On Friday the district sent out a notice to long-term substitutes asking if they'd be interested in filling vacant positions, said Staci Vesneske, the district's chief human resources officer. About 400 people who qualify for the district's Alternative Route to Licensure program said yes. The program allows those with non-education bachelor's degrees to become teachers after intensive coursework and training.
The district has hired about 135 more teachers since the end of July when, despite having retained about 1,200 new teachers over the summer — found it still needed 650 teachers by the start of school on Aug. 25.
That said, the number of teachers needed is in the low 600s because there have been more departures, Vesneske said. She said she anticipates hiring about 100 more licensed teachers by the start of school, with the bulk of the need being filled by substitutes.
Orientation isn't just technical, it's cultural, Vesneske said. The district has found that a key to keeping teachers is helping them view Las Vegas not as a stepping stone to somewhere else, but as a place they want to live and work, she said.
For Morgan Heater, a long-term substitute who is licensed in Missouri but is awaiting the results of the Nevada exam, Las Vegas is a big transition.
Heater searched nationwide for a teaching gig, settling on Clark County. She just finished two years in the Peace Corps, where she taught English in Ethiopia. She will be teaching third-graders at Lowman Elementary School, near Craig Road and Nellis Boulevard.
Having been in Las Vegas two weeks, and back in the states for about three weeks, it has been fun to get to know other teachers through orientation, she said.
The district won't have to convince Peter Tawil, who will be teaching geology at Western High School, that the Las Vegas Valley has a lot to offer.
Tawil and his wife honeymooned in Las Vegas in 2012 and just kept coming back after falling in love with desert scenery.
Tawil was teaching in Westchester, N.Y., when one day he and his wife decided to abandon East Coast living to become desert dwellers.
"I feel weird because a lot of people came here because they didn't have jobs," Tawil said. "Me, I just love the desert."
Contact Bethany Barnes at bbarnes@reviewjournal.com or 702-477-3861. Find her on Twitter: @betsbarnes.