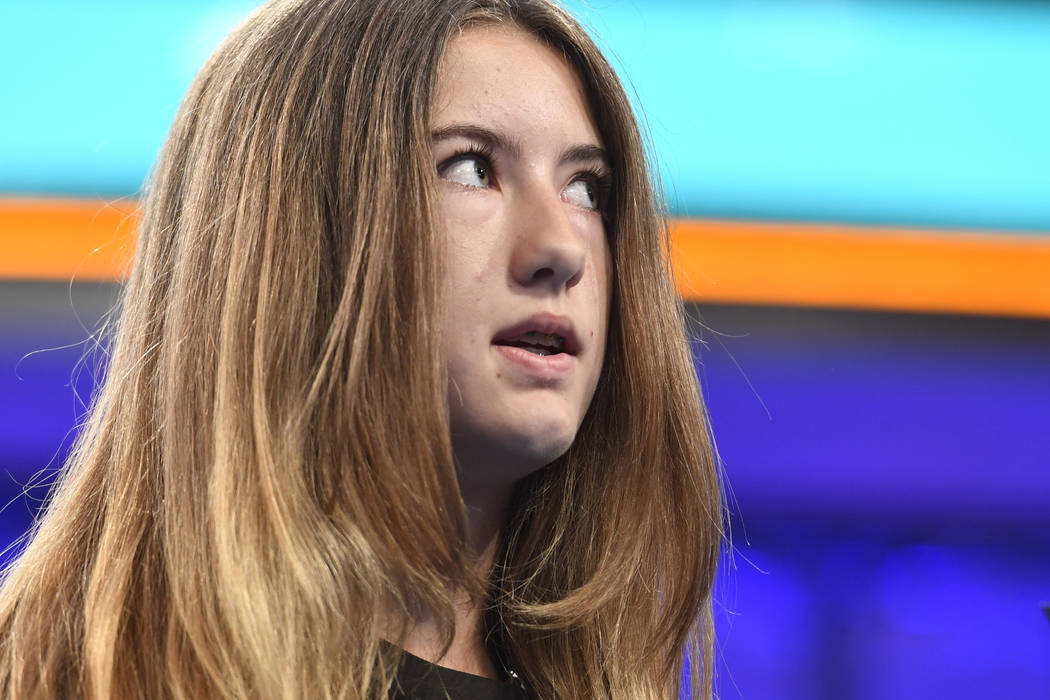 Las Vegas eighth-grader Maia Marshall finished the preliminary rounds of the Scripps National Spelling Bee just one place shy of earning a spot in the finals.
"I was sad she didn't make the finals, but you know what? She made it so far," Maia's mom, Antonia Marshall, said Wednesday.
This year, 11 million students competed in spelling bees that eventually fed into the 90th annual national bee in Washington, D.C., according to the competition's website.
Of those spellers, 291 — including the bee's youngest participant ever, 6-year-old Edith Fuller of Tulsa, Oklahoma — made it to Wednesday's preliminary rounds, where each got the opportunity to spell two words on stage.
Those who didn't misspell a word were then at the mercy of their score on a written spelling and vocabulary test that they took on Tuesday. Ultimately, the top 40 spellers advanced to Thursday's finals.
The Summerlin girl tied for No. 41. Part of what helped her reach that spot was correctly spelling the words "treillage" and "mourning" in front of a national audience on ESPN.
"It's a little bit of a bummer, but I'm not too sad about it, because I never have to study again," Maia said.
At least not for the national spelling bee, which only allows students through the eighth grade to participate.
Maia started competing in spelling bees in sixth grade, she said. She won the Nevada State Spelling Bee in March by correctly spelling the word "samurai."
Next school year, Maia will attend Bishop Gorman High School. She wants to play tennis and is excited to take photography electives.
Marshall said she is happy her daughter will get to relax and enjoy the summer. And, she added, "Now we don't have to worry about studying. We can go sightseeing and shopping."
And Maia's earned that break. Just two weeks ago, she competed in the National Geographic Bee, also in Washington, after winning Nevada's state competition. Maia didn't make it past the preliminary round, but while there, she was awarded a gold medal she earned for a national Spanish exam she took this year at St. Elizabeth Ann Seton Catholic School.
"I'm pretty competitive," Maia said. "I have three siblings, so it might stem from that."
Maia and her mom will attend the spelling bee finals on Thursday.
Contact Blake Apgar at bapgar@reviewjournal.com or 702-387-5298. Follow @blakeapgar on Twitter.