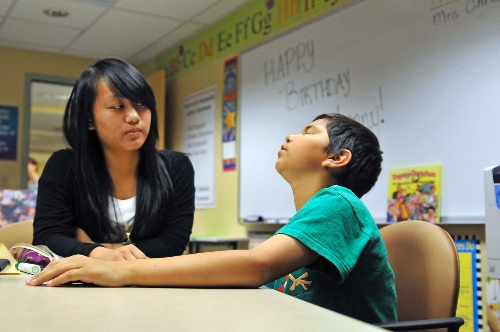 After surviving cancer five years earlier, 8-year-old Rodolpho Pineda still feels the effects of chemotherapy.
Concentration and memory elude him. He attends Adams Elementary School, 580 N. Fogg St., and always seems to be behind in his class.
His mother, Liceth Pineda, attributes his struggles to possible problems in her son's brain.
Learning disabilities are common in former cancer patients, especially those who undergo treatment at a young age, according to the American Cancer Society.
Chemotherapy and radiation therapy may lead to cognitive impairments, such as slowed development and problems with memory and attention.
Rodolpho may continue to struggle in school, but he's getting help from the Nevada Childhood Cancer Foundation.
Foundation president Jeff Gordon recognized the need for an educational program to help kids, in and out of treatment.
He hired Lenny Ware as the director of educational services and opened the Torino Classroom in 2008 inside Sunrise Children's Hospital, 3186 S. Maryland Parkway.
The Education Services Program, funded by the Torino Foundation, enables children with critical illnesses to continue their education while receiving treatment and to receive tutoring afterward.
Ware, a former special education director at Western High School, tutors kindergarten through 12th-grade students. When a new patient is admitted to the hospital's oncology unit, Ward evaluates each one's needs with the parents and the student.
"What amazes me," Ware said, "is that these kids are fighting for their lives, and yet they're still worried about turning in that paper."
Ware maintains a close relationship with the Clark County School District and each child's school to make sure students keep up with their classmates.
The classroom is about 340 square feet and accommodates two large, round tables and a desk. The room has a dry erase board, computers and recently added four iPads.
For Rodolpho, the Torino Classroom is a reprieve from his regular school.
"He feels more comfortable being around people who understand him," Pineda said, translated by fellow mother Martha Castillo. "He feels safer here, and it's easier to learn."
Pineda also said the tutors motivate him to do better in school and that she wouldn't be able to afford private tutoring otherwise.
Castillo's daughter, 18-year-old Melanie, soon will graduate from Calvary Chapel Christian School, 7175 W. Oquendo Road. She plans to attend the University of Nevada, Reno, in the fall.
Melanie Castillo was diagnosed with leukemia when she was 6.
"The chemo really affected her brain," Martha Castillo said.
About two years ago, she encouraged her daughter to use the tutoring resources available from the Nevada Childhood Cancer Foundation.
"I've seen a big improvement," Martha Castillo said. "She used to make C's and D's, and now she makes A's and B's."
Melanie Castillo refused the help at first but is glad she overcame her own stubbornness to take advantage of the resource.
"The tutoring is really important," she said. "It's a lot harder for me to keep up, especially with math. I probably wouldn't be going to college without it."
Like many outpatient students, Melanie receives weekly tutoring through the Nevada Childhood Cancer Foundation at the hospital or at other locations in the community.
Ware doesn't have to do all the tutoring himself, though.
There is another certified teacher on staff, and the foundation partners with Advanced Technologies Academy, 2501 Vegas Drive, to get high school students to come by after school to help tutor.
Virtual High School student Dominique Quattrini likes giving back to the program that helped her.
Quattrini, 16, was diagnosed with cancer three years ago. After being in remission for a few months, the cancer reappeared. She has been in remission for the second time for about a year.
During her time in the hospital, she received tutoring for weeks at a time while out of school. She still comes to the classroom in the afternoons for tutoring and often will stay to help tutor younger kids if she can.
Because of her experience with Ware and the Torino Classroom, Quattrini said she's interested in becoming a teacher.
The Nevada Childhood Cancer Foundation and the Torino Foundation hosted the second annual C.A.P.S. Ceremony May 14 at A-Tech to honor about 50 students in the program and the teachers, tutors and donors who helped them.
The ceremony recognizes those who have shown courage, achievement, perseverance and success.
For more information, visit nvccf.org or call 735-8434.
Contact View education reporter Jeff Mosier at jmosier@viewnews.com or 224-5524.