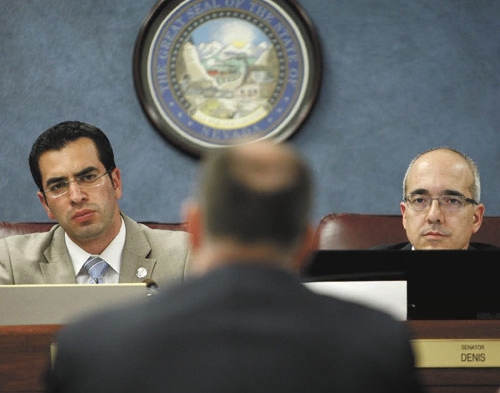 CARSON CITY — Republicans gained ground in their battle to reform public education Friday, but not much.
A proposal by GOP Gov. Brian Sandoval that teacher evaluations be based at least 50 percent on student achievement data was approved by the Senate Education Committee, as was a proposal requiring schools to set up performance pay programs for teachers by 2014.
The committee voted unanimously to advance measures to extend a mandatory probationary period for new teachers to three years and send teachers back to probation if they receive unsatisfactory evaluations two consecutive years.
But the Democrat-dominated Education Committee rejected a Republican proposal to change "last in, first out," the policy of using seniority as the sole consideration when a district goes through layoffs.
And Democratic lawmakers who control the Senate Finance Committee refused to allow school districts to reduce the 180-day school year to avoid teacher layoffs, a tool sought to help school districts deal with declining revenues.
Clearly, the battle for education reform isn't over yet.
Both Dale Eriquaga, Sandoval's policy adviser, and Senate Education Chairman Mo Denis, D-Las Vegas, expect in the last two weeks of the session they could reach agreement to change parts of several of the bills passed Friday.
Early Friday morning, Senate Majority Leader Steven Horsford, D-Las Vegas, vowed to kill Assembly Bill 117 because it would mean students could attend fewer days of school.
The original bill had passed the Assembly unanimously, and it would have allowed school districts to reduce school years by as much as 10 days because of an "economic hardship."
In response to Horsford's demand, Clark County School District officials came back at 5 p.m. with an amendment that would let school districts only cut out teacher training days, not any instructional days.
Clark County has four training days each school year. Unpaid furloughs might be given all school workers on those days.
But there's still a hitch. Even if the bill becomes law, the Nevada State Education Association would have to agree, and Clark County Associate Superintendent Joyce Haldeman said the union opposes the amendment.
"In the end it is going to come down to what they can bargain," said Sen. Ben Kieckhefer, R-Reno.
Senate Education members passed a radically amended version of Senate Bill 229 that would give probationary teachers and administrators a third year to improve before dismissal.
Denis said he was confident that giving teachers more time and training to improve their performance will help them and their pupils.
"We are going to have the best teachers and administrators we can," Denis said after the meeting. "By helping them get help, we will have improved instruction."
Committee members also backed an amendment sought by Sandoval that requires 50 percent of teachers' evaluation to be based on the performance of their students.
While saying the bill did not go far enough, Sen. Barbara Cegavske, R-Las Vegas, voted for AB229 because of factors such as using student performance in evaluating teachers.
The four Democrats on the committee consistently outvoted the three Republicans on amendments.
For example, a move by Clark County and other districts to change the policy where newly hired teachers and workers are laid off first was defeated on a 4-3 vote.
In addition to seniority, Clark County wanted unsatisfactory teacher evaluations, excessive absences, discipline and criminal records to be factors that could be considered in making reduction-in-force policies.
"This is a no-brainer," said Sen. Greg Brower, R-Reno. "If a district has to do layoffs, the goal should be for the best teachers to remain."
But Denis said he was not prepared to vote without taking more time to look at factors that should be used in determining layoffs.
Earlier this week, Nevada State Education Association lobbyist Craig Stevens said layoff policies should be left to collective bargaining. He noted two districts — Washoe and Lyon counties — have negotiated policies where factors other than seniority determine who is laid off first.
In another party-line vote on a related bill, AB225, Democrats agreed to give veteran teachers who receive unsatisfactory evaluations special chances to redeem themselves.
They would be evaluated three times during the year after they receive an unsatisfactory evaluation. The third evaluation, if the others show a continued unsatisfactory performance, would be made by any outside evaluator. The principal would identify three possible outside evaluators and the teacher would have to agree with the one who is chosen.
That idea riled Republicans.
"I have a hard time allowing someone to pick their own evaluator," Cegavske said.
She noted that in the "real world," no employee would be given such opportunities to keep a job. Nevada is an "at will" state where employees who do not have labor agreement or contracts can be fired for no reason at all.
But Sen. Ruben Kihuen, D-Las Vegas, expressed concern because as written neither bill would give the newly hired the right to arbitration if they are recommended for dismissal.
The Associated Press contributed to this report. Contact Capital Bureau Chief Ed Vogel at evogel@reviewjournal.com or 775-687-3901.