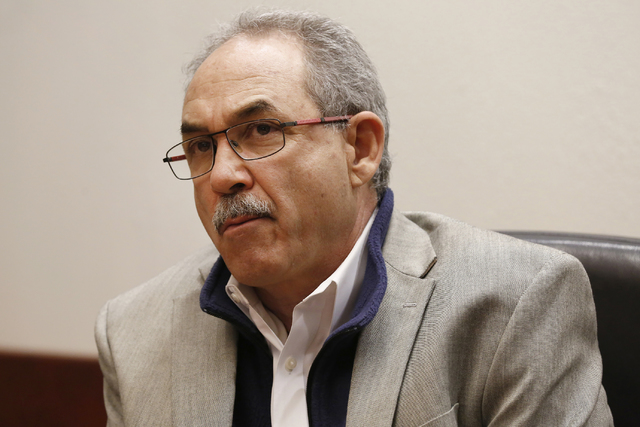 Education initiatives might suffer unless the needs-based funding formula and the school choice program are prioritized by lawmakers in the upcoming legislative session.
That's the bottom line for Clark County Education Association executive director John Vellardita, who said he's hoping for a session of accomplishment, not gridlock. He's listed the weighted funding formula and the controversial educational savings account program as the top issues for a state Legislature that convenes in February.
"From our perspective, nothing moves forward on education unless those two needs are met," Vellardita said Wednesday during an editorial board meeting with the Las Vegas Review-Journal.
The mandated reorganization of Clark County schools, which gives more budgetary freedom to principals, needs the guidance built into the weighted-funding formula.
The formula, approved by lawmakers but not yet implemented, would provide per-pupil funding based on the needs of the specific students. Special education students, for example, would be funded at a higher level. The formula also includes English language learners, gifted and talented students and free and reduced lunch recipients.
And Clark County appears ahead of that curve. The district is already starting to establish what kind of weight each of those categories will carry as they work out budgets for individual schools. For the first year, the district will cover the costs, but after that, the hope is the Legislature will provide the extra money required for the students.
"As of right now, it's an unfunded mandate," Vellardita said.
Vellardita says that funding source needs to be figured out this session and can be done through compromise.
Vellardita and other union officials backed their priorities with data from a survey of 500 Clark County voters conducted between Nov. 28 and 30 by Quirk Global Strategies. The survey was paid for by Nevada Leads, a political action committee focused on education and formed in 2016.
Highlights of the results include:
* The reorganization has gained additional support between the July and November surveys, with 75 percent supporting the measure, a jump from 60 percent in July.
* More than 75 percent of those surveyed agreed with a statement that it was time in the process for schools to receive money needed to implement the weighted funding plan.
* A strong majority of those surveyed strongly favor allowing parents to choose their child's school, although voters were mixed on the educational savings account program.
Contact Meghin Delaney at 702-383-0281 or mdelaney@reviewjournal.com. Follow @MeghinDelaney on Twitter.