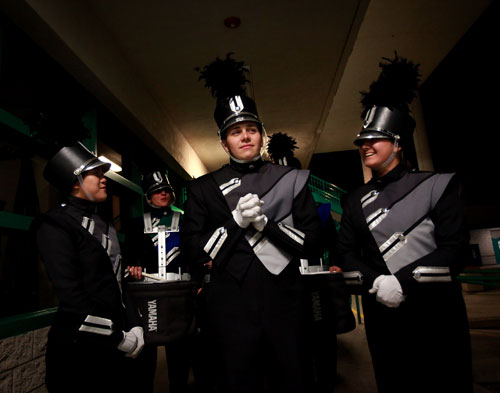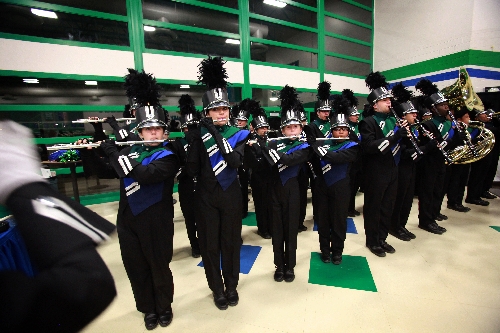 For Howard Moore's family, it's not Thanksgiving without watching Bart Simpson and Snoopy float above the streets of New York City.
Turning on the television broadcast of the Macy's Thanksgiving Day Parade is "always the first thing we do before we start cooking dinner," said Moore, 17, a senior at Green Valley High School in Henderson.
Moore said he had "no idea" he would ever be marching in the parade himself, but the drummer will be keeping the beat for the Green Valley band when they take Manhattan this Thanksgiving.
"My mom is really happy for me. She's always wanted to go to New York and I'm the first one in my family to go," Moore said.
Band director Diane Koutsulis said Green Valley is the first marching band from Southern Nevada to participate in the Macy's Thanksgiving Day Parade, which is nearly three miles long and attracts about 3.5 million observers to the sidewalks of New York.
On Thanksgiving, the Green Valley Gators should be seen on TV about 11 a.m. PST, performing in front of the Macy's department store in Herald Square.
The band is keeping its music selection a secret at Macy's request, but Koutsulis said the tunes will obviously have a "Las Vegas vibe."
Koutsulis is taking 190 people to New York, including 15 chaperones. Some parents also have made independent travel arrangements.
Students had to pay for the trip themselves but were told about the parade 18 months in advance so they could save money and raise funds.
Green Valley's Symphonic Band and Symphony Orchestra will perform at Carnegie Hall on Nov. 28.
Members of the marching band also perform in the symphonic band and orchestra, but some string players from the orchestra are not in the marching band.
Koutsulis said Carnegie Hall officials invited them to perform. "We played there five years ago. They sent out a feeler: 'As long as you're here, maybe you would like to do a performance.' "
Green Valley students also plan to go to museums and see the Broadway musical "Memphis."
"I'm a theater person so I'm real excited about New York," said Samantha Ma, 16, a junior and drum major.
When the Green Valley party of 190 gathers at Carmine's, an Italian restaurant in Times Square, for their Thanksgiving feast, students said they will give thanks for all the opportunities the band program has given them.
"Not every Clark County band gets to do what I've done in the last four years," said senior Tiago Santana, 17, head drum major and a saxophonist in the symphonic band.
"I got to go to Rome my freshman year. Sophomore year, we went to the inauguration (of President Barack Obama). I thought that was a great experience," Santana said.
Ma said performing for the inauguration was excellent preparation for the Macy's parade.
Koutsulis said big trips are "a hallmark of our band program. Students know every three years or so we're going to do something really special."
In her 20 years at Green Valley, she has taken the band to "London three times, Edinburgh, Scotland, to Paris, Rome. We also participated in the Clinton inauguration."
She makes sure trips include some educational activities.
"When we went to the (Obama) inauguration, we stayed in Philadelphia for the first two days, did all the historical stuff. I'm a little bit of a history fiend."
So what's the next big trip?
"I have no idea," Koutsulis said. "I need to rest."
Contact reporter James Haug at jhaug@reviewjournal.com or 702-374-7917.