Therapist picked to fill open Clark County School Board seat
August 17, 2017 - 2:50 pm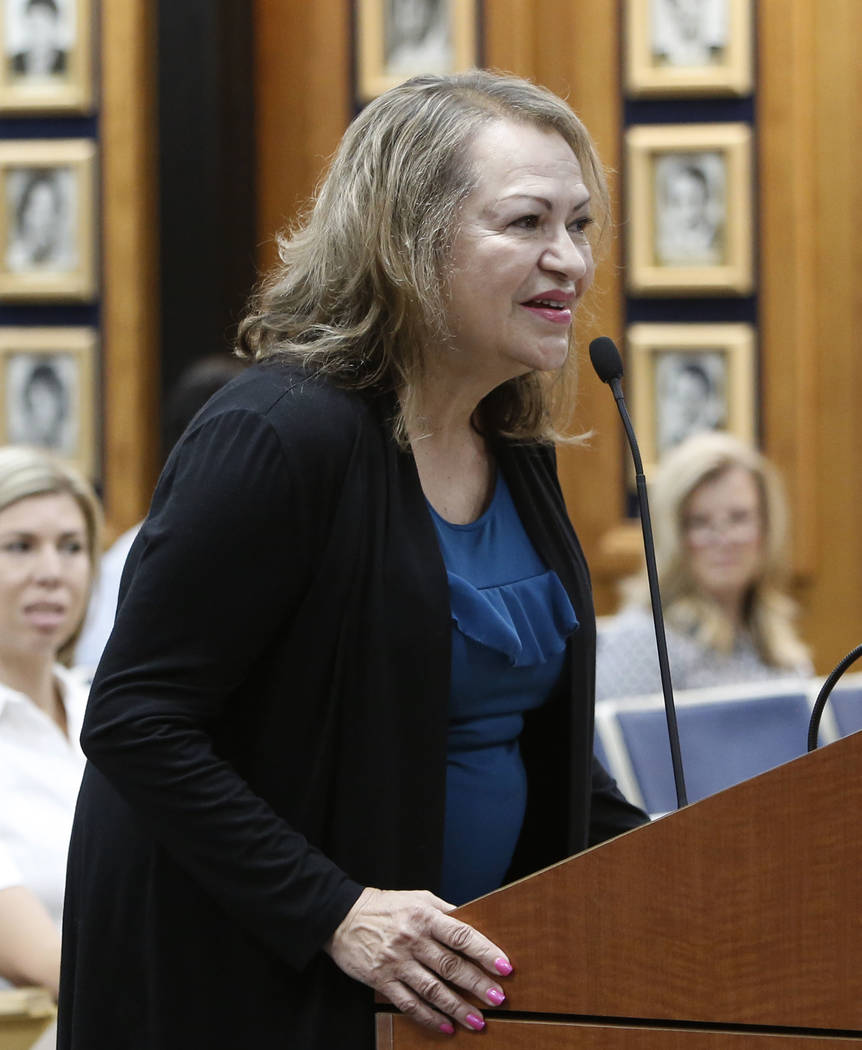 Clark County School Board trustees on Thursday appointed Linda Cavazos to fill the vacant seat of District G Trustee Erin Cranor.
Cavazos was chosen out of 10 finalists, all of whom faced questions from the School Board on the district's top issues, the reorganization, and race and equality.
"I'm very encouraged and very enthusiastic, and really very honored to be in the company of so many qualified candidates," Cavazos told trustees as she shook hands after the vote.
Cavazos, who has three grandchildren in the district, said during her interview that she would like to emphasize reaching minority populations in District G — the eastern part of Las Vegas Valley — and increasing parent engagement.
"I believe that the key is going to be meeting with my constituents in places that are accessible to them," she said.
Cavazos, a part-time family therapist, also previously worked as an English instructor at both Basic High and Sunset High.
She won a unanimous vote from trustees, beating out two others that trustees listed as among their top choices — UNLV Director of Assessment and Teacher Education Allison Smith, and local radio host Kenneth Lange.
Cavazos, who is Hispanic, was appointed just as members of the Hispanic community called on the board to appoint someone who reflects the diversity of the district's majority-Hispanic student population.
Though applicant Lillian Babcock had the support of the Latin Chamber of Commerce, community members also voiced support for Cavazos before the lengthy interview process.
"Even as a little girl, I could see Linda's passion and dedication to education," said Lisa Menegatos, who painted Cavazos as a loving mother and educator. "She really inspired me to go on and become an educator myself."
Cavazos, like nearly all the applicants, dedicated herself to running for the seat again in 2018, when the remainder of Cranor's term ends. Cranor resigned her post Wednesday to attend law school at Brigham Young University.
"I'm looking forward to being able to kind of carry on her legacy of being such a hands-on trustee," Cavazos said.
Contact Amelia Pak-Harvey at apak-harvey@reviewjournal.com or 702-383-4630. Follow @AmeliaPakHarvey on Twitter.