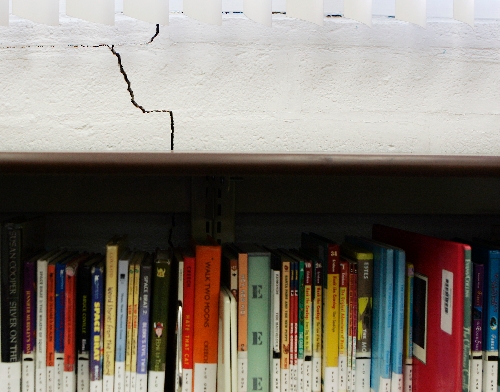 Forty schools that would benefit from a $669 million property tax increase already have received $490 million in investments since 1994, according to a conservative think tank that questions the necessity of a ballot initiative the Clark County School District is pitching to voters.
"Look, these schools have been very well-funded," said Victor Joecks, spokesman for the Nevada Policy Research Institute, which is critical of the Nov. 6 ballot proposal to increase property taxes by 21 cents per $100 of assessed valuation for six years.
If the request is approved, owners of a home valued at $100,000 would pay about $74.28 more a year. The money would be spent on improvement projects such as modernizing 18 schools, replacing six schools' climate control systems, upgrading 10 electrical systems, building four gyms and replacing two schools.
"If these are such important projects, they would have been done" before, said Joecks, referring to bond campaigns in 1994, 1996 and 1998 that netted $6 billion.
That money built more than 100 schools, though existing schools received a share and 2010 federal stimulus money for upgrades and new equipment.
The 40 schools identified as high-need averaged $12.3 million for major improvements, such as electrical and climate control systems and technology, since 1994. None went without a major investment, according to the district's online database at www.ccsd.net/divisions/facilities.
White Middle School in Henderson received the least at $3.9 million, while downtown's Las Vegas Academy received $46.7 million, mostly to upgrade to a magnet school.
If voters approve the proposed tax increase, the 1930 Academy building would receive $36.4 million for a major modernization, according to the institute. Joecks said the institute based that estimate on district information.
District officials, who have refused to release individual project estimates to other parties, said the information was sent in error.
"It's district policy not to release estimates on the cost of construction projects because we run competitive bids to get the best value for tax money," said Associate Superintendent Joyce Haldeman, who has led the tax initiative.
The same work isn't being repeated at the other 39 schools, district Associate Superintendent of Facilities Paul Gerner said.
For those schools undergoing major modernization, future upgrades will build on past improvements, not replace them. Crews would simply replace parts at schools that received heating and cooling upgrades in the 1990s and are now slated for heating, ventilation and air conditioning system overhauls.
The northwest valley's Becker Middle School, built in 1993, received $1.82 million from the 1998 capital improvement program for ventilation system improvements but would get an new $8.82 million heating and cooling system, the institute said.
In other cases, equipment simply may have worn out since it was installed in the early 1990s, Gerner said. Most equipment, such as air conditioners, has a 20-year average life span.
Haldeman said that campuses vary from 700 students in elementary schools to 3,000 students in some high schools.
"They require constant upkeep," she said of the buildings. "We have to spend money on our investments. It's a no-brainer."
The district, the fifth-largest public school system in the country, has 35 million square feet of property that requires upkeep and maintenance.
Joecks doesn't question that schools must be maintained and that equipment has to be replaced.
"But is this a necessity?" he asked, emphasizing that the time is wrong for a tax increase as families are struggling.
Contact reporter Trevon Milliard at tmilliard@reviewjournal.com or 702-383-0279.