Treasurer disagrees with analysis on military families, ESAs
November 20, 2015 - 5:26 pm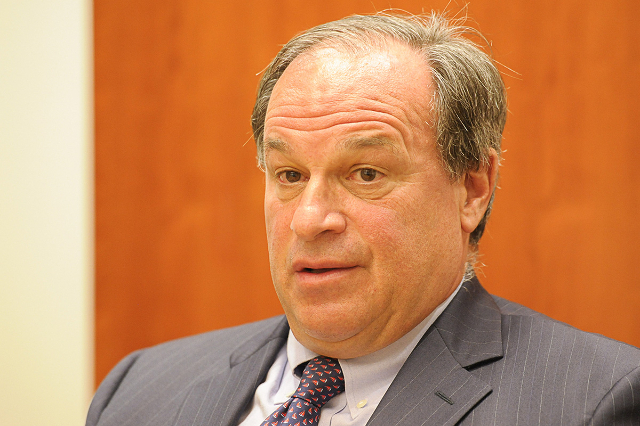 The state treasurer's office has pushed back against the legal argument that it cannot expand early eligibility for Nevada's new school choice program to active-duty military families and for kindergartners before they attend school for the first time.
Treasurer Dan Schwartz late Thursday received an analysis from the Legislative Council Bureau, which provides legal counsel for the Nevada Legislature, that concluded he cannot exempt students from a 100-day eligibility rule for the state's new education savings accounts, or ESAs.
Widely considered the most expansive school choice program in the country, ESAs will offer parents about $5,000 in per-pupil state funding if they pull their students out of public school. The parents then can spend that money on private school tuition or homeschooling, tutoring and other education services.
Schwartz, who under Senate Bill 302 must draft regulations to implement the program, proposed waiving the 100-day rule for children of military families and those age 5 to 7 before state law requires them to attend public school.
The treasurer's office on Friday announced the bureau's comments prompted it to postpone a hearing scheduled for Monday to adopt regulations that included those exemptions.
"Aside from giving Nevadans more time to review LCB's comments, I disagree with LCB on several points they have made," Schwartz said in a statement. "Rescheduling will provide additional time for LCB to consider our objections."
Grant Hewitt, the treasurer's chief of staff, said he expects to reschedule the hearing to adopt ESA regulations to early December.
He also stressed that families have until Nov. 30 to file their applications for early enrollment in an ESA, with the first round of funding expected in February. Parents can submit an electronic application at nevadatreasurer.gov.
Last week, the governor's office threw its support behind the proposed regulations, stating Gov. Brian Sandoval supports a "broad policy allowing military families to receive the immediate benefits of ESA legislation."
Hewitt cited the Interstate Compact on Educational Opportunity for Military Children, adopted by the 2009 Legislature and implemented in 2011, as providing support for the military exemption.
The compact has been adopted by all 50 states, according to the Military Child Education Coalition. It streamlines the process for student enrollment, placement, attendance, extracurricular activities and graduation — issues often complicated by a military family's frequent moves and deployments.
It applies to children of full-time, active-duty service members, including members of the National Guard and military reserve.
Review-Journal staff writer Sandra Chereb contributed to this report.
Contact Neal Morton at nmorton@reviewjournal.com or 702-383-0279. Find him on Twitter: @nealtmorton.