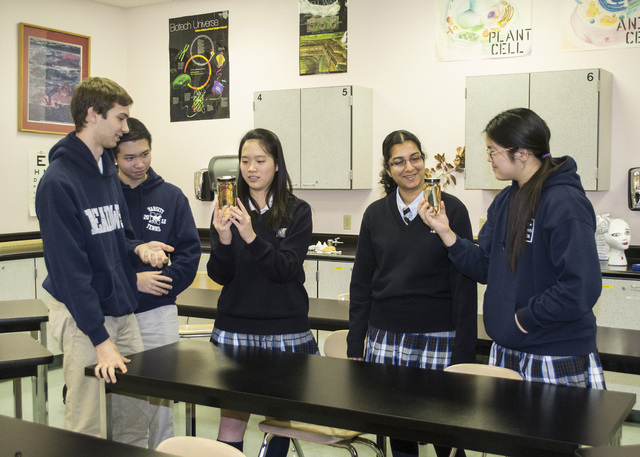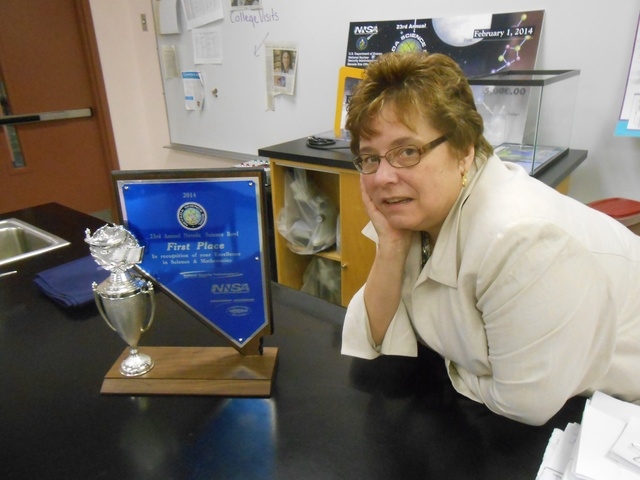 The Science Bowl has rules — no notes, no calculators and no second chances. That's OK because the team from The Meadows School didn't need any of those things.
In April, five of its upper school students — juniors Ryan Chakmak, Daniel Chen and Audrey Chang, senior and team captain Divya Ramakrishnan and freshman Caroline Liu — are set to travel to Washington, D.C., to compete in the National Science Bowl Finals.
The team from The Meadows School, 8601 Scholar Lane, won the Nevada Science Bowl championship Feb. 1 and received $5,000 for its science department, along with a spot in the national finals, scheduled for April 24-28.
"Most of us have been competing for a while, some of us since middle school, so we pretty much knew how it was going to be, what to expect," Ramakrishnan said.
The Meadows School will represent Nevada, Utah and a small portion of California.
Karen Bleifuss, team coach and a biology teacher at The Meadows School, said she was on pins and needles with each question. She said it was "like being a mom (even though) this team is so strong. It was double elimination, and they never lost a match. … This may be the first time we can get into the top 16, and that would be great."
The top 16 high school teams earn science-based trips to far-off places.
This was Bleifuss' first year as a Science Bowl coach, although she had been an assistant coach for two years.
To maximize efficiency and cover all bases, each student took an area of interest. Chen's forte, for example, is math, so the team deferred to him on any questions in that category. Ramakrishnan's area is astronomy, and Chang fielded questions on biology. Liu's and Chakmak's fortes are Earth science and general science.
"It's like a mishmash of questions," Ramakrishnan said. "It transitions, say, from a math question to biology. You have to get your mind into that gear."
Chakmak said, "There's pressure from outside sources whenever you have eyes on you; it'd be like having people stare at you when you take (a test)."
Like "Jeopardy!" contestants, the chance to answer the question comes down to hitting the buzzer first.
The team had experience in that, as it had competed in 2013 and took a regional title then as well. In the 2013 finals in Washington, it placed about 17th.
The Meadows School team may not have such an easy time when it gets to nationals this year.
"Some of the California teams are very competitive, from what I've been told," Bleifuss said. "They have classes in Science Bowl, where we just practice after school for 15 or 20 minutes."
Dirk Fillpot, who coordinates the competition through the U.S. Department of Energy, said more than 14,000 students are expected to compete this year in the high school and middle school competitions.
The top 16 high school teams and top eight middle school teams in the national finals will win $1,000 each for their schools' science departments.
He said the travel prizes for the top two high school teams have not been finalized for this year but that last year's winning team received a nine-day, all-expenses-paid science trip to Alaska. The second-place team won a five-day, fully guided adventure tour of several national parks.
A regional competition held on March 1 determined which middle school would represent Nevada in the national finals, and the team from Hyde Park Middle School, 900 Hinson St., won. That team is coached by Amy Wetjen and made up of Asadaly Jussa, Ben Hand, Ashish Kalakuntla, Vidhushan Ramakrishnan and Jay Desai. They defeated 20 other teams in the double-elimination tournament at Henderson International School.
This is the second year in a row that Hyde Park has finished in first place for middle schools.
Contact Summerlin/Summerlin South View reporter Jan Hogan at jhogan@viewnews.com or 702-387-2949.