UNLV Hope Scholars program aims to connect homeless students to college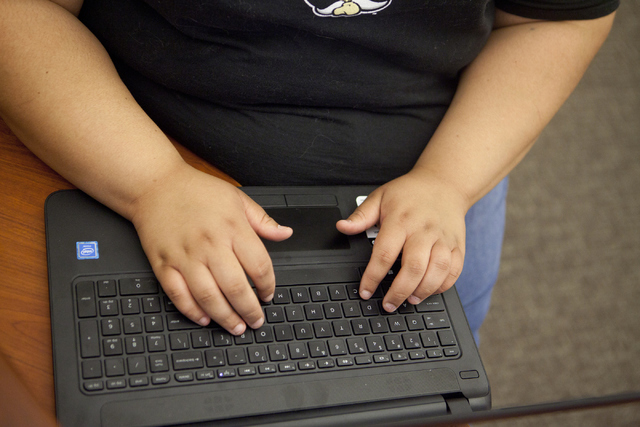 With a mother battling drug abuse and no place to call home, college felt out of reach for Theresa Butler last year.
"I thought I had no hope," Butler said. "No one knew how to help."
She dreamed of earning a medical degree and becoming a doctor or a clinic manager. But when she asked a counselor at Eldorado High School for help filling out a university application, Butler was told she wouldn't be able to do it without more information about her absent parents. Meanwhile, she was struggling to find a safe place to sleep most nights, at times taking shelter inside public buses.
That was then. Today, Butler is a freshman at UNLV, where she's one of six recent high school graduates benefiting from UNLV Hope Scholars, a new program that aims to help homeless youth pay for college and learn about aid programs at the university.
"It started with a very simple question: Where do students go on this campus if they're struggling with issues of homelessness?" said Richard Clark, who led the effort as UNLV's executive director for housing and residential life. "What we found is a lot of offices could help out, but we didn't have a coordinated effort."
UNLV officials estimate that Clark County is home to about 12,000 homeless youth. Of that number, nearly 2,400 are in high school, with about 700 being seniors. Many are eligible to attend college, but they struggle to get there.
"I always thought (being homeless) was my fault," said Parker Steele, 19, another student in the new program. Steele's stepfather kicked him out of his home when he turned 18.
"It took me a long time to realize it wasn't me," Steele said. "Now look where I am — I'm in college."
The new program — formed by a coalition of members from UNLV, the Clark County School District, and local nonprofit groups — aims to help students financially, academically and emotionally. It offers participants a base award of $6,500 in scholarship money and book vouchers, and it helps them learn about other aid programs on campus. Perhaps best of all, the program covers UNLV housing for students' first year.
"For me, it's so hard to transition to … knowing that you're OK," Butler said. "It's just a weird transition. But I'm so happy to be here. It's, like, just open doors from now on."
Program organizers hope the effort will expand in coming years — the school is tracking 12 CCSD juniors this year that they have tagged as potential applicants. The school will reach out to those students in August.
Clark said the group struggles to draw applicants, because many homeless students avoid asking for help.
"Most of the students that we're aware of that are on campus prefer not to talk about it, and they don't want people to know," Clark said. "Part of it is, they don't want to be known as the homeless kid. They're concerned about a stigma. They just want to go to school and be normal like everybody else."
Butler said she kept her homelessness secret throughout most of high school. But driven by her desire to go to college, she eventually told school officials, who then introduced her to the Hope Scholars program.
"Before my mother's addiction got bad, that's the only thing I talked about — college," Butler said. "I thought my dreams weren't going to come true. But at the end, I thought, this is not for me. This can't be it. So, now I'm here."
After graduating from UNLV with a degree in business, she wants to pursue medical school and some day open a clinic to help the homeless.
"And I want it to be a big thing. I don't want it to be a little hole-in-the-wall clinic," she said with a grin. "I want to help others … after experiencing what I went through."
Contact Ana Ley at aley@reviewjournal.com or 702-224-5512. Find @la__ley on Twitter.