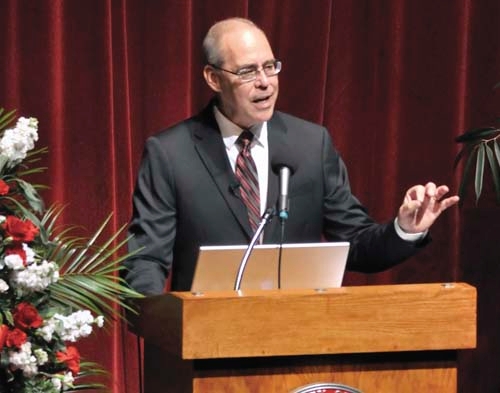 UNLV's president called for another tuition and fee hike Thursday during his annual State of the University address.
Without it, he said, the university will remain stagnant.
President Neal Smatresk did not specify an amount but said he hoped for a hike that could raise $6.5 million to $8.5 million a year to hire people in what he called critical areas.
"We hope it can be reasonable," he said in response to a student's question.
Dan Klaich, the higher education system's chancellor, said a tuition and fee increase proposal will go before the governing Board of Regents.
"Neal made a pretty strong case," he said. "If we're going to grow here, that's your only source of revenue."
He said it was unclear how much the proposed hike would be and when it would come up. Higher education officials will have to discuss any proposed increase with students, regents and state lawmakers, he said. During the last round of budget cuts, some lawmakers expressed distaste for more tuition and fee increases.
Per credit course fees for undergraduates have already increased 73 percent at UNLV since 2007. It costs $182.25 per undergraduate credit, or about $2,733 a semester for a full load. That figure does not include special course fees, miscellaneous fees or books, all of which typically adds up to several hundred dollars per semester.
This year, a 13 percent increase went into effect. It was instituted to help counter budget cuts. UNLV's annual state support was cut this year by about 13 percent, or $20 million.
Smatresk said the university's annual state support has been cut by about $73 million in the past several years, leading to 700 fewer jobs at UNLV and the elimination of some programs.
A message left Thursday with the student government president was not returned.
Greg Brown, a history professor and chairman of the Faculty Senate, told a crowd of several hundred when introducing Smatresk that everyone at UNLV is working harder because of the cuts.
"The past few years have been a difficult period for the UNLV community," he said.
But Smatresk repeatedly said during his address that he thinks the era of large budget cuts at UNLV is over. He said the signs point to an improving economy.
"I believe we're at rock bottom," he said.
"I don't believe you'll see further erosion, or significant erosion, in our funding," he said.
"I believe, short of global economic meltdown, I believe we are at a low-water mark," he said.
In response to a question, he said a priority in the next legislative session will be to push again for the university to retain the tuition and fees it collects. Now, that money goes to the state's general fund. Lawmakers funnel some of it back to the higher education system.
"You have my pledge to do that," he said.
He said other goals include revamping the employee health insurance system, which has garnered complaints, and working with higher education officials to revamp the state's funding formula for colleges and universities.
He received applause when he noted that UNLV did not lay off any tenured or tenure track professors. Some colleges and universities have done that because of budget cuts.
Smatresk said a buyout program at UNLV that four dozen professors volunteered for is responsible.
He ended his address by calling on faculty, staff and students to spread a positive message about UNLV.
"I think the message is powerful," he said. "And it's time we got it out to the community."
Contact reporter Richard Lake at rlake@reviewjournal.com or 702-383-0307.
TUITION HIKES
Per-credit undergraduate fee hikes at UNLV since the 2006-2007 academic year.
Year, Annual increase, Cumulative increase
2007-08, 11%, 11%
2008-09, 11%, 23%
2009-10, 10%, 35%
2010-11, 14%, 54%
2011-12, 13%, 73%