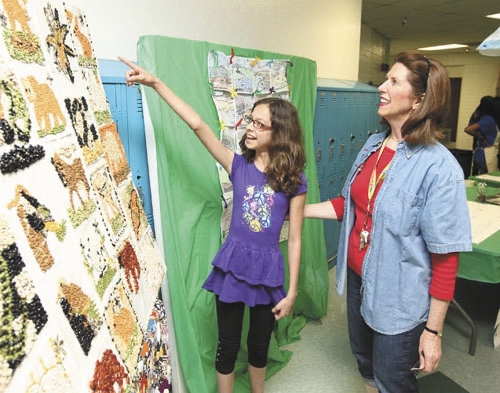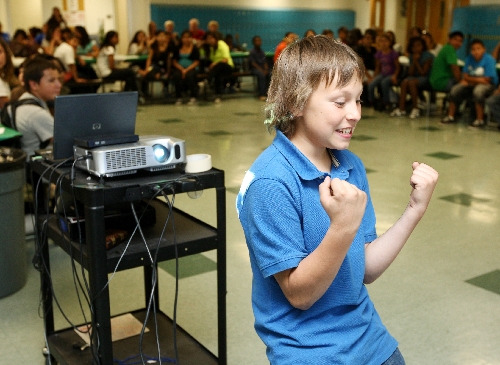 Bratty kids taunt the lowly custodian who picks up after their spitballs at Del Sol High School.
When a football-sized rat comes to the campus located just east of McCarran International Airport, the arrogant youth scatter while the custodian is left to shoot the vermin with a nail gun in this two-minute movie called "Pest Control."
No rats were harmed during the filming because a plastic toy normally used as a hall pass became the stand-in for the bug-eyed intruder.
Erica Chan, a 21-year-old film studies major at the University of Nevada, Las Vegas, showed the Del Sol students how to transform a classroom fixture into a movie monster.
As an ArtsBridge Scholar, Chan's flair for the dramatic enlivened a broadcasting class in which students are more accustomed to making the morning announcements, such as the lunch menu or who won last night's softball game.
ArtsBridge is a national program that sends college arts students into underprivileged schools whose art programs might have been cut or reduced for lack of funding, said Jeffrey Koep, the dean of fine arts at UNLV.
For the past six years, UNLV has enlisted the creativity of its architecture, dance, film, music and visual arts students to enhance instruction in local public schools.
One ArtsBridge scholar created a dance to teach third-graders at Paradise Elementary School basic insect anatomy, Koep said. A music major had elementary school students sing facts about the ocean to a violin concerto.
On Friday, Orr Middle School had a reception for ArtsBridge scholars who have collaborated with its English as a second language program.
Orr, east of the Boulevard Mall in central Las Vegas, serves many students who are new to the United States. This year, its students come from 27 nations, including Cuba, Nepal and Vietnam.
Yasmina Chavez, a UNLV photography student, was amazed that Orr instructor Annie Bhatnagar could teach English to kids who speak "10 different languages."
Bhatnagar credited the arts projects for getting students past their inhibition of speaking English. Making mosaics from dried beans got the youngsters talking about their native foods, she said.
ArtsBridge students have come in handy this semester. Bart Battiste, the broadcasting teacher at Del Sol, complimented Chan for bringing "some life to a class that was sort of waning toward the end of the year."
Because of budget cuts, Del Sol merged its Broadcasting I, II and III classes into one period. For the morning announcements, the teacher needs 11 students only, so the 24 other students are left needing something to do.
"They're working on projects, but we only have three computers," Battiste said. "That limits us. We were coming to a standstill."
So "Pest Control" was hatched as Chan taught the basics of movie making, such as story-boarding, the principles of framing a shot and acting.
Jason Meuir, 18, played Omar the custodian.
"He's a really good guy, but inside he always wanted to be something more than just a janitor," he said. "In this instance of a killer rat, he finds his calling and saves the day."
After a semester of working with teens, Chan developed an appreciation for teachers' coping strategies.
High school students "think they know everything," Chan said. "It was definitely a challenge trying to engage them."
As an ArtsBridge scholar, Chan was awarded a $1,500 stipend, which she used to buy a movie camera.
UNLV's ArtsBridge program has been funded solely by a local philanthropist, Bernice Fisher, who has given $100,000 over the past six years, Koep said.
ArtsBridge scholars Yasmina Chavez, 28, and Chelea Johnson, 23, said their students were always eager for any creative outlet.
Orr Middle School does not have a formal arts instructor for drawing or painting, although all teachers are trained to incorporate the arts into their classes, Principal George Leavens said.
"It's really sad this school does not have an art program," Chavez said. "Kids need to have that freedom to express themselves.
"We definitely need to keep art in school."
Contact reporter James Haug at jhaug@reviewjournal .com or 702-374-7917.