UNLV welcomes incoming freshmen
August 10, 2012 - 3:23 pm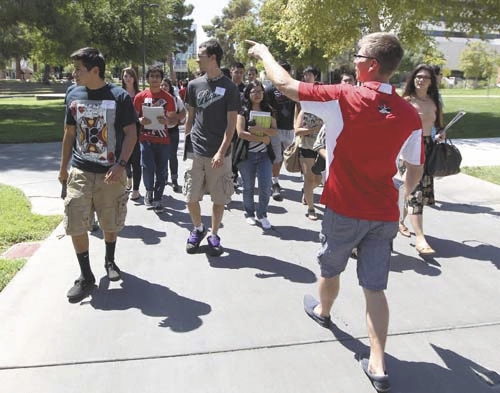 The ritual is the same, even if the specifics differ from year to year.
Hundreds of thousands of new high school graduates flood into the nation's universities every fall.
They are, for the most part, eager and often clueless about how much their lives are about to change.
This is about to happen at the University of Nevada, Las Vegas, which will welcome almost 3,000 new freshman when classes start Aug. 27.
Some of them will fail. Some will succeed. Some will take courses on a specific track and finish quickly, and others will change their majors three or four times and finish six, seven, eight years from now.
University officials are trying to tilt that balance. The graduation rate has hovered near 40 percent there for years, a testament to the university's status as a commuter school, one with a tenuous connection to the surrounding community, a short history and little in the way of on-campus housing.
But there is evidence that things can change, that students will come back in greater numbers if you give them good enough reasons.
"We have really redesigned our general education curriculum to meet modern expectations," Carl Reiber, the university's vice provost for academic affairs, told a gathering of several hundred incoming freshmen on Friday.
The freshmen, attending one of several orientation sessions planned for this month, were there to learn about the university, about social activities and college life, and about what will be required of them once classes start.
They were given tours of the campus, grouped together by what college their majors are housed in.
Student Amanda Zachea, 19, said she came to the orientation session mainly so she could learn about life at the university. The session on the education requirements was extra.
"I wanted to meet new people," she said. "Get a feel for life here."
Zachea is a graduate of Palo Verde High School in Las Vegas. She said she wanted to major in elementary education.
No matter what a student majors in, an all-new curriculum is being implemented this semester after nearly two decades of study.
Freshmen and some transfer students will be required to follow the new guidelines, which are designed to help new students get through college with a greater understanding of what officials there think are the most important overall areas college students should master.
Those areas are critical thinking, communications, ethics and global diversity.
First-year courses designed by professors will be required. The topics will be integrated throughout the students' four years at the university, too, with specific courses designed for each of the four years. Those will be called the Second Year Experience, the Milestone Course and the Culminating Experience.
There is evidence from universities across the country that this approach works. It was pioneered by the University of South Carolina and has been followed by scores of other universities.
Studies show that students are more likely to come back for a second year, and those students are more likely to come back again.
The students also do better.
Reiber said these courses, often called "freshman experience" or "first-year experience" programs, vary depending on what a student's major is.
Classes at UNLV will include Business Connections, Great Migration in Modern Human History, and Neuroethics, as well as several others.
"Each of these courses has their own flavor," Reiber said.
Contact reporter Richard Lake at rlake@reviewjournal .com or 702-383-0307.