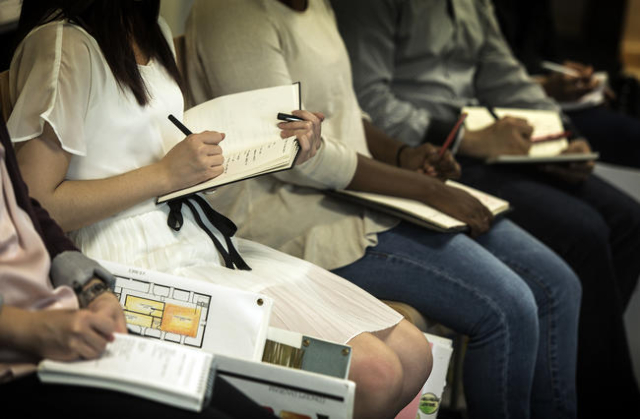 UNLV and Western Governors University Nevada soon will start awarding dozens of state-funded scholarships aimed to alleviate the state's crippling teacher shortage.
The Teach Nevada scholarship fund, approved Nov. 12 by the Nevada State Board of Education, will provide up to $3,000 per semester for students in teacher preparation programs who commit to working in the state's lowest-staffed public schools. It aims to bring 134 teachers to campuses across Nevada next fall.
The board voted to allocate $2.3 million to bolster fast-track teacher licensing programs at UNLV, WGU Nevada and four other institutions. UNLV has received about 25 applications, while Las Vegas-based WGU Nevada — which selected its first recipient this week — has received more than 50.
"The state faces a challenge right now, and districts need to have more qualified teachers in every classroom," WGU Nevada Chancellor Spencer Stewart said. "We felt this to be an obligation of sorts, to assist the state Board of Education to assist Nevada's 17 school districts in educating qualified individuals."
The deadline to apply at UNLV, which is choosing up to 50 recipients, is Feb. 19. WGU Nevada will accept applications until Feb. 26, awarding up to 20 scholarships. Participating schools must pick recipients by March 1 and may dole out scholarship money throughout the year.
UNLV will award as much as $24,000 per student, while WGU Nevada's maximum scholarship award is half that amount. Both schools will provide three-fourths of the money upfront and grant the rest after recipients teach at a Nevada school for five years, spending at least three years at one or more of 216 schools with teacher shortages that fall below the statewide average of 4 percent.
"This is a list of schools that have a high vacancy of teachers, and that is the reason for placing them there," said Linda Quinn, associate dean for academic and professional programs at UNLV's education college. "Unfortunately, those are … schools where new teachers have a hard time being successful because they find challenges they don't have solutions for."
To help fledgling teachers, participating institutions are required to boost mentoring services for recipients, said Dena Durish, director of educator effectiveness at the Nevada Department of Education.
"A lot of people who leave teacher preparation programs do it because they're not feeling supported," Durish said. "They need a lot of support from instructors."
For details on UNLV's scholarship, visit http://education.unlv.edu/scholarships/teach-nevada/. For details on WGU Nevada's scholarship, email scholarships@wgu.edu.
— Contact Ana Ley at aley@reviewjournal.com or 702-224-5512. Find her on Twitter: @la__ley.