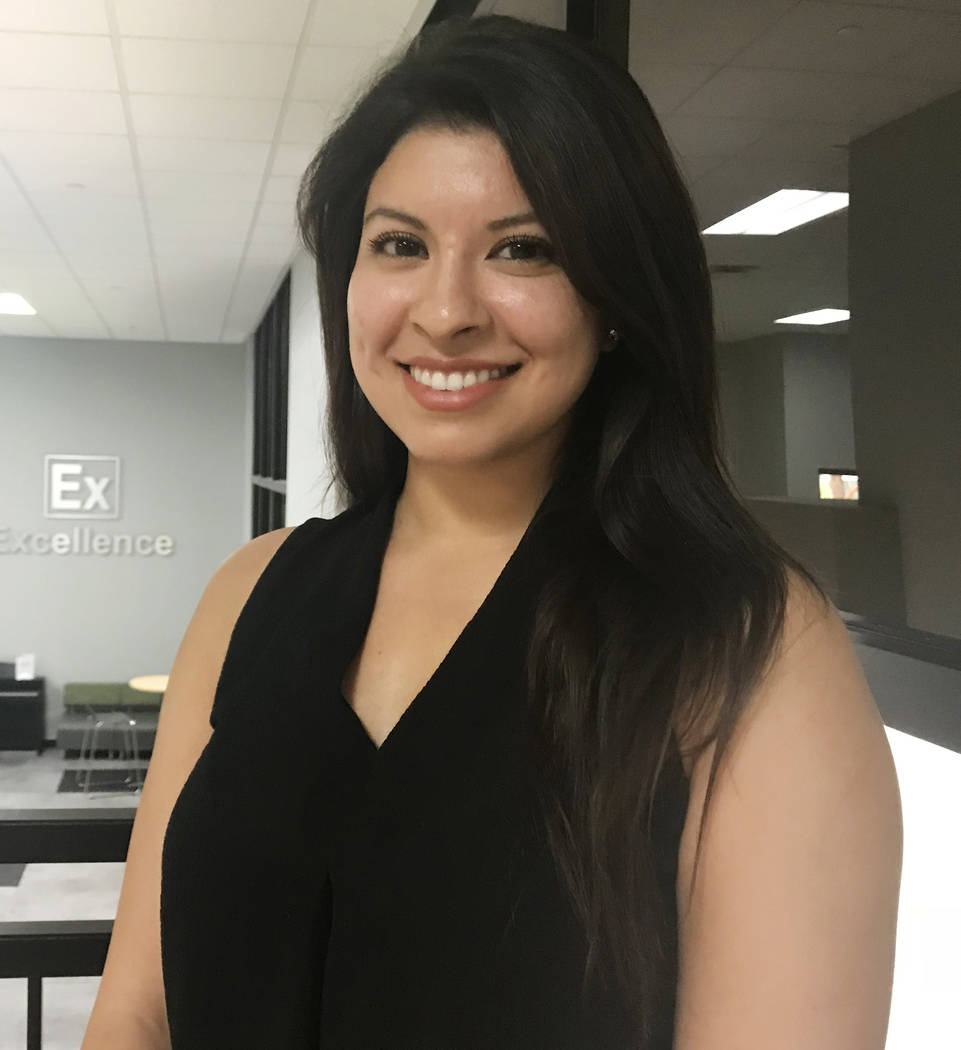 The doctor visit began as it normally does for Kathie Velez.
She accompanied her mom to the dermatology appointment to act as her translator, as she had done since childhood, but Velez left with a new career aspiration.
"I had been on different doctor visits with her before, and he was so patient with her; he was so kind," Velez, now 27, said. "He was very professional, and he just made my mom feel very comfortable. And for her to feel confident enough to make eye contact with him, ask questions … I thought, 'I want to be like him.'"
Velez, who was studying international business at UNLV at the time, changed course and began shadowing Dr. Johnnie Woodson.
"Over time I saw how he was with patients," Velez said. "I loved that he loved speaking to his patients, getting to know them. And things that he wasn't sure of, he'd go back to his office, look up textbooks, look up treatments. That whole puzzle of medicine is what kind of intrigued me."
She's going to begin putting the puzzle pieces together herself as a member of UNLV medical school's second class.
She and 59 other students begin studies on Monday.
"I'm ready," Velez said last week. "I'm looking forward to new challenges."
The medical school opened in July 2017 with its charter class, which finished up first-year studies last month.
And while the first cohort boasted competitive Medical College Admission Test scores and impressive GPAs, the second class is a slight notch above: the average GPA of those accepted is 3.8, and the average MCAT score is 509. The number of applications the school received the second time around is also slightly higher: 1,170, compared with just over 900 with the first class.
School officials ultimately interviewed 293 students and continued their strategy of both considering and selecting students from Nevada or those with ties to the state.
"From my perspective, this is a group of kids who've all worked extremely hard to be here," said Dr. Sam Parrish, senior associate dean for student affairs and admissions at the School of Medicine. "What has been most characteristic in my interactions with them is that they've all got personal motivation for wanting to do this."
Parrish said some of the students have come from economically disadvantaged backgrounds — where the only doctor visits occurred in emergency rooms — and nearly half are first-generation college students. All of the students have experienced personal setbacks, have learned from mistakes and are resilient, he said.
"I think they're just what we're looking for," he said.
In addition, the diversity of the class reflects that of the larger campus community, the city and the state: seven students are African-American and seven are Latino, accounting for 23 percent of the class. Both groups are considered underrepresented in medicine.
"We are recruiting students to be trained as physicians that reflect the communities they're going to serve," Parrish said. "It's one of the things in our mission. If you're going to serve a diverse community, you need a diverse group of students. It's something we look for from the start."
It's something Velez, a Latina, was looking for, too.
When she began her pre-medicine coursework at UNLV, she didn't see many people who looked like her in science and math classes.
"I'm in one of the most diverse universities in the nation; how can this possibly be? There's so many Latinos in Las Vegas," she recalls thinking.
Her frustration turned into action, and she formed the Future Latinos in Medicine organization.
"I made the first one, for students just like me … Latino students that have a common upbringing where we can come together and talk about our shared struggles," she said. "Whenever you want to do something you need to have some self-confidence, some sense of 'I can accomplish this.' Because if you don't, then you'll never start, and you won't really apply yourself to the process."
Creating the organization, which now has about 25 members, is one example of how she's lived her life and how she hopes to continue doing so as she pursues her medical degree.
"Everything I've done has kind of been like a cause and effect," she said. "I see a problem, and I need to find a solution, because I can't stop thinking about it. I can't ignore it."
Contact Natalie Bruzda at nbruzda@reviewjournal.com or 702-477-3897. Follow @NatalieBruzda on Twitter.