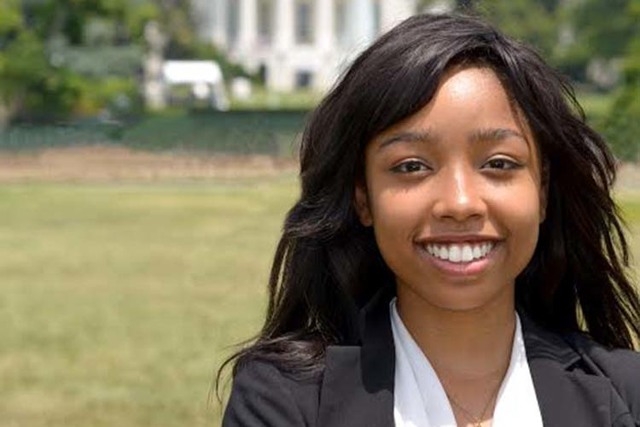 Receiving advice from Vice President Joe Biden and meeting White House senior administration officials are some of the perks of Kaleema Ishmel's first full-time job.
Ishmel, 19, is a 2013 Valley High School graduate who was chosen for a White House summer internship. The teen who aspires to be a diplomat now works in first lady Michelle Obama's correspondence department.
She said the internship includes a speaker series that allowed her to meet President Barack Obama's senior adviser and assistant for intergovernmental affairs and public engagement.
"Valerie Jarrett is by far one of the most amazing women I have ever met," Ishmel said last week.
Ishmel is a business student who recently completed her freshman year at Howard University in Washington, D.C. Her high school experience was broad: a magnet-program student, a tennis player and track athlete, a volunteer who completed more than 250 hours of service and debate team president.
But Ishmel's trek has just started, with the White House internship being an important first step in exploring the prospect of a career with the State Department.
Tillie Torres, a Valley English teacher and Ishmel's debate coach, said they used to joke about Ishmel's potential. Her student, she predicted, would someday "rule the world."
"I still believe that (there's) a potential for that to happen," Torres said earlier this month.
Torres noted that Ishmel, even as a high school student, showed interest in "representing the underrepresented." She added that Ishmel has a wide range of interests, including politics, law and education.
"Her focus has always been on taking people who are traditionally unrepresented in our institutions in the United States, and somehow representing them in a way that honors their diversity," Torres said.
The teacher called Ishmel a "a phenomenal conversationalist" and said "there was no topic in current affairs that you could bring up that she didn't know something about."
Family support has been vital to Ishmel's success and development. Education is a priority for her and her family, something that's "embedded in their DNA," according to Ishmel's mother Tish Kay.
"They also instilled a love of learning in my life and that, more than anything, is what keeps me focused and wanting to learn as much as I can," Ishmel said. "Ultimately, my entire family understands the value of education, and I'm surrounded with a wealth of knowledge and creativity that helps to fuel my drive."
The foundation of Ishmel's critical thinking stems from the early development of reading and writing skills, her mother said.
Ishmel became an avid reader at a very young age, attending midnight Harry Potter book releases in bookstores when she was 4 and 5 years old, her aunt, Shmel Graham, said.
Even now, Graham said that Ishmel is always involved in a project or initiative and that she is "confident and willing to express certain views others might not."
When asked about her role models, Ishmel referenced her aunt. She said Graham would help her with any troubles she had in any subject areas. "They (family) have tried to make the best resources available to me, and to this day they make sure that I take care of what's important."
As Ishmel advanced in her studies, her path has been strategic. She speaks both English and Spanish and is learning Arabic. This, Kay said, is because Ishmel wanted a challenge and something that would give her a competitive edge should she become a U.S Foreign Service officer.
Ishmel also said that she was influenced to study business and look into the State Department career after spending time with a family friend, Lucy, who was in the Foreign Service. She said Lucy told her about time spent working and teaching around the world.
"I chose international business for its flexibility and its coverage of many of my topics of interest, so that I could stay on track to take the Foreign Service exam once I graduate," Ishmel said.
According to the White House website, internship applicants must have commitment to public service and leadership in the community. The site notes that the selection process is highly competitive and that they carefully look at character traits.
Aside from building connections with her peers through the internship, Ishmel said she is excited about "being able to participate in serving the American people from a governmental standpoint."
Torres said that the White House internship likely will help Ishmel define her path as she decides how to use her many talents.
"It's a problem most of us don't face, but she's just good at so many things," Torres said.
"Although she's not at the end of her journey, this is really really a memorable milestone," Kay said about the internship.
Contact Ricardo Torres at rtorres@reviewjournal.com or 702-383-0381. Follow @rickytwrites on Twitter.