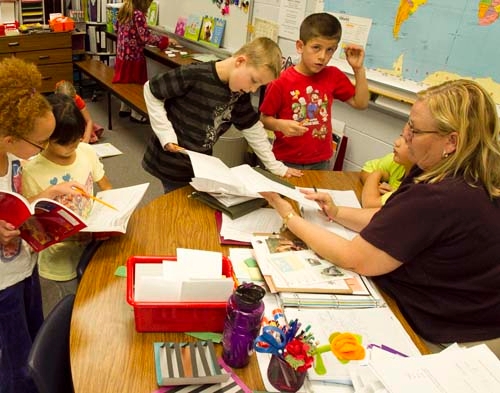 Wiener Elementary School Principal Krista Yarberry said the "best decor decision" she ever made was turning her office into a Green Bay Packers shrine.
The bobblehead dolls, Super Bowl posters and football trinkets help break the ice with parents, especially those obsessed with sports.
That doesn't mean Yarberry wants to embrace a "packer" mentality, not when it comes to cramming more students into small classrooms.
Because of the Clark County School District's anticipated $407 million funding shortfall and expected staffing cuts, principals like Yarberry have been forced to find ways to cope with increasing class sizes. The Wisconsin native's solution is ordering the removal of eight classroom walls in her building for the 2011-12 school year.
She is one of 16 elementary school principals demanding the removal of 86 classroom walls. Clark County School District Associate Superintendent Paul Gerner received a request to rip out 12 walls at the northwest valley's Garehime Elementary School alone.
Most of the schools in question were based on the same design, Gerner said. Removing the walls should double classroom space from 495 square feet to nearly 1,000 square feet.
The walls are essentially plastic-covered drywall and aren't needed for structural support. They were intended as dividers that could be removed.
DIVIDERS COMING DOWN
Still, the renovation requests represent a break from past efforts to reduce class sizes. The dividers were installed about a decade ago when classes averaged 16 to 1.
"Quite frankly, I don't think we have taken down one of these walls in a long time," said Gerner, who oversees facilities.
The school district is expanding class sizes at every grade level next year.
While the district officials have made it a priority to reduce class sizes if more funding becomes available, officials expect to raise the average class size in grades 6 through 12 from 32 students to 34.
In grades 1 and 2, the average class size will go from 18 students to 21. In grade 3, the average class size will go from 21 students to 24. In grades 4 and 5, class size will increase from 30 students to 33.
Because schools also will be staffed at 97 percent and enrollment typically grows throughout the school year, Yarberry is planning for four to five more kids in grades 1 and 2 for an average class size of 23 students at the south valley school.
Under Nevada's fire codes, schools are supposed to provide a minimum of 20 square feet per person in a classroom. So a 495-square-foot classroom could still accommodate 23 children and a teacher, even if the fit is tight.
But having classes of 24 students and a teacher would violate the code.
School officials say the wall removal is intended to create a better learning environment.
Wiener is a K-2 school and Yarberry said it is vital that students have space to interact and play.
"These are babies," the principal said. "You can't have them sit there. If you really want to increase their learning, you have to have them up and moving."
FEWER PORTABLES
While costs should be relatively minimal to remove the walls, Gerner also worried that he could be deluged with requests for portables to compensate for the loss of rooms.
"I saw it as a snowball coming my way," said Gerner, fearing that demand could outstrip supply.
The district spends about $5,000 to move and install a portable on a new campus.
The district could be losing its funding source for portables since Gov. Brian Sandoval has suggested using proceeds from the government services tax to pay down the district's capital debt.
So far, Gerner is relieved that he has only gotten requests for six to eight portables, which the district will be able supply from its inventory.
Yarberry has asked for two portables, which will provide four additional classrooms for Wiener, 450 Eldorado Lane, near the intersection of Bermuda and Warm Springs roads.
She could not order any more portables because she does not have the staffing for them. The school is losing seven teachers and four support staff employees next year.
"It will have a direct impact on the children and what we're able to do," Yarberry said.
The principal said having a literacy specialist and an aide helps keep 90 percent of their students performing at grade level. The school practices a lot of one-on-one services to help students who have fallen behind in a subject.
Next year, Wiener Elementary School will have to share the literacy specialist with another school. It's losing the support staff position.
"We're going to have to get creative," Yarberry said. "Children deserve the best."
Contact reporter James Haug at jhaug@reviewjournal.com or 702-374-7917.
Locations of schools that are removing classroom walls.