Whitney Elementary School debuts after-school program for families in need
October 10, 2011 - 11:19 pm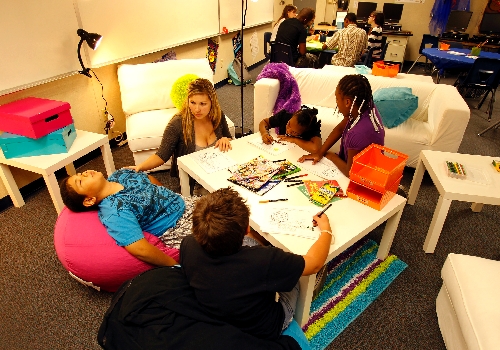 Whitney Elementary School opened a new after-school program last month to help its most vulnerable students and their families.
Village of Hope Las Vegas provides a safe environment for 20 students from
3:30 to 6:30 p.m. Monday through Friday in a neighborhood riddled with crime and poverty.
About 85 percent of Whitney's students are homeless. The school, 5005 Keenan Ave., has food and clothing pantries for families and provides financial assistance with utility bills, among other programs.
Students who may have spent their afternoons "home" alone or on the street can get a meal, receive tutoring and learn new skills such as martial arts or gardening.
And the school doesn't stop when kids move to secondary schools. Entire families are adopted into the program and may continue to use it throughout high school.
Debbie Parks, a single mother with two boys, works until 5 p.m. and said she was happy her family was chosen.
"It seems like a great program so far, and the kids like it," Parks said. "They did their homework, which is good, because you don't have to worry about it, and they helped him."
Her youngest son, fifth-grader James, enjoyed the other aspects of the program.
"I like the activities and that we get dinner," he said.
Village of Hope was the vision of Whitney principal Sherrie Gahn, who got some help from Gov. Brian Sandoval, who toured the school last year. Sandoval put Gahn in contact with his wife, Kathleen, a program director for Children's Cabinet, a nonprofit group in Reno that helps youths and families.
Kathleen Sandoval, Gahn and other community partners collaborated to create the Village. The program is incorporated under Children's Cabinet for the time being, but Gahn said it eventually will become its own nonprofit organization.
The Village's only full-time employee is program coordinator Sherita Diaz. She was a former coordinator and case manager for Children's Cabinet and was recommended by Kathleen Sandoval to run the program at Whitney.
"This was great," Diaz said. "We both want to do the same thing. We both have passion for these kids."
Gahn handpicked each family for the program based on their struggles at school and at home.
"They were selected because we felt they could fall through the cracks," Gahn said. "We're hoping that this helps them build self-esteem and helps them feel that education is important."
Diaz makes weekly contact with the families to stay current on their situations.
"We figure out what their needs are, what their concerns are and set goals to work toward," Diaz said. "The ultimate goal is to have a Village of Hope in every area of the city to be able to serve all schools."
For more information, visit villageofhopelv.org.
Contact View education reporter Jeff Mosier at jmosier@viewnews.com or 224-5524.
Village of Hope
Village of Hope is offered at Whitney Elementary School, 5005 Keenan Ave., from 3:30 to 6:30 p.m. Monday through Friday. For more information about the program, visit villageofhopelv.org.