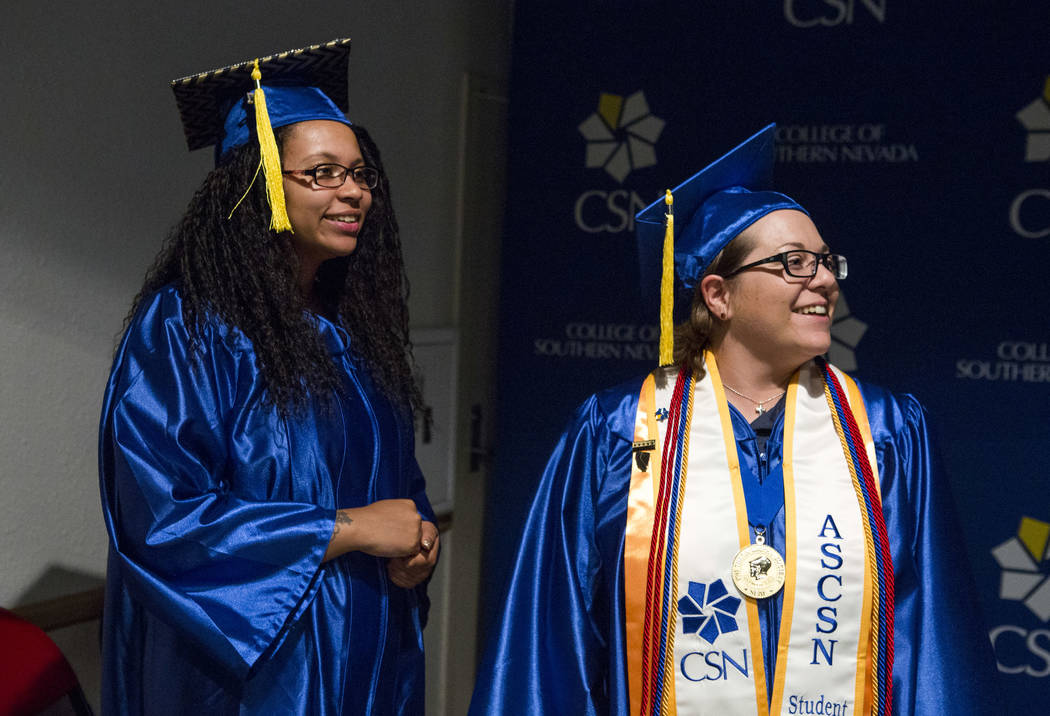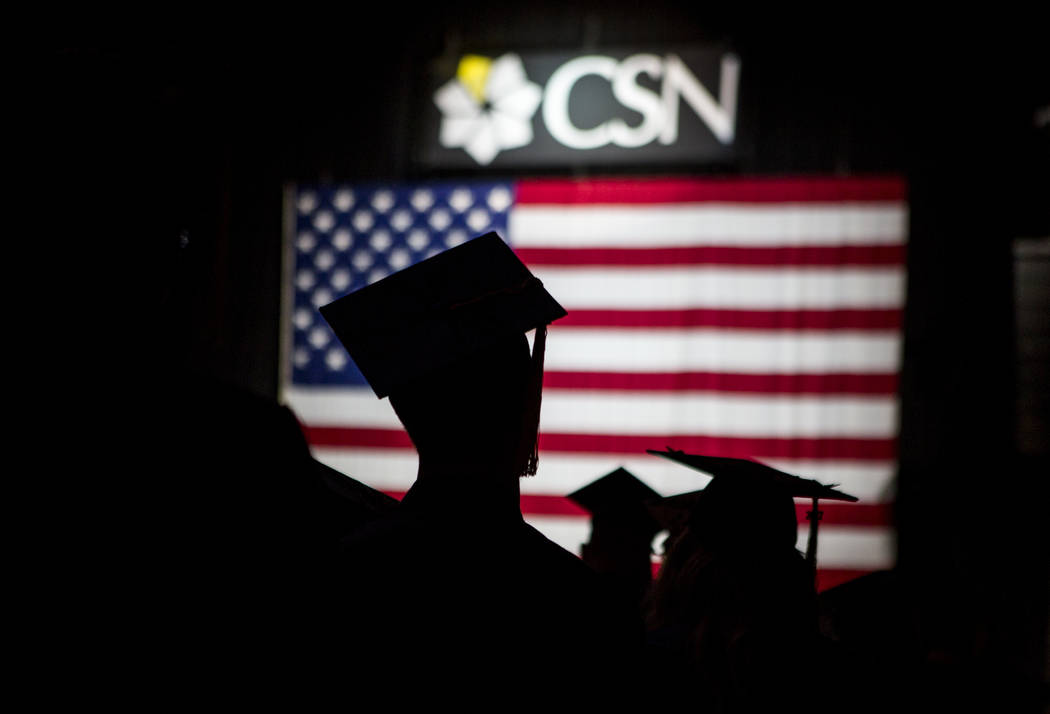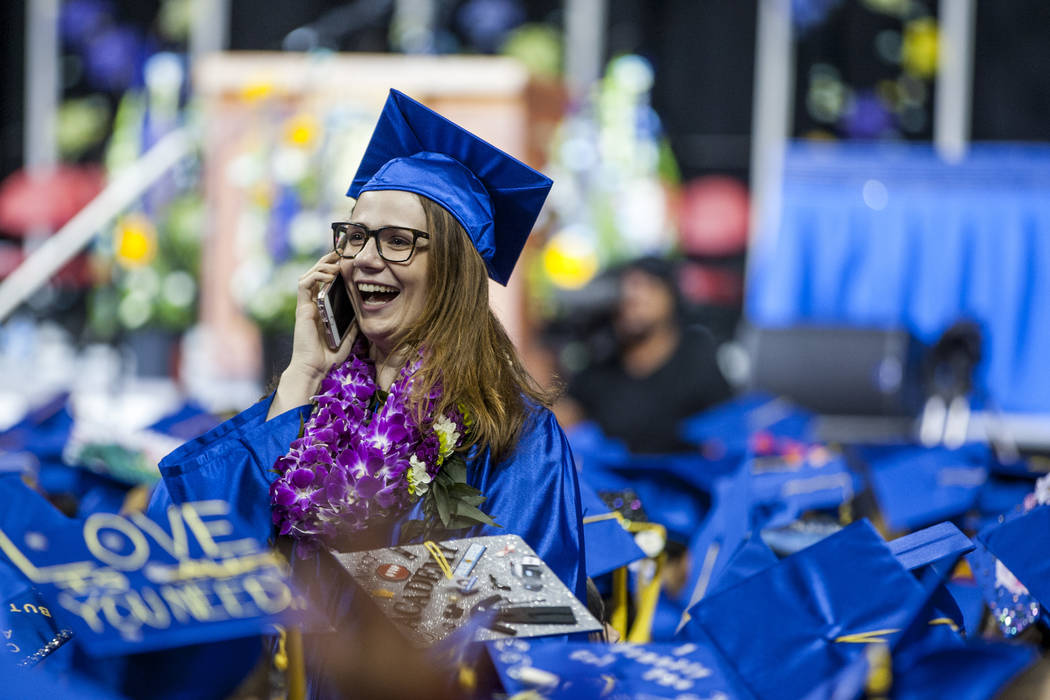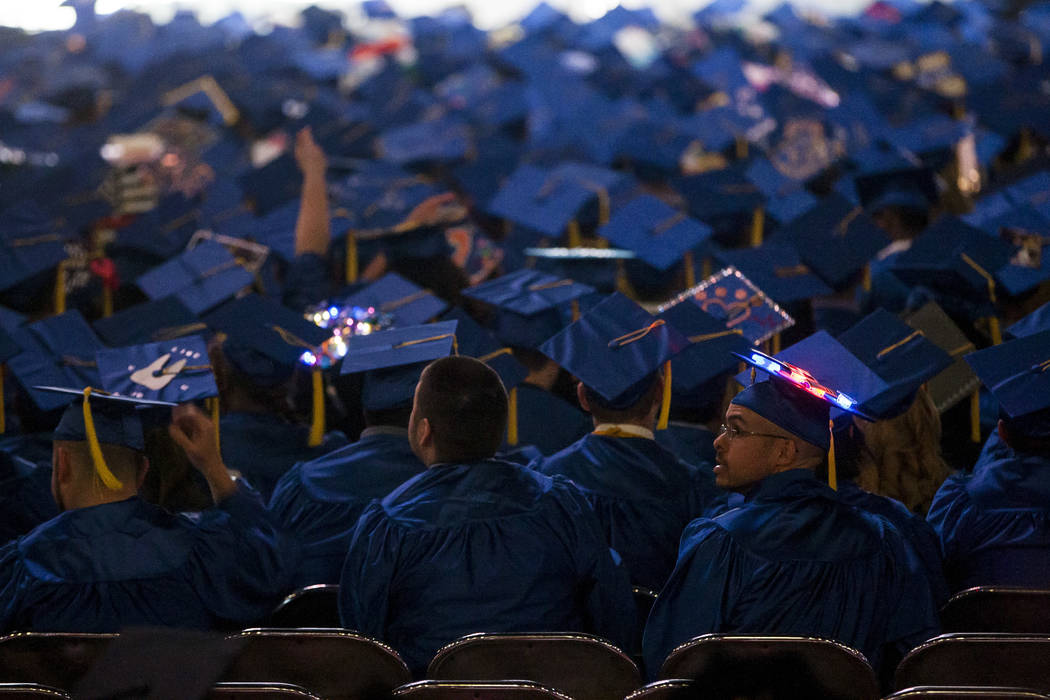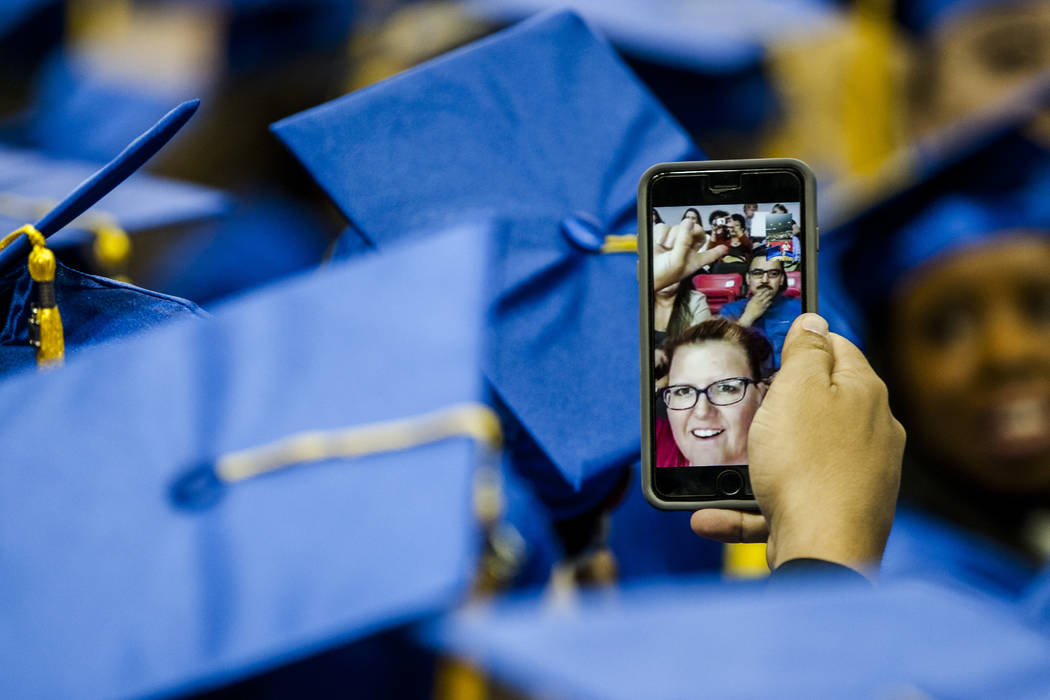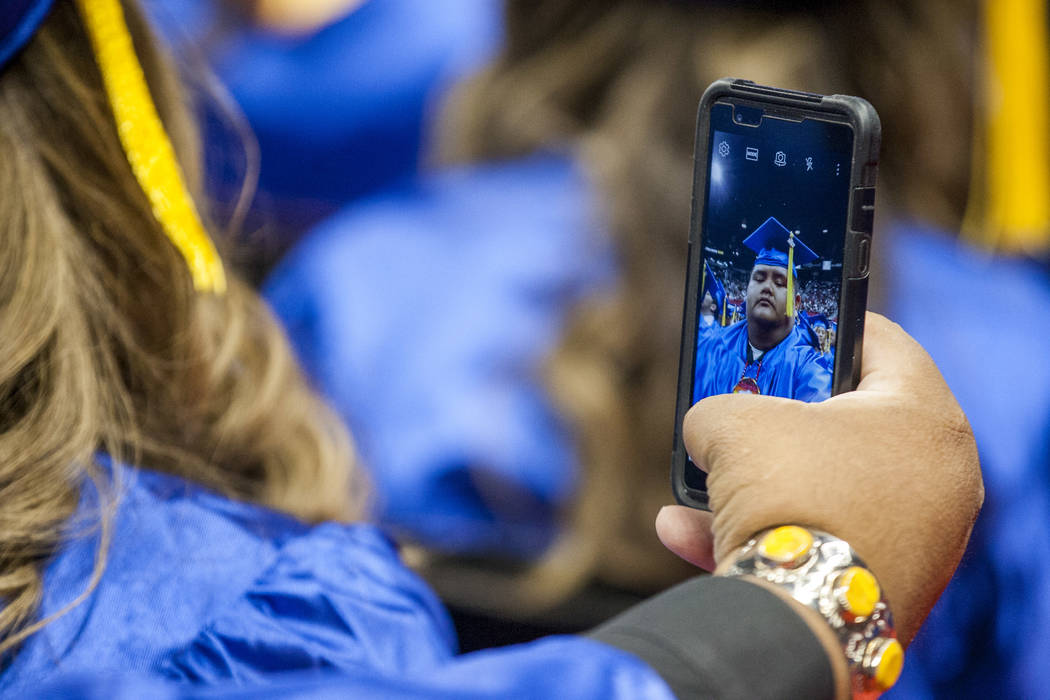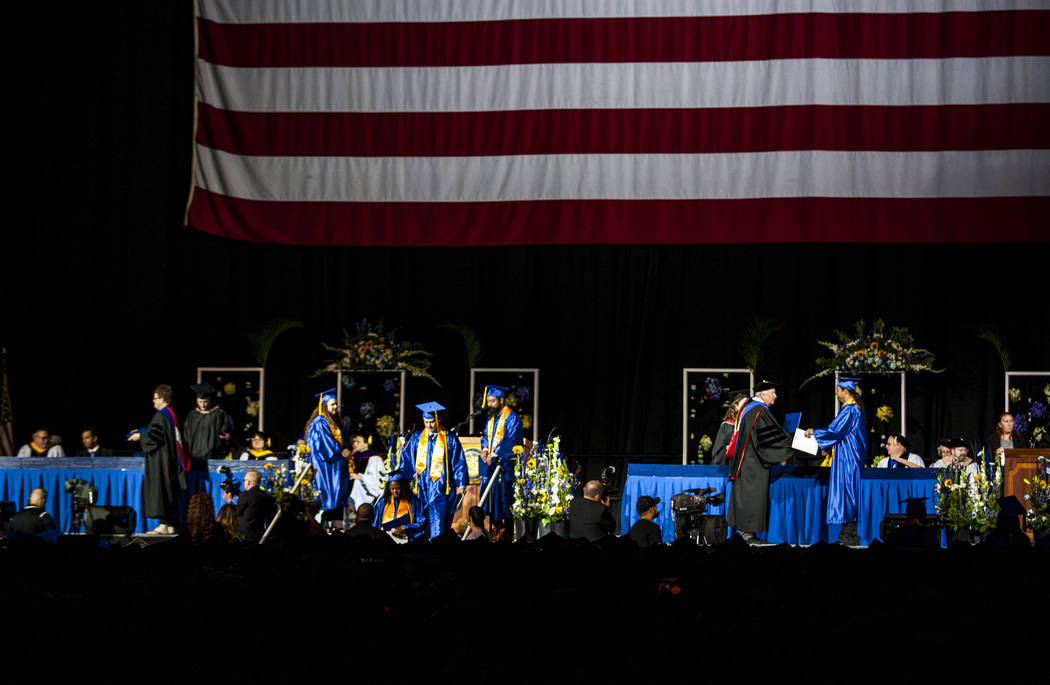 College of Southern Nevada President Michael Richards asked the elated graduates to take a small break from posting selfies.
"There are some moments in life too rich to share with a smartphone, and this is one of them," Richards told the sea of graduates adorned in blue and yellow caps and gowns for Monday's spring commencement.
Jill Robinson, who earned her associate's degree in psychology, described the moment as "surreal."
With family and friends in the audience to witness the momentous occasion, Robinson showed past circumstances should not define an entire life.
Twenty years after she dropped out of high school, Robinson received her associate's degree in psychology from the College of Southern Nevada.
"Most of the challenges we're presented with are either self-created or life-created," Robinson said. "In the past, I walked away from the challenges that were in front of me. But now, I've proven that I can accomplish anything."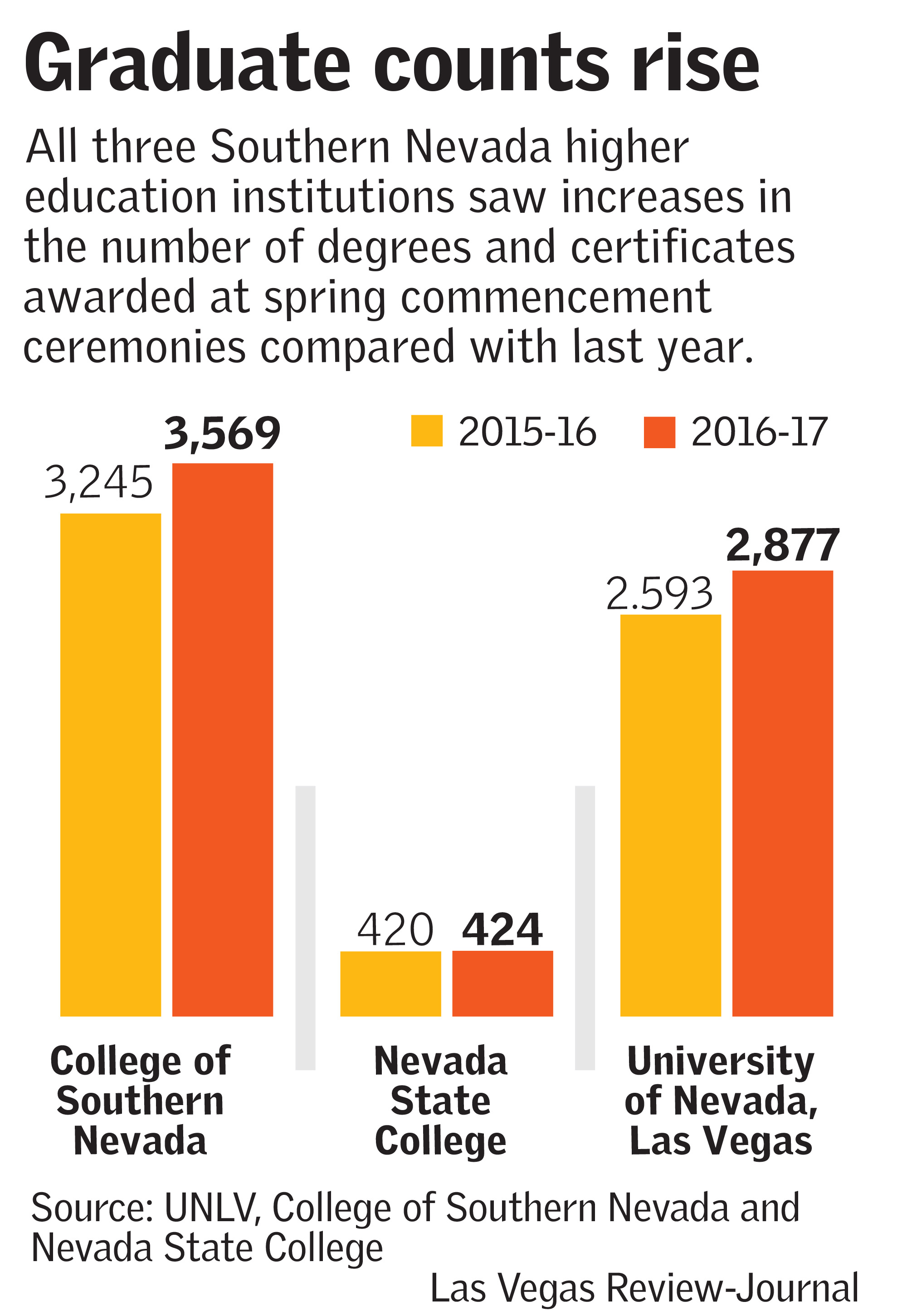 Robinson earned a General Education Diploma in 2011, putting her on track to get a higher degree.
Robinson, 34, has enrolled in classes for the fall semester at Nevada State College. Her goal is to open a nonprofit to help victims of human trafficking.
"What I found is that being at CSN was more than just academics," she said. "It was a lot more about finding out about myself and my passion."
The state's largest college awarded a record 3,569 degrees and certificates, up from 3,245 last year.
Nevada State College and UNLV also doled out a record number of degrees and certificates. NSC awarded 424 degrees compared to 420 in spring 2016; and UNLV awarded 2,877 degrees on Saturday compared to 2,593 last spring.
Larissa Marcum, who graduated Monday with an associate's degree in communication, is also choosing to further her studies at NSC.
"It feels a little more like home," she said. "The class sizes are smaller. And they're willing to work around me. I can take class times that work for me, and still get the degree I want."
Contact Natalie Bruzda at nbruzda@reviewjournal.com or 702-477-3897. Follow @NatalieBruzda on Twitter.
Did you know?
Since 2012, the College of Southern Nevada has launched or expanded services such as free tutoring, opening math and writing resources centers on each campus, and dedicated counselors for degree-seeking students. In addition, new freshmen are required to attend orientation sessions, take placement testing and meet with advisers or counselors prior to enrolling in classes.