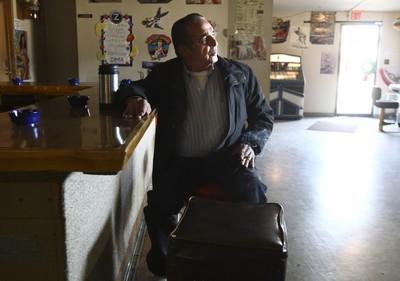 MINA — On Rufus Harry Herrington's 72nd birthday, his son did something he'll never forget: He treated him to an evening at the brothel on the outskirts of town.
"He's a good kid," Herrington says as he smokes a small cigar in the Mina Club. "Real thoughtful. He came from out of town, and I think we spent $380 together. The ladies were very accommodating."
Herrington, a longtime construction worker and a miner, enjoys reading about politics and watching news programs. He has decided John Edwards is the candidate who would most help working people.
"He seems tough enough to get a medical program through, and he's for people who work for a living," Herrington says. "I just wish he hadn't tried to get sympathy by talking about his wife's cancer. But he seems to have stopped that now."
Herrington says he "probably" will caucus for Edwards 30 miles north up the road in Hawthorne, "unless something comes up."
It takes only seconds for a driver to pass through Mina on U.S. Highway 95.
The population is just a tad more than 200. In addition to the whorehouse, Mina has two bars, a burger joint and places to get gasoline.
But Herrington has nearly 40 years of great memories in this place, which was founded as a railroad town in 1905.
It was near here in 1970 that he, with his cousin, discovered enough valuable turquoise to pay for a three-bedroom house with cash.
"It cost me $14,000, but I bet I could get $45,000 for the place now," Herrington says.
It was in Mina that he discovered a big woman can have an advantage in life.
"There was this one woman who got shot up pretty close with a shotgun, but the buckshot didn't penetrate any vital organs," he says.
"They took her to the hospital and picked the buckshot out of her rolls of fat. If she had been skinny, she'd be dead."
The railroad is long gone, but Herrington says the most important institution remains — the brothel.
"The Wild Kat Ranch has some beautiful women sometimes, and then other times they're over-the-hill," he says. "But they all give me a sense of fulfillment in life. I haven't heard Edwards say he wants to take this away. He's for the little guy."
Interactive Map Slideshow Thursday, Day 5: Hawthorne, Schurz, Fallon Friday, Day 6: Imlay, Winnemucca, Mcdermitt