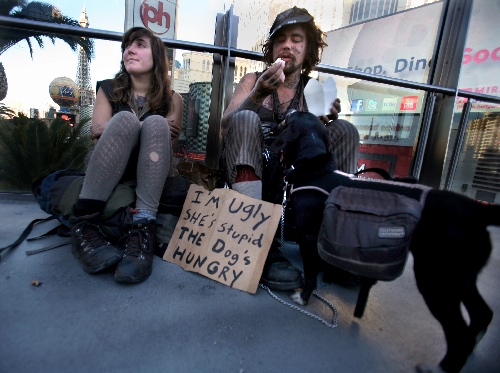 Dave Simpson sits on the footbridge amid the hustle and bustle of pedestrians near The Cosmopolitan of Las Vegas.
He digs a dirty finger into a takeout container someone gave him and munches on chicken as he chats about his life. His pregnant girlfriend, Alissa Bennett, sits next to him. She's due in about six weeks. The young couple — he's 24, she's 22 — is homeless.
A sign that reads "I'm ugly. She's stupid. The dog's hungry" lies on the ground near the two.
Chicken, a friendly 2-year-old, black-and-white beagle mix, rests at their feet. She sniffs the air and is rewarded with food.
"Ha. Chicken eats chicken," Simpson says.
On a good day, the couple makes about $20. They live on that and the kindness of strangers who give them leftover food in a place that boasts bottomless buffets.
But a proposed law banning animals on the Strip could hurt their income if approved by the County Commission on Jan. 17. The proposal, sponsored by Commissioner Chris Giunchigliani, aims to ban animals on public sidewalks and pedestrian bridges along Las Vegas Boulevard south of Sahara Avenue and north of Sunset Road and on either side for a quarter mile.
Critics say the proposal unfairly targets homeless people and is un­constitutional.
BAN ANIMALS OR HOMELESS?
"I don't think there's anything wrong with what we're doing unless it's aggressive panhandling," Simpson said. "We sit here with a funny sign and make a little bit of money."
He and Bennett say their living situation is a conscious decision, calling themselves "street kids" — a term they use to describe a small underground community with a wandering lifestyle and an affinity for train hopping.
Simpson said he chose to live on the streets 11 years ago. Bennett said she became homeless four years ago when her mother left.
They are headed from Southern California to Florida to be with family but stopped in Las Vegas to celebrate the holidays, just in time for the first dis­cussion of the Strip pet ban.
"This is a ploy to get rid of homeless people. I'm just making enough money so I can feed my pregnant girlfriend and dog. If it wasn't for (passers-by) I'd be dead. I eat their trash, and they give me change."
Giunchigliani said the proposal has nothing to do with homelessness. It was prompted by tourist complaints of animal cruelty brought to the Las Vegas Valley Humane Society.
"To me it's more about how the animals are being treated," she said. "If they're out there for 12 hours a day, and who knows where you got the kitty, where is its food and water? I don't think the homeless are the only ones panhandling. I try to work on behalf of the homeless. This isn't targeting that."
Simpson said his dog is a service animal with all of the proper paperwork and would be exempt under the law — a common claim made by other "street kids" and buskers who have heard of the proposal. Asking for proof of service animal status is illegal under the Americans with Disabilities Act.
Simpson, Bennett and several other people hanging out on the Strip last week told the Review-Journal a woman identifying herself as an animal control officer told those with animals that the proposal would definitively become law Jan. 17.
A county spokesman could not confirm that but did say there was a conversation between an animal control officer and one citizen about the proposed ordinance.
In order for the proposal to become law, the County Commission must take action at a public meeting, which is scheduled in two weeks.
At the direction of the County Commission last year, County Manager Don Burnette formed a small group of gaming industry and tourist representatives examining issues on the Strip including street performers, law enforcement, news racks, graffiti and handbillers. But this proposal is not part of the group's ongoing discussions, Giunchigliani said.
ACLU CALLS BAN TOO BROAD
Allen Lichtenstein, attorney for the American Civil Liberties Union of Nevada, said the proposal faces constitutional challenges in that it's "overbroad and unjustified" and doesn't address an exact problem.
"People may not like panhandlers, and unfortunately in this economy perhaps there are more than before, but the courts have spoken," Lichtenstein said. "Panhandling is protected speech. If the dog with you will help, that's not illegal either."
As it is written, the proposal would exempt service animals, nearby residents with pets going to and from their homes, animals used for government purposes and animals authorized by a parade permit, a special use permit, a business license or other official government sanction. It also would exclude animals in pet friendly hotels.
Commissioner Steve Sisolak said he foresees enforcement issues with the law as it is drafted.
"I do understand that pets can evoke a lot of sympathy with the public," Sisolak said. "I don't think they should be used for that purpose, but I don't know how you can regulate that. … It'll be hard to enforce, and I want to be fair to everybody. I understand the intentions, but I don't know if it's getting us there."
The proposal states that possessing animals on the Strip "tends to hinder traffic and promote loitering and un­sanitary conditions." County code already addresses sanitation issues.
"Does the volcano promote loitering? Does the pirate ship promote loitering? Of course they do," Lichtenstein said. "Loitering as a question on a public street? You have a right to stand there. The Strip promotes attractions to stand around. It's somewhat puzzling as to why they would say pets are the problem. If they're worried about people standing around, they should outlaw volcanoes."
The proposal to ban pets on the Strip needs to be tailored to a specific issue, Lichtenstein added.
"The commission has a history of passing things with great fanfare only to have them struck down and waste time and taxpayer money," he said. "What are the specific problems they're looking at, and are they problems the government has a right to interfere with? They might not like people who look homeless, but those people have the same rights as anyone else. Even though it may be bad for business, the Constitution will always trump business concerns."
Giunchigliani said she is flexible in the discussion about the proposal and that nothing is a done deal until the County Commission has its discussion.
"If there are flaws in this and we can't do it without violating people's rights, we'll withdraw," Giunchigliani said.
In the meantime, 38-year-old Wade, who refused to give his last name, will keep playing guitar on the street near Caesars Palace and elsewhere for money with his 1-year-old boxer mix, Lily.
Wade, who said he suffers from manic depression, said Lily is his service dog. He said he hopes county officials re­consider the proposal.
"I know it would mess a lot of people up," he said. "I hope they don't do it."
Contact reporter Kristi Jourdan at kjourdan@reviewjournal.com or 702-455-4519.