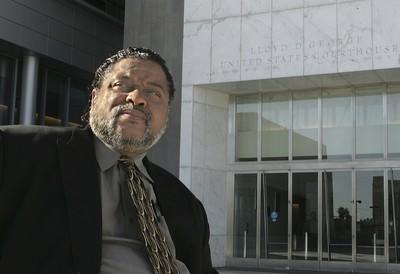 Families involved in lawsuits against the Metropolitan Police Department say they sought out Texas-based civil rights attorney James Myart after Las Vegas lawyers showed no interest in their cases.
Now they are fighting to keep their attorney.
A U.S. district judge is considering whether to allow Myart to practice law in Nevada after Myart drew the ire of coroner's inquest hearing master Lanny Waite when he dropped to his knees and referred to Waite as "your highness."
In letters addressed to District Judge Kent Dawson, families who hired Myart question how they can be stripped of their right to be represented by the attorney they hand-picked.
Thomas Oden, who claims that police shot him in the back after he tossed his gun, wrote that he has a right to choose a lawyer he believes in and with whom he feels comfortable. Others echoed his sentiments.
During the hearing, Dawson expressed concern that Myart's courtroom theatrics could disrupt the legal process. But Allen Lichtenstein, an attorney representing the American Civil Liberties Union, said courts should strive to accommodate both plaintiffs and defendants.
"Essentially, people should be allowed to have the attorneys of their choice as long as there is no substantial reason not to," Lichtenstein said.
"Clearly, the judges both in the federal and state bench are experienced and certainly have the ability to deal with any disruptive behavior on the part of an attorney or any participant. I don't have any doubts that if there is an issue of a disturbance, they know how to handle those matters properly."
Myart did not return phone messages last week.
Families who have hired Myart say if he is barred in Nevada, they will be left with no legal representation.
They also said Myart has given them breaks on their legal fees.
Aside from Oden, Myart represents the families of Swuave Lopez, who was shot and killed by police while handcuffed and fleeing; Shawn Collins, who was fatally shot by police after a domestic violence dispute; and James Lewis, who was hit twice by Tasers and died while in police custody.
Joey Collins, the ex-wife of Shawn Collins, wrote a letter to Dawson pleading for him to permit Myart to represent Nevada families.
"In pursuit of securing an attorney, I called numerous law offices in Las Vegas," she wrote. "Not one voiced an interest in handling the case. Attorney Myart was willing to listen to me when no one else would."
Roxanne Lewis, the sister of James Lewis, said she had a similar experience.
"We tried to call around, and look, there is not one lawyer here that will go after he Las Vegas police department," Lewis said Thursday.
Lewis not only questioned the fairness of the coroner's inquest process, but also the hearing Dawson held to consider Myart's ability to practice in Nevada.
Dawson said a Review-Journal article about Myart's behavior at the inquest prompted the hearing, but he proceeded to bring up information not included in the story.
Aside from Myart, Dawson called two other witnesses to testify at last month's hearing.
The Review-Journal reporter who wrote the story about the inquest declined to appear, but Waite agreed to testify.
Waite told Dawson that Myart's client, the family of James Lewis, pleaded with their attorney to cease his antics, information not included in the newspaper story.
Lewis questioned why her family was not invited to offer their side of what unfolded during the inquest hearing.
"I never told him to stop it and all that," Lewis said. "I don't think he was out of line at all."
Attorneys representing the Police Department are urging Dawson to keep Myart out of Nevada's courtrooms, calling the Texas attorney "unworthy" to be awarded pro hac vice status.
The status would allow Myart to partner with a licensed Nevada attorney.
Police officials claim they "unearthed" cases during which Myart was sanctioned by the presiding judge. The department cited Myart's "antics" at the coroner's inquest and said he showed an unwillingness to follow court rules in Nevada.
Myart countered by saying he has not recently been sanctioned. Myart was suspended from the Texas Bar for four years a decade ago. He has never disclosed the reason.
After the April 19 hearing, Dawson said he would quickly make a determination on Myart, but a decision has yet to be made.