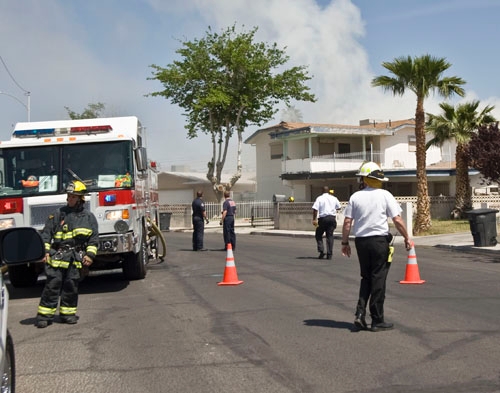 North Las Vegas began laying off firefighters Wednesday, the same day the city's firefighters union ran a full-page Review-Journal ad touting the union's willingness to negotiate with the city to save jobs.
Eight firefighters received layoff notices that are effective June 18, city officials said. An additional eight firefighters are expected to receive such notices in coming days.
"They are shocked," Jeff Hurley, the union's president, said of the affected firefighters. "The city is not budging."
Ongoing discussions between the city and the union about contract concessions have been unsuccessful.
The ad, which says the union has offered to sacrifice $3.45 million in wage cuts and benefits to help the financially strapped city, includes a photo of a single firefighter facing a burning building.
The union purchased the ad "to let North Las Vegas citizens know we are at the table, trying to resolve the situation," Hurley said.
The ad praises Mayor Shari Buck for opposing further cuts to public safety and criticizes other City Council members for their "stunning display of fiscal irresponsibility."
The remaining council members "declined and rejected our offer that could have resulted in more savings while protecting your safety," the ad says.
Layoffs will take out of service an entire engine company operating out of Station 52, near Craig and Losee roads, Hurley said.
Councilman Richard Cherchio criticized the union for using "scare tactics" in the ad. He and city officials said the fire department layoffs are not targeted to a specific station or company. And any layoffs of union firefighters are "thanks to their leadership," Cherchio said.
He and other council members have criticized the union for offering concessions only in exchange for conditions, including pay raises in future years.
The city can't guarantee such conditions given the unpredictable economy, Cherchio said.
Union leaders "did not come forward and do the right thing without any strings attached," he said. "If you're really concerned about public safety, you wouldn't put the almighty dollar ahead of (union) members' jobs."
But Buck, who has long opposed cuts to city police and fire departments, said public safety should be North Las Vegas' priority, even if "we have to take a little more out of the roads department or wherever else."
The jobs of those facing layoffs could still be saved if the union and the city reach an agreement on concessions.
"We are very hopeful and will continue discussions with the union about concessions that don't come with conditions or deferments attached," city spokeswoman Juliet Casey said.
The City Council this month approved cutting 204 jobs to save the additional $33.4 million it needs to make it through fiscal year 2011.
The layoffs will hit most city departments and will be completed by mid-June.
Casey didn't know Wednesday how many other city employees already had received layoff notices.
North Las Vegas, dealing with plummeting tax revenues, has undergone five rounds of budget cuts totaling $51 million since December 2008.
Contact reporter Lynnette Curtis at lcurtis@reviewjournal.com or 702-383-0285.