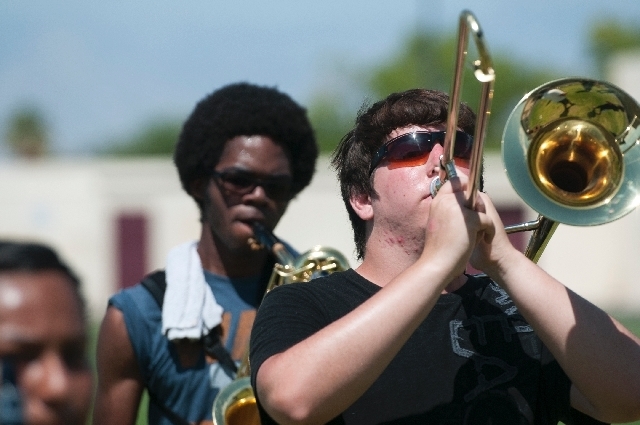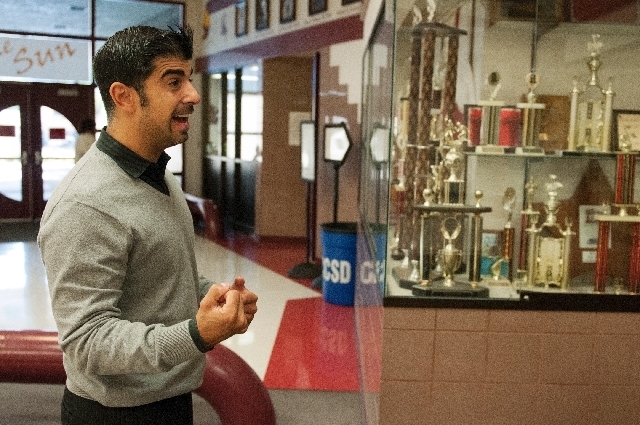 Eldorado High School's mascot is a pitchfork-wielding Sundevil named Sparky. Come this school year, Sparky may have a phoenix as a pet sidekick.
The phoenix will have special meaning, especially to the school's fine arts department — made up of marching and mariachi bands, an orchestra and a theater program — according to Will Crawford, the school's band director.
Mythology holds that a phoenix bursts into flames before being reborn from its own ashes stronger than ever. That's the predicament the fine arts department finds itself in.
A year ago, the department was a graveyard of sorts. The choir room was a gloomy storage room. Most of the school's 74 guitars were broken. Football games were eerily quiet without a marching band, according to school principal John Anzalone.
A few chairs and instruments lay in the band room. Accolades coated the room's wall — an homage to the school's glorious past in the 1990s and early 2000s.
Back then, Eldorado, 1139 N. Linn Lane, was a fine arts powerhouse.
"(The fine arts department) was one of the strongest in the state," said Richard McEnaney, who served as band director in the '90s. "The choir program was nationally known. It was a big fine arts school. The administration had made fine arts a priority. It was a big deal."
The department's success became a distant memory six years ago. District cutbacks slashed the school's budget, forcing resources to be allocated elsewhere.
Along with a drop in enrollment because of the opening of nearby Sunrise Mountain and Las Vegas high schools, Eldorado's fine arts department diminished.
"It was terribly difficult," said McEnaney, now coordinator of secondary fine arts for the Clark County School District. "You feel bad for the students involved. It was difficult for me because I had ties to the community. And to see it decline because of resource problems was tough."
When Anzalone became the school's principal in October, the 36-year-old said resurrecting Eldorado's fine arts program was atop his to-do list.
"I saw all the old trophies, plaques and awards — this school has 40 years of amazing feats," Anzalone said. "I saw the marching band and mariachi uniforms hanging in the closet that hadn't been touched in years. There was a sense of excitement seeing the tradition. But I felt a lot of pressure, too. I felt like it was an overwhelming task. But now that I found the right people for the job, I feel it's not the insurmountable task that I thought it was."
The revival was sparked by the school's 40th anniversary celebration in April. As alumni and former administrators came in waves, tradition was put on a pedestal.
New instruments were bought and old ones repaired.
Anzalone allocated more money to fine arts, creating four full-time teaching positions. He retained two instructors who were previously on a part-time basis and hired two new teachers.
One of those teachers is Crawford. The 47-year-old has spent 35 years teaching bands in Kansas, Tennessee and Georgia. In the South, fueled by the strong football culture, Crawford's bands drew upward of 300 students.
At Eldorado, he's starting with a roster of about 60 kids. Crawford described his first impression of the program as "utter chaos." But that same chaos is what led him to accept the job.
"I know what I'm capable of with an established band," Crawford said. "This is going to help me prove to myself what I can do with literally nothing. It's a challenge."
Crawford arrived on campus in April and has been working with the band on a volunteer basis. He won't receive his first paycheck until next school year.
He's already written the band's music and marching drills. Crawford hopes to add seventh- and eighth-graders to the band, a tradition in his previous jobs.
Crawford is out in the blazing sun as early as 8 a.m. practicing with students. Summer band camp runs until 4 p.m. The long days are all in the hope of changing Eldorado's culture.
"The kids were done very dirty by administration in the past and former band directors," Crawford said. "It was pretty much designed to shut the program down. Without getting too political, I've heard that kids were told they didn't account for anything and that they were going nowhere because of their backgrounds. I don't believe that. These kids can do anything they set their minds to."
Anzalone believes reviving fine arts will cause a ripple effect through the school.
"Fine arts not only builds the culture of the school but most importantly, it usually attracts a solid academic student," Anzalone said. "Historically speaking, kids who are involved in fine arts do better in school.
"We're hoping that having an increased emphasis on fine arts will feed into the classroom. We're going to see higher test scores and graduation rates because more students are excited about coming to Eldorado."
Contact reporter Eric Uribe at euribe@reviewjournal.com or 702-383-4642.