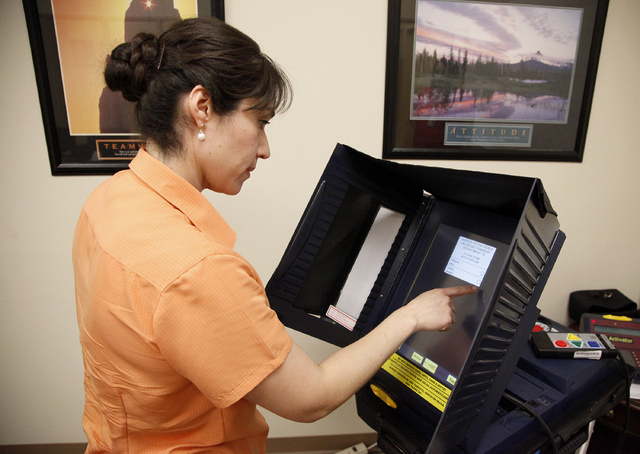 Joe Gloria worked for more than two decades as a voting machine technician before he was promoted last year to Clark County's registrar of voters. So he knows a thing or two about the county's $20 million touch-screen system.
After about a decade in use, the county's 4,500 Edge II voting machines that use smart-card technology can break down or need to be recalibrated, but they're in good working order and provide little room for error, he said.
That's why Gloria last week dismissed allegations of voting machine mistakes, tampering or fraud coming from several candidates — three Democrats and a Republican — who lost their June 10 primaries. Nevada's other 16 counties use the same electronic voting machines and are just as secure, he said.
"There's nothing wrong with the system," Gloria said in an interview at his North Las Vegas office where the machines are kept in a vast locked warehouse. "We're not saying they're not infallible, but there are a lot less mistakes and voter fraud than people think. And we'll catch you if you're so foolish as to try something."
In 2012, a Henderson woman was arrested in Las Vegas for trying to vote twice. Roxanne Rubin, a Republican, said she just wanted to test the system. She did and it worked. She got caught and pleaded guilty to a misdemeanor charge. Her seqntence: 100 hours of community service and $2,481 to cover investigation costs.
NO RECOUNT
After the June primary, three failed Democratic gubernatorial candidates, Stephen Frye, Frederick Conquest and Allen Rheinhart, alleged some electronic voting machines "were hacked or tampered with and the vote records changed, by person or persons unknown." They also alleged that there were 35,000 to 40,000 missing votes and that the probability of "none of these candidates" winning was zero.
They decided against pursuing a recount after learning they would have to pick up the tab.
"None of these candidates" finished first in the gubernatorial Democratic primary with 30 percent of the vote, followed by Bob Goodman who won the nomination with 25 percent of the vote. Goodman isn't related to Mayor Carolyn Goodman or former Mayor Oscar Goodman, but he acknowledges his last name likely helped him get votes.
Frye got more than 11 percent of the vote, Rutledge more than 8 percent and Conquest 2.5 percent.
Conquest, in an email to the Las Vegas Review-Journal, suggested there's a grand conspiracy to ensure GOP Gov. Brian Sandoval is re-elected on Nov. 4. The governor won his primary with 90 percent of the vote and is expects a landslide in November.
"The powers that be want Sandoval re-elected and will do anything to make it happen," Conquest wrote, "including trashing the rights of the people to a fair and honest election where every vote made gets recorded as the person who voted intended it."
In the 4th Congressional District GOP primary, Niger Innis also dropped his bid to contest the results after losing to Assemblyman Cresent Hardy, R-Mesquite. But Innis said he remains suspicious about how a little-known candidate, Mike Monroe who finished third, managed to win one-fifth of the vote without campaigning or spending money.
Hardy won with 43 percent of the vote, followed by Innis with 33 percent and Monroe at 22 percent. In the general election, Hardy will face the incumbent, U.S. Rep. Steven Horsford, D-Nev.
"For a relative unknown to not campaign, not spend money nor to make any effort whatsoever to campaign, and then receive over 22 per cent of the vote, should make even the most experienced political observer question the process," Innis said.
Monroe has said he can't explain his strong showing, though he did run for Congress in 2006 and 2010.
Both Gloria and Nevada Secretary of State Ross Miller have reported no irregularities in the June 10 primary.
So what safeguards ensure every voter's picks are correctly recorded?
Last week, Gloria demonstrated the process and said voters have at least three chances to correct their own mistakes or a machine malfunction before officially casting their ballots.
A mishap can happen, Gloria said, when a voter accidentally does a "double touch" of the screen with fingers and or another object. In that case, the voter's candidate pick won't be recorded. Instead, the machine will select a random candidate in the middle of the two screen touches.
But that mistake immediately shows up on the touch screen and the voter can change the selection or call for an election worker to help.
Mistakes can be fixed when the electronic ballot is reviewed by touching a yellow "review" square on the screen.
The third chance to change is allowed when voters create paper records of their choices by touching a blue square at the end of the electronic ballot. Voters are given a choice: "make changes" or "cast ballot." Touching "cast ballot" locks in the votes.
"We try to make voting as easy as possible," Gloria said.
The whole process begins when voters show up at an early voting site or at their designated precinct on Election Day. A voter goes up to an election worker and gives his or her name, which is then looked up. The voter signs in and if the signature matches the one on file, the voter gets an activation card to put into the voting machine. If the signature doesn't appear to be a match, the voter will be asked for some form of identification for verification, Gloria said.
The activation card, which is about the size of a credit card, contains a computer chip that includes information such as the local precinct if it's Election Day. During early voting, people can vote outside their precincts.
From there, the voter:
■ Slides the activation card into a yellow slot on the bottom left of the machine.
■ Chooses a preferred language: English, Spanish or Tagalog in Clark County.
■ Touches a circle next to the candidate choice and a green check mark appears.
■ Can change the vote by touching the same circle to cancel and then touch the new circle for a different choice.
■ Can review the ballot by touching a yellow "review" square or at the end of the process.
■ Prints a paper record by touching a blue square at the end of the ballot.
■ Can then choose "make changes" or "cast ballot" to complete the process.
■ Returns the activation card to an election worker after the machine ejects it.
"BRAIN CRAMP"
Votes are recorded on a sealed electronic cartridge. Poll workers collect the cartridges and put them into small lock boxes, which are in turn put into a big locker that goes to the election department's warehouse. There, votes are counted and reported to the secretary of state's office and to the public.
Mistakes can happen here, too, although all the materials are moved under lock-and-key and supervision.
In the June 10 primary, the election team leader at the Las Vegas Academy polling place left the locked box full of voting cartridges with 127 votes at the school. Election workers retrieved it later.
"They had a brain cramp," Gloria said, adding the team leader has "been scolded."
The missing cartridges were still sealed. The votes also were backed up both electronically and on paper, which allowed for a cross-check to ensure the votes in the cartridges matched the votes recorded elsewhere.
"At no time was there any chance those votes could have been in jeopardy," Gloria said.
It's just those sorts of isolated incidents, however, that get the conspiracy theorists up in arms.
Just listen to Conquest, the Democratic gubernatorial primary loser.
"I am 100% certain the DRE machines were hacked and compromised," Conquest said in an email to the Review-Journal. "We will spend whatever it takes to prove it. But we are not going to give any money to state officials so they can whitewash it.
"See you in court :)," he added.
Contact Laura Myers at lmyers@reviewjournal.com or 702-387-2919. Find her on Twitter: @lmyerslvrj.