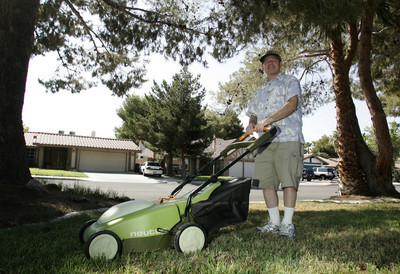 A fume-free, cordless electric lawn mower fits well with an eco-conscious man's solar-powered home and hybrid car.
And it was a heck of a bargain, said Frank Tepper, 61, who was glad to trade in his gasoline mower and pay $99 for a spanking new electric model.
Tepper figures he'll save money on fuel and spare his neighbors the noise and fumes from his old mower.
"We're looking at ways to make everything sustainable," the Henderson man said. "And this seems like a better way."
Tepper was among the residents who eagerly swapped gasoline mowers for electric ones through a Clark County pilot program. The 1,000 available mowers were snatched up in two weeks, going more quickly than air quality officials expected.
One to three months seemed a realistic time for unloading that many mowers, said Robert Tekniepe, principal management analyst for the county's Air Quality and Environmental Management Department.
"We had no idea in our wildest dreams that it would go out in two weeks," Tekniepe said.
The trade-in was timed for summer. More intense sunlight and heat cause ozone, an odorless gas, to concentrate near the ground, where it can make breathing more difficult and inflame the lung tissue.
Running a gasoline mower for an hour spews pollution that's equal to driving 43 late-model cars for the same period, according to federal studies.
There are no data to show how much air quality is improved by eliminating 1,000 or more petrol mowers, Tekniepe said. Nor is there any way to gauge whether removing these mowers brings the area's ground-level ozone closer to federal standards.
But reducing mower emissions will certainly contribute to cleaner air and offset other pollution, such as smoke drifting into the valley from the California wildfires, Tekniepe said.
A $187,000 state grant made the $400 electric mowers available for $99 each from the manufacturer. Nevada Power has expressed interest in funding the program's next phase but has yet to commit money, Tekniepe said.
"We know we will be participating on some level," Nevada Power spokeswoman Chelsie Campbell said.
However, the company hasn't decided how it will participate or whether it will provide funding, Campbell said.
L. Walker, a northwest valley resident, said he was about to buy a battery mower at full price from the same manufacturer that contracted with the county.
Then the program was launched, and he saved $300, Walker said. "It's kind of ironic."
An environmental engineer, Walker said he was already using an electric mower to cut his 1,500 square feet of grass, although that model had to be plugged in during use.
He said he likes not worrying about running over a cord.
"I'm convinced the program and the mower are pretty good," Walker said.
Larry Lawson, 70, who lives in the east valley, said his motive for participating wasn't purely green. Unless you count money.
His old mower was about to go kaput.
He admits he wouldn't have dished out $400 for an electric mower, and he probably wouldn't have swapped a brand-new gasoline mower.
Still, he says he's happy to cut pollutants and avoid paying $4-plus in gasoline to mow his lawn, especially because the cordless machine does a good job.
"I don't subscribe to Al Gore's theory that we're causing all the ozone problems," Lawson said. "But we could all do better."
Residents who made the trade dumped their old mowers at a north valley scrap yard run by AAEQ.
During the program's first week, people dropped off 100 to 150 mowers a day, recalls Scott Stolberg, AAEQ's president.
If the company signs on for a second round, he would ask the county to delete a buyer's remorse clause that gives owners two weeks to retrieve their old mowers, Stolberg said.
Hundreds of mowers piled up, taking valuable space in the yard, he said. And there were no dissatisfied customers.
"Absolutely no one came in asking for them back," Stolberg said.
Contact reporter Scott Wyland at swyland@reviewjournal.com or 702-455-4519.