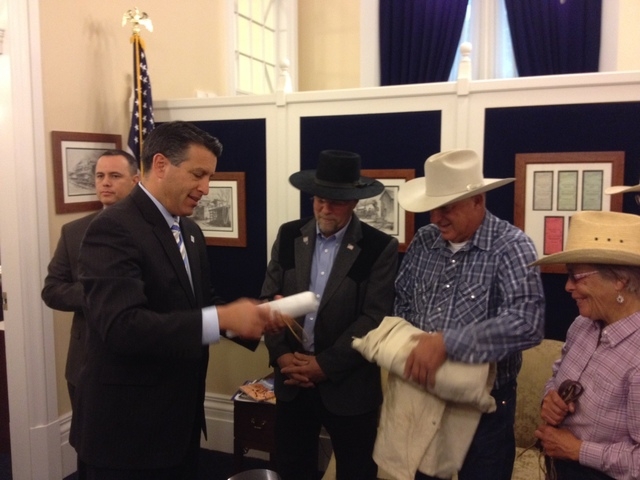 CARSON CITY — Elko County Commissioner Grant Gerber and about 40 others rode up to the state Capitol on horseback Friday to present Gov. Brian Sandoval with a petition calling attention to the plight of Nevada ranchers in their ongoing fight with federal authorities over grazing on public lands.
Gerber, who rode much of way from Carlin in northeast Nevada over the past week, trading off with other riders along the way, called the event a "grass march" to protest the U.S. Bureau of Land Management's closure of a grazing allotment in Lander County used by Battle Mountain ranchers Pete and Lynn Tomera.
The contingent of ranchers, which temporarily blocked traffic on U.S. Highway 395 in front of the Capitol, presented the petition to Sandoval citing concerns with the federal agency and specifically BLM Battle Mountain District Manager Doug Furtado.
"We believe that it is the inalienable right of Nevadans to have freedom and to enjoy the fruits of their toil," Gerber said. "We believe also that since the agencies of the federal government are depriving Nevadans of their rights and oppressing them that the control of the federal lands must be transferred to the state of Nevada."
The concern over the Lander County allotment appears to be resolved, however, at least for this year.
In a news release dated Tuesday, Furtado announced a grazing agreement with the permittees of the disputed Argenta Allotment in Lander County.
"Over the past year BLM Nevada managers have been working with stakeholders who use and enjoy the public lands in Nevada to find ways to cope with drought throughout the state," said BLM Nevada State Director Amy Lueders. "We will continue to work collaboratively to find solutions that allow for resource recovery and meet the needs of the many hunters, ranchers, hikers, mining industry, wildlife enthusiasts and others who rely on these lands."
The agreement becomes valid for a full grazing year following a two-week temporary measure to allow the paperwork to be finalized.
Even so, the contingent of ranchers, representing four generations, presented a petition to Sandoval seeking, among other changes, the replacement of Furtado.
Sandoval said he will continue to work with federal officials on the concerns raised by the ranchers.
"This is what makes Nevada great," he said. "That you can feel that you can come to Carson City and present and air your concerns. Obviously and for sure I will present this to the head of the BLM."
Contact Capital Bureau reporter Sean Whaley at swhaley@reviewjournal.com or 775-687-3900. Find him on Twitter: @seanw801.