'Ellen' producers mum on how they landed Jesus Campos interview
October 18, 2017 - 5:07 pm
Updated October 18, 2017 - 7:01 pm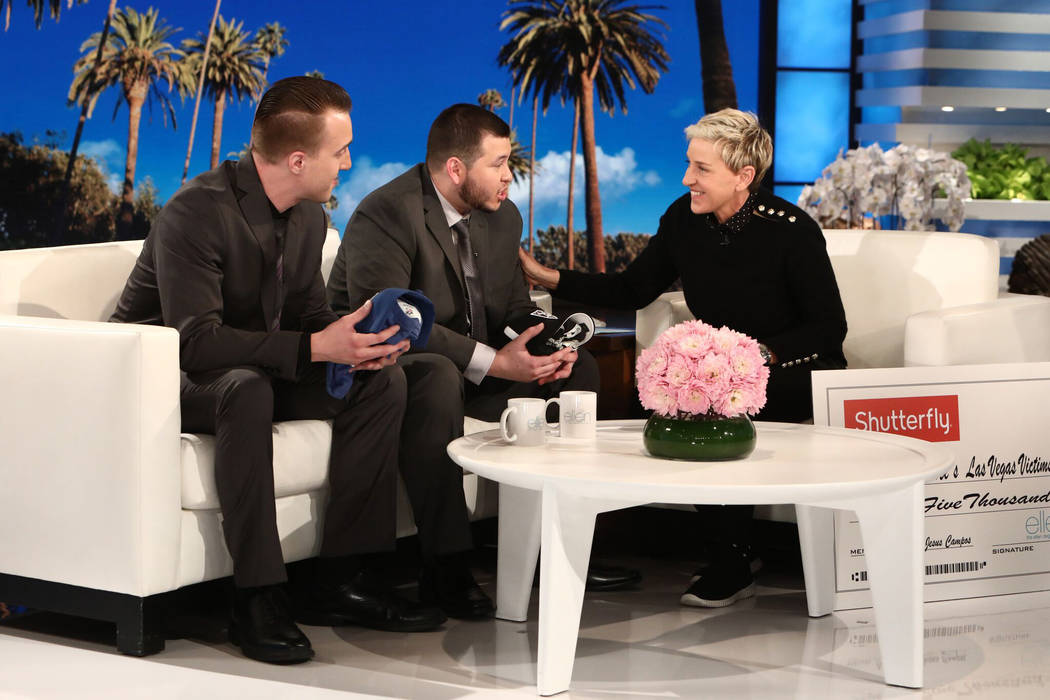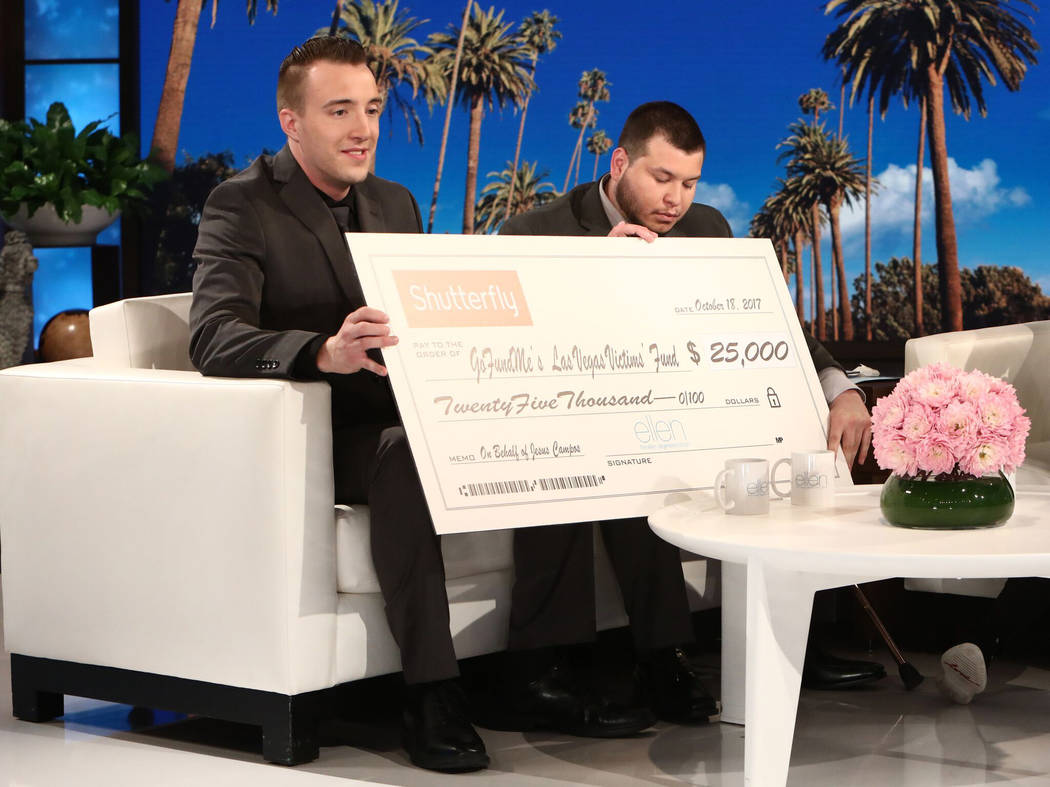 Mandalay Bay security guard Jesus Campos had virtually disappeared before he surfaced on Wednesday's episode of "The Ellen DeGeneres Show."
The 25-year-old, who was shot in the leg after encountering the Mandalay Bay gunman on Oct. 1, refused repeated requests to tell his story. His home was plastered with "NO TRESPASSING" and "NO MEDIA ON PROPERTY" signs. And on Oct. 12, hours before he was supposed to be interviewed on Fox News' "The Sean Hannity Show" — followed by scheduled interviews with NBC, ABC, CBS and CNN — Campos simply walked away from a hotel suite.
So how did he end up sitting between DeGeneres and Mandalay Bay building engineer Stephen Schuck? No one associated with the show will say. But Campos and Schuck were rewarded for their appearance.
Responding to a request to speak to anyone from "The Ellen DeGeneres Show" about the interview, the show's director of publicity, Melissa Little Padgitt, said in an email, "We have no additional information to provide other than what Ellen, Jesus and Stephen discussed on the show."
Campos appeared uncomfortable throughout the segment as DeGeneres helped walk him through his story by using a pointer and a courtroom-style diagram of the Mandalay Bay hallway. Schuck, who credited Campos with saving his life, repeatedly placed his hand on Campos' back as a show of support.
"Thank you so much for being here," DeGeneres told Campos. "And I know that you've had so many people asking for you to tell the story and to talk about this. And I understand your reluctance, because you just want this to be over. So you're talking about it now, and then you're not going to talk about it again. And I don't blame you, because why relive this over and over again?"
If this really was Campos' only media appearance, he couldn't have chosen a more welcoming atmosphere — or had one chosen for him. Aside from helping them tell their stories, one of the few questions DeGeneres asked Campos and Schuck was, "How are each of you doing?"
A critical witness
Campos became a critical witness the second he was shot in the right thigh, but even moreso when Clark County Sheriff Joe Lombardo began changing the timeline of the shooting, which left at least 58 dead and almost 500 injured.
Lombardo first said Campos had been shot after the gunman opened fire on the festival crowd. Then, without much context, Lombardo said early last week that Campos had actually been shot six minutes before the gunman opened fire on the festival.
Within a day, MGM disputed the sheriff's new timeline. Then, the hospitality and entertainment company said Campos had actually been shot within a 40-second window prior to when the gunman opened fire. The sheriff ultimately agreed.
The only point that wasn't changed or disputed? The guard's status as a "hero," according to the sheriff. It's the same reason DeGeneres hosted him on her show.
"It's helpful for people to understand what a hero you are," DeGeneres said in praising Campos during her interview. "Because you being shot in the leg saved so many people's lives. … So we just wanted to celebrate you. That's why you're here today, because we want to thank you for what you've done."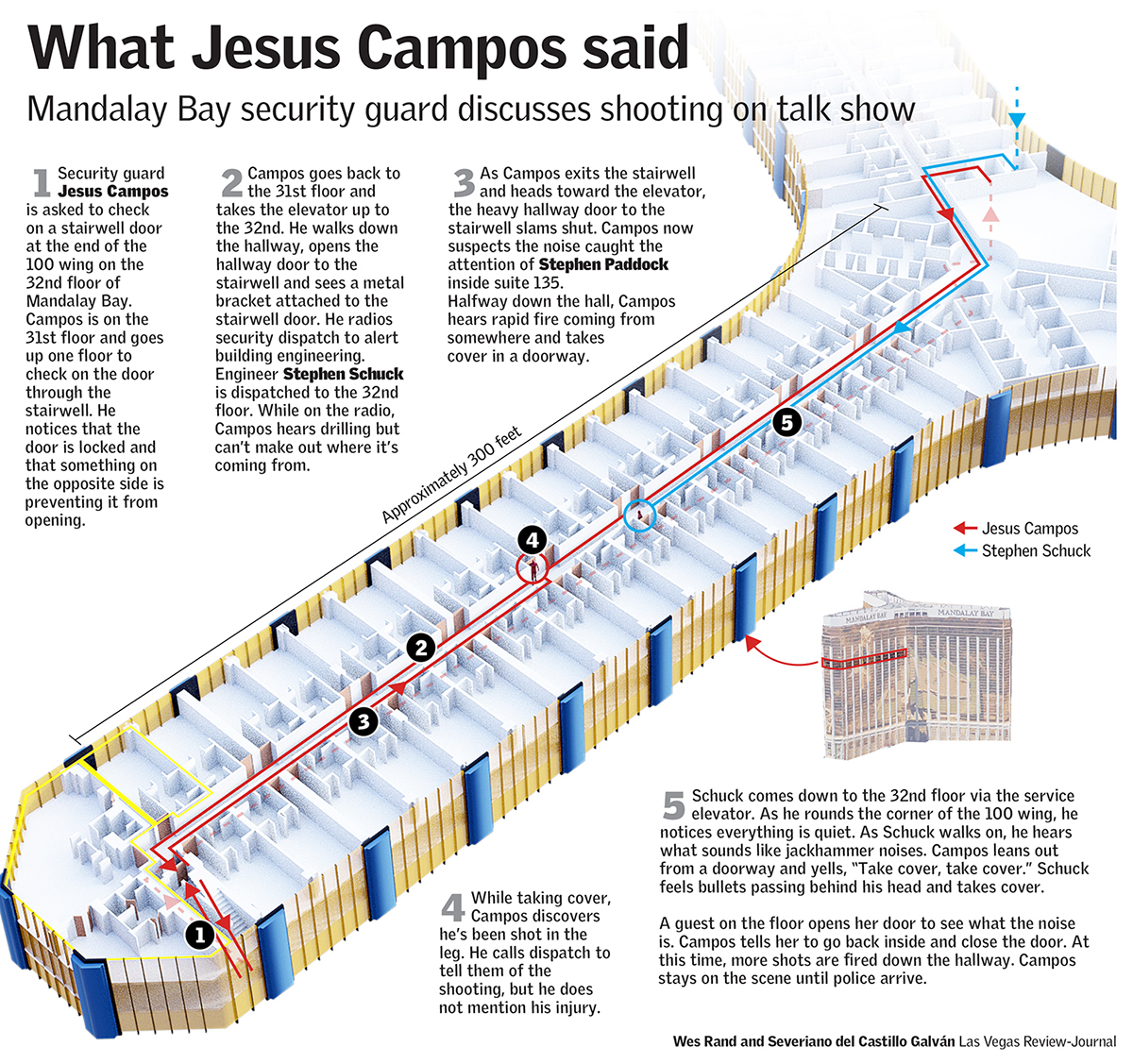 DeGeneres' ties
This isn't DeGeneres' only tie to the shootings, or to MGM Resorts International, which owns Mandalay Bay.
In mid-September, the show taped a segment in which DeGeneres surprised people playing her slot machine at the MGM Grand. Las Vegas nurse Zully Hernandez made such an impression, DeGeneres invited her to be in the audience for the Oct. 3 show. Hernandez already was in Los Angeles during the shootings, but she was elevated to guest status to talk about them anyway. Hernandez and her family were then given a seven-day trip to Fiji.
On Oct. 2, DeGeneres was among the first celebrities to tweet a link to the victims' fund set up by Clark County Commission Chairman Steve Sisolak, asking her 74 million followers to donate. Wednesday's show also included a plug for ways to help the shooting victims.
"We of course wanted to give you money," DeGeneres told Campos and Schuck at the end of their appearance. "And you both were very, very specific. You said you don't want money, you don't want money at all. So you're not getting any money."
Instead, she told Schuck that the NFL would fly him to to see his favorite team, the Indianapolis Colts, and provide him with VIP tickets.
For his participation, Campos was given season tickets for the Raiders' first year in Las Vegas by Shutterfly, "The Ellen DeGeneres Show's" philanthropic partner, which also donated $25,000 in Campos' name to the fund started by Sisolak.
Contact Christopher Lawrence at clawrence@reviewjournal.com or 702-380-4567. Follow @life_onthecouch on Twitter. Review-Journal reporter Rachel Crosby contributed to this report.