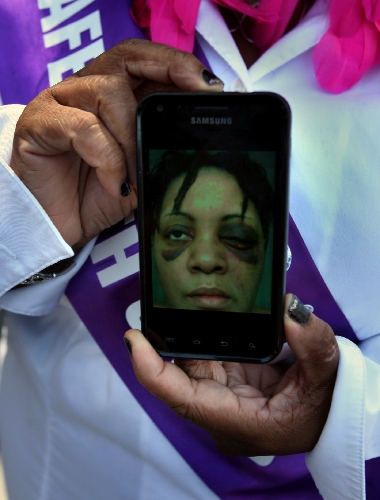 A local Elvis fan club isn't feeling a whole lot of love from the Elvis Presley Estate.
The cold shoulder includes efforts to obtain a donation for Elvis' celebrity star on Las Vegas Boulevard and silence as far as offering input on where to install the star.
Letters were sent to everyone from Robert Sillerman, who purchased 85 percent of Elvis Presley Enterprises in 2004 for $114 million, to Priscilla and Lisa Marie Presley.
"We have heard nothing in response," said Sue Laurenz, head of the Viva Las Vegas Club, the fundraising force behind getting Elvis a star.
The club has about $13,000 of the required $15,000.
"We're moving on. The fans have made it happen, and it's all fan money," said Laurenz, adding that she's seen donations as small as $2 and $5.
The Las Vegas Walk of Stars announced last week that Elvis' star will go in front of the Riviera on Sept. 26, the 27th star on the Strip.
Laurenz said Pete "Big Elvis" Vallee has been a saint in the effort, frequently promoting the fundraising drive during his show at Bill's Gamblin' Hall & Saloon. All the proceeds have been raised since Feb. 28, a good share from foreign countries through the Internet.
The Web site is www.astarforelvis.com. E-mail astar4elvis@yahoo.com for more information.
As for the oft-asked question: Why the Riviera?
The Riviera, Laurenz noted, is the closest casino property to the Hilton (then The International), where Elvis was a sensation from 1969 to 1977. She added that the county gave authorization to the Walk of Stars only along Las Vegas Boulevard.
"For what it's worth, Elvis was with Liberace in November 1956 at the Riv when those famous photographs were taken of the switched jackets and instruments," Laurenz said.
Stars for Sammy Davis Jr. and Liberace are in front of the Riv, "and I do believe Frank Sinatra and Dean Martin will be there, too. Elvis will be among his friends, and that is pretty special."
WINNING 'EM OVER
Nothing turns around your show-biz image quite like a toddler, says Penn Jillette, the talking half of Penn & Teller, the Rio headliners.
During his appearance last week with E! late-night host Chelsea Handler, Jillette said everything changed after his daughter, Moxie, now 3, appeared on "The View" in October 2006.
Before Moxie's appearance, "I believe every woman on that panel hated me," he told Handler. "Then I had a child, and we brought Moxie in to do some cheesy magic trick, and all of a sudden the women of 'The View' love me."
Penn & Teller were back on "The View" last Monday during the show's five-episode shoot at Caesars Palace.
Talking with Jillette that evening, Handler brought up illusionist Criss Angel, whose Cirque du Soleil show opens in September at the Luxor.
"What I like most about Criss Angel," said Jillette, "is that cross he wears around his neck is big enough to actually staple a Jew to it."
Handler asked: Is he really a magician?
Jillette responded: "He's 'I Dream of Jeanie.' He does camera tricks."
SIGHTINGS
Former Crazy Horse Too owner Rick Rizzolo, spotted at Spearmint Rhino on Friday. Rizzolo was released in March after 11 months in prison on racketeering charges. His plea agreement prohibits him from being involved in the adult entertainment industry. … At the Hard Rock Hotel on Friday: rookie artist Katy Perry, whose "I Kissed A Girl" hit No. 1, in the crowd at the Gym Class Heroes in the Joint. … MTV host LaLa Vazquez, celebrating her 29th birthday Friday at Poetry (Forum Shops at Caesars) with fiancé Carmelo Anthony, Dwyane Wade and other members of Team USA. … Actor Dennis Quaid, playing golf with friends Saturday at Las Vegas Country Club. He was spotted on the VIP balcony at The Bank (Bellagio) Friday with his wife, Kimberly.
THE PUNCH LINE
"John McCain has a bandage on his head. Here's what happened: He tried to answer the iron." — David Letterman
Norm Clarke can be reached at 383-0244 or norm@reviewjournal.com. Find additional sightings and more online at www.normclarke.com.