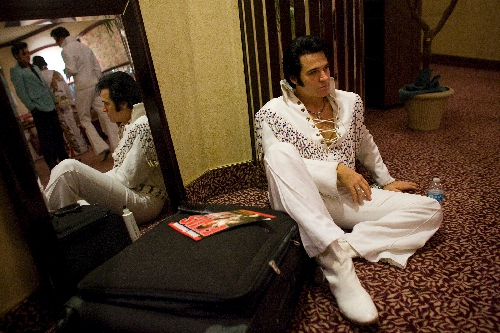 When Justin Shandor was 9, his mom bought her husband some Elvis cologne. It came with a cassette tape that Justin obsessed over. He started going to school in young-Elvis white socks with dark shoes. At 16, he became a full-blown impersonator.
"My parents weren't Elvis fans," Justin remembers. "She just bought the cologne because it was on sale."
On Saturday night, after a long journey into Elvisitude, Shandor, 26, was crowned the fake King of Rock 'n' Roll at the only Elvis impersonation contest officially sanctioned by the Elvis Presley estate.
In front of his mom, grandmother and uncle, he beat 22 other Elvises (aka Elvi). I was a judge. What made him stand out?
Shandor — a Chicagoan turned Vegas performer — embodied the epic emotionality of Elvis, emitting the young turmoil of "Jailhouse Rock," the jumpsuit mania of "Suspicious Minds," then finally the utter lunacy of "Polk Salad Annie."
Shandor's characterization was so profound, yet interpretive, he had me thinking of The King via Shakespeare: Hamlet turned Richard III turned King Lear, descending from beauty to madness to beatification.
Why has Shandor been so intrigued with Elvis?
"I felt like I clicked with him," he says too simply, and that's that.
Shandor's victory grants him $2,500 and sends him to Memphis, Tenn., in August to compete against two dozen other regional contest winners for a contract with Legends in Concert, which produced this Elvis-a-rama.
His victory on the Fremont Street Experience, in front of maybe 1,000 people standing to the right of the "topless girls of Glitter Gulch," beat other great ETAs: Elvis Tribute Artists.
There was young Elvis, old Elvis, cocky Elvis, and Elvises who seemed more like Andy Kaufman or Kurt Russell or even Jerry Seinfeld. One heavy Elvis looked less like The King and more like a burger king.
To properly be Elvis, you must wear a bedazzled white jumpsuit, just as Marilyn Monroes must wear that white dress. However, word to the wise: Tight white pants aren't flattering to the male groin region when capacity crowds observe said groin region.
The big surprise was a guest performance by The Storm (Gabriel Storm Jarrett), a 6-year-old blond Elvis in white jumpsuit who was, in his own little way, as powerful as Shandor.
The Storm, of Jacksonville, Fla., was amazing with karate kicks, and extravagantly belting out "glory, glory hallelujah, his truth is marching on," from "An American Trilogy."
"He sings 'Trilogy' like he's been through something in his life — and he hasn't!" his mom Misty says. "He has no fear."
Misty swore this was all The Storm's idea, six months ago, when he heard Elvis tunes.
"He makes us listen to (Elvis albums) all the time," she says. "I have to tell him to 'stop, stop.' "
What does The Storm want to be when he grows up.
"A rock star," he says. Obviously. "It makes people happy."
Elvis impersonator and L.A. actor George Thomas lost to Shandor, walked over to chat with me, then looked at The Storm and saw the Elvis future.
"That kid," Thomas said, "is a gold mine."
Doug Elfman's column appears on Mondays, Tuesdays and Fridays. Contact him at 383-0391 or e-mail him at delfman@reviewjournal.com. He also blogs at reviewjournal.com/elfman.
VIDEO: Elvis contest at Fremont Street
SLIDE SHOW: Ultimate Elvis Tribute Contest