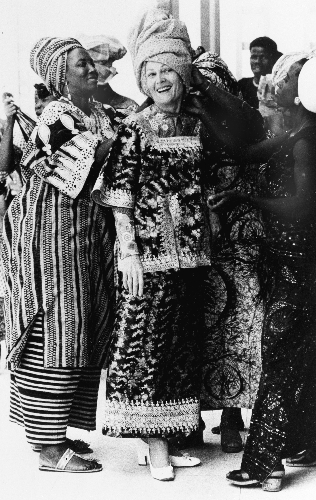 When it comes to selecting the most notable first ladies of the last century, the names of Jacqueline Kennedy, Eleanor Roosevelt and Hillary Clinton would be on most people's lists.
Thelma Catherine "Pat" Ryan Nixon (1912-93) is a first lady who has been mostly forgotten. She wasn't glamorous. She didn't undertake any national policy initiatives or draw attention to herself. Her husband, Richard Nixon, remains the only president to resign in disgrace.
But she is the only first lady who was born in Nevada. And that's enough for residents of the eastern Nevada city of Ely, where Pat Nixon lived the first year of her life. They intend to celebrate what would have been her 100th birthday on Friday and Saturday .
"We are just celebrating the first lady, Nevada's only first lady," said Lorraine Clark, a member of the Ely Chamber of Commerce. "I don't think her husband's politics are an issue."
"We haven't had too many famous people from Ely," said Ernie Flangas, a member of the White Pine County Tourism Commission.
MEMORIES OF PAT NIXON
Flangas remembers being a member of the high school marching band and playing "God Bless America" when the Nixons visited in 1952. He later met the Nixons in the White House when he was state Junior Chamber of Commerce president and talking with them about the first lady's birth in Ely.
"She was a very poised first lady," said Flangas, who came up with the idea for her birthday celebration. "She wasn't a front-runner. She always kept two or three steps behind Nixon. She was a president's wife. That was what she preferred."
Nixon herself told a reporter during her husband's presidency that, "I avoid the spectacular."
An exhibit of photos and newspaper clippings about her will be displayed at the White Pine Public Museum. From noon to 4 p.m. Saturday, tours will be conducted of a home similar to the two-room miner's shack where Nixon was born. At 1 p.m. Saturday, a Pat Nixon Centennial Flyer Steam Train ride will be conducted by the Northern Nevada Railway. And at 6 p.m. Saturday, a commemorative dinner will be held at the Bristlecone Convention Center, 150 Sixth St.
Former Baltimore Sun editor Helen Bentley, who was born in Ruth, five miles outside of Ely, will deliver the keynote address. Bentley, now 88, was a 10-year member of the U.S. House of Representatives and served on the U.S. Maritime Commission when Nixon was president.
No other known celebrations are being conducted in Nevada, although Nixon's daughter, Julie Eisenhower, will preside at the opening of a Pat Nixon exhibit at 11 a.m. Friday at the Nixon Presidential Library and Museum in Yorba Linda, Calif.
A portrait of the former first lady hangs permanently in the Governor's Mansion in Carson City.
CONSIDERED 'ONE OF US'
Pat Nixon always acknowledged her birth in Ely, said former state Archivist Guy Rocha, who has done numerous stories and even prepared a film documentary on her life.
But as far as he knows, the only time she returned to Ely was in 1952 with her husband when he campaigned for vice president. In stories about her life, writers only briefly mention Ely, how she and her family moved to Cerritos, Calif., now a heavily populated city between Los Angeles and Anaheim.
Although Pat Nixon was not a showy first lady, Rocha said she surprisingly campaigned in 1970 in Nevada for U.S. Senate candidate Bill Raggio. Raggio, who died at 85 last month, had wanted to run for governor that year, but Richard Nixon encouraged him instead to run for the U.S. Senate in an attempt to knock off longtime Democrat Howard Cannon. Her efforts were in vain as Cannon walloped Raggio.
Rocha said Nevadans considered Pat Nixon "one of us," and her husband won the state in the 1968 and 1972 presidential elections. He lost the 1960 race to John F. Kennedy by only a couple thousand votes.
Her birth certificate showed Thelma Ryan was born at 3:25 a.m. March 16, 1912, in the Ryan family's rented home on Campton Street. Two of her brothers also were born in Ely.
But when she applied for a Social Security card on April 26, 1939, she signed the form as "Patricia Ryan" and listed her birth date as March 17, 1913, and place of birth as "Eli, Nevada." Whoever filled out the form spelled Ely incorrectly.
Her father was an Irish miner named William Ryan who lived four years in Ely, but left in 1913 for Southern California following a year of labor strife in the mines.
Since his daughter was born so close to St. Patrick's Day, Ryan dubbed her "Pat," a name that stuck throughout her life.
She listed her name as "Patricia" on official documents, although she did not legally change her name until the 1980s for tax purposes, according Olivia Anastasiadias, the supervising curator at the Nixon Library and Museum. Following her father's death in 1929, she used "Pat" on school and other documents. She even named her first daughter Patricia, although people remember her by the nickname Tricia.
At one point in her husband's career, the Democratic National Committee even challenged the president about his wife's conflicting birth date and her first name. Nixon's response was, "How silly can the opposition get."
LITTLE TIME TO DREAM
Her mother, Katherine, died when Pat was only 13, and she had to take on domestic duties for the entire family, along with working on the family farm near Los Angeles.
During the 1968 presidential campaign, she told writer Gloria Steinem, "I never had time to think about things like that — who I wanted to be, or who I admired, or to have ideas. I never had time to dream about being anyone else. I had to work."
And she did, as a typist, janitor, movie extra, retail clerk and pharmacy manager. In 1937, she graduated from the University of Southern California and became a high school teacher in Whittier, Calif.
While in Whittier, she became acquainted with young Duke University graduate lawyer Richard Milhous Nixon when the two were cast together in "The Dark Tower" as part of a Whittier community theater group. Nixon asked her to marry him the night of their first date. She held out for a while, but married him on June 20, 1940, in Riverside, Calif. She even shared in the cost of her wedding ring.
"Oh, but you just don't realize how much fun he is. He's just so much fun!" she would say later.
As first lady, she campaigned for volunteerism and traveled extensively, even to combat zones in Vietnam. She came into national attention in 1952 when vice presidential candidate Nixon had to defend himself against charges he kept a $16,000 secret slush fund.
In his famed televised "Checkers speech," Nixon spoke of how Pat was not on anybody's staff like other political wives and instead of a mink coat he was proud she wore a "plain Republican cloth coat." Checkers, the family dog, had been a gift, he acknowledged, a gift he gave to their two daughters, and he intended to keep. The outpouring of support Nixon received from the speech made him a national figure for the rest of his life.
After Nixon left the White House, the couple avoided the limelight. Pat Nixon suffered a stroke in 1976 that resulted in the paralysis of her left side. She would fully recover through rehabilitation.
Although the habit was hidden from the public, Pat Nixon smoked her entire adult life. She suffered from lung cancer and died on June 22, 1993, the day after their 53rd wedding anniversary, at the family home in New Jersey.
She was buried on the grounds of the Nixon Library in Yorba Linda, Calif. Her husband sobbed long and openly during the funeral. Nixon died on April 22, 1994, and was buried next to her.
Contact Capital Bureau Chief Ed Vogel at evogel@reviewjournal.com or 775-687-3901.