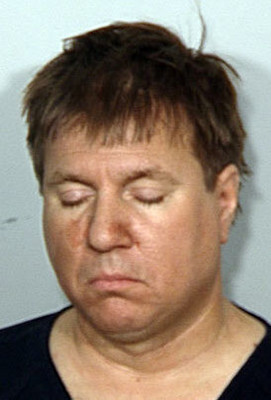 The husband of embattled District Judge Elizabeth Halverson Friday pleaded guilty to beating the suspended judge and will likely spend 3 to 10 years in prison.
Edward Halverson, 49, made an Alford plea to one count of battery with a deadly weapon resulting in substantial bodily harm. In exchange, prosecutors agreed to drop a charge of attempted murder with a deadly weapon.
The Alford plea means Edward Halverson acknowledged that prosecutors could prove their case against him.
On Friday morning he told District Judge David Barker that he didn't remember hitting his wife with a frying pan on Sept. 4 at the couple's home near U.S. Highway 95 and Tropicana Avenue.
"You're honor, I don't have any recollection of the events of that night until I was helping her," he said.
He and Elizabeth Halverson have been married for about 10 years.
Edward Halverson, who has been in the county jail since his arrest in September, appeared in court wearing a navy blue jail uniform and had his hands and feet bound in shackles.
"He knows he's going to prison," said Bita Khamsi, the deputy public defender representing Edward Halverson.
He is scheduled to be sentenced Dec. 12.
Authorities said Edward Halverson struck his wife with a frying pan several times. She was hospitalized for two weeks after the attack and needed more than 100 medical staples to close deep wounds in her head.
News of the attack surprised neighbors at the time of the incident. They described the Halversons as an average couple. Edward Halverson was known as a devoted spouse who helped care for Elizabeth Halverson, who suffers from diabetes, congestive heart failure and the after-effects of cancer. She has difficulty walking and uses oxygen to assist her breathing.
On the night of the incident, the couple was at home discussing dinner plans. Elizabeth Halverson told a grand jury that Edward Halverson was supposed to cook dinner but hadn't by about 10:30 p.m.
She said he was acting strangely and she threatened to call police if he didn't leave her alone. He then came into their bedroom and beat her with the frying pan, she told the grand jury.
Edward Halverson has been arrested at least 10 times in three states, including on charges of possession of cocaine and burglary. He previously served almost four years in prison.
Neither Elizabeth Halverson nor her attorneys could be reached for comment on Friday.
She has been suspended from the bench since July 2007 but has continued to draw her $130,000 salary.
She lost her bid for re-election and is facing a Nevada Judicial Discipline Commission complaint that she mistreated staff, treated a former bailiff like a personal slave, slept on the bench and couldn't adequately conduct trials.
Her attorney conceded in documents that the judge made some errors but never harassed staff or treated her bailiff like a slave.
Elizabeth Halverson is awaiting a decision from the commission, which could bar her from ever sitting as a judge again.
The Associated Press contributed to this report. Contact reporter David Kihara at dkihara@reviewjournal.com or 702-380-1039.