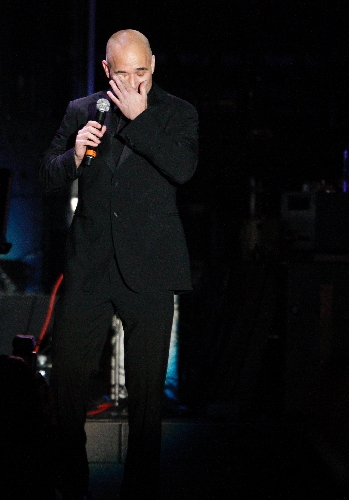 Andre Agassi paid an emotional tribute to Las Vegas gaming pioneer Kirk Kerkorian on Saturday at Agassi's Grand Slam for Children annual megacharity event.
With the 93-year-old Kerkorian in attendance, Agassi singled him out early in the evening's program, which included a surprise appearance by Bill Cosby.
Agassi revealed to the crowd of about 1,500 that Kerkorian "put bread" on the family table during some lean years when his father worked for the original MGM Hotel.
"You called him by his name one day, and he wore it as a badge of honor," Agassi said.
The tennis superstar said his middle name was Kirk in honor of Kerkorian "because you saved my father," Emmanuel "Mike" Agassi.
"I will forever, forever, forever be grateful and I love," Andre Agassi said to Kerkorian.
After his remarks, Agassi"s mother, Elizabeth, approached Kerkorian at his table and said, "We would have never made it without you."
Agassi's brother, Phil, was seen with tears streaming down his face as he thanked Kerkorian.
"When the MGM fire happened (in November 1980) and no one had a job, no one knew Mr. Kerkorian helped us out," Phil Agassi said.
"When our dad had heart surgery in 1995," he said, "Kirk Kerkorian was big on supporting the medical community at the time. We're still waiting for that bill."
Kerkorian, known for his media shyness, was seen leaving his table shortly after being honored.
Organizers said the event raised about $8.5 million, including 450 sponsorship pledges of $2,500 which were matched by the Ralph Engelstad Foundation, which translates into annual scholarships for three quarters of the 600 kids at the Andre Agassi College Preparatory Academy.
That's a half million dollars more than a year ago in a tough economy.
SIGHTINGS
On the red carpet at the Agassi Grand Slam: Agassi and his wife, Steffi, Steve Wynn and Andrea Hissom; Elaine Wynn with daughter Gillian; David Foster, the event's musical director; The Mirage headliner Terry Fator and Taylor Makakoa; Rob Thomas and his wife, Marisol; singer Jason Mraz; The Canadian Tenors; Duke basketball coach Mike Krzyzewski and his wife, Mickie; Carrot Top; the Las Vegas Academy drum line, and "Top Chef" competitor Susur Lee. Also spotted in the crowd: four-time Cy Young Award winner Greg Maddux; Ed Henry, CNN Senior White House correspondent. With Kerkorian, Luxor executive Gene Kilroy. They go back to the late 1960s, when Kerkorian bought MGM movie studios and Kilroy ran the marketing department.
Norm Clarke can be reached at 702-383-0244 or norm@reviewjournal.com. Find additional sightings and more online at www.normclarke.com.