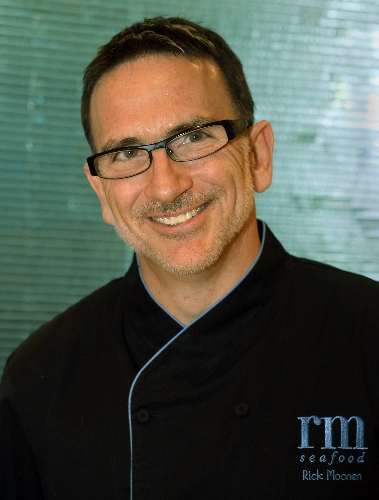 High-end restaurants have been crawling out of recession this year, and some are even hiring anew. But now they're prepping for a new disaster: The seafood market has been spoiled by the oil spill in the Gulf of Mexico.
The Gulf produces shrimp, clams, oysters, crawfish and two huge categories of fish: snapper and grouper.
"The entire ecosystem is going to have to be closed down for human consumption for a while," said Rick Moonen of RM Seafood at Mandalay Bay. "We haven't really felt it yet, but … the price of seafood is definitely going up."
I heard chefs chatting about the seafood situation this weekend at Bon Appetit's Uncork'd — Vegas' annual gluttony of lavish dinners, parties and keen cuisines created by Vegas chefs Joël Robuchon, Pierre Gagnaire, Guy Savoy, Alain Ducasse and the rest of the world's top chefs .
Chefs from Gulf states were noticeably ticked about the oil spill.
"It sucks," said Cat Cora, the Mississippi-raised executive chef for Bon Appetit. "They have the oysters, and the Gulf shrimp, and all that. They're screwed. They're so screwed. They're still trying to recover from the hurricane from five years ago, and now this happens."
Moonen has been preaching for 30 years about "sustainable seafood" — the conservation of ecosystems from overfishing.
"And here we are, during the largest ecological disaster in the history of the world, possibly," Moonen said.
Moonen said a silver lining may appear: If ecosystems close to fishing for years or decades, they will be given a chance to recoup and rebuild such species as the blue-finned tuna, which has been "on the fast track to extinction."
Moonen wants us to eat less tuna, salmon and bass, and eat more seafood that hasn't been overfished.
"There's croakers and all kinds of other fish that are just as delicious and need to be considered," he said. "The customer has to be accepting to new preparations of fish."
Still, every day, Kerry Simon of Simon at Palms Place, reads the shrimp news.
"At brunch, I serve those shrimp," he said.
Like other chefs, Simon seemed more upset by the destruction of nature than by the effect on business. He pledges to help charities.
"But the damage is done," he said. "It's up to our government to police things a little better. Hopefully, we're gonna end up, at some point, with a compassionate government."
If that sounds political for a chef, you ain't just whistling Dixie. Simon never talks politics. But this oil spill has infuriated many. (And me; my New Orleans family survived Katrina for this?)
Fortunately for Strip restaurants, the seafood situation comes after business has "inched up" or even stabilized greatly, chefs told me.
Look at Moonen's RM Seafood. In winter 2009, he closed his upstairs fine dining room, laying off 27 or so, to stay in the black. Then he got a boost from being on Bravo's "Top Chef Masters."
"Business has been tremendous. Being on 'Top Chef' doesn't hurt, I'm not gonna lie. Television equals business," he said.
This past February, he reopened the upstairs dining room with a $65, five-course chef-tasting menu.
Cora said cutting prices is the big trend, as many of us Las Vegans know.
"A lot of chefs are retrofitting their menus to fit … the middle-class budget," she said, "and giving discounts on wine. Instead of marking it up three times, they're marking it up once or twice."
I asked Cora how many millionaire chefs have been operating in the red, rather than cutting back on expenses.
"Not many!" she said.
"If they're anything like me, they have lawyers and agents and press people to pay. So I don't know anybody who can do that."
Some restaurants have been weathering the recession better than others.
"This has been the slowest recession I've ever seen," said chef Carla Pellegrino of Caesars' Rao's.
She thinks the recession has been "much worse" in New York and other cities.
"Vegas is a destination place. So at the end of the day, if you don't have the locals, you have the tourists," she said.
One of those foodie tourists just moved here. Chef Shawn McClain of Aria's Sage came to Vegas from Chicago, where he and business partners are selling a restaurant.
He's feeding a new base of eaters here. When he talks to diners, seven of 10 say they're from Orange County, San Francisco and San Diego, and they never visit Chicago, he said.
So despite closing a restaurant in Chicago, and regardless of the oil spill, moving to Vegas has made him more optimistic, he said.
"I love our clientele and the teams I have back there" in Chicago, he said.
"But when you come out here," he said, "people are having fun. And there's some energy."
That's what we long-term Las Vegans call "a happier place to live." Welcome, McClain. Embrace the shallow. It will serve you well, as long as you serve us well.
Doug Elfman's column appears on Mondays, Tuesdays and Fridays. Contact him at 383-0391 or e-mail him at delfman@reviewjournal.com. He also blogs at reviewjournal.com/elfman.