Employers taxed by new levies
September 6, 2009 - 9:00 pm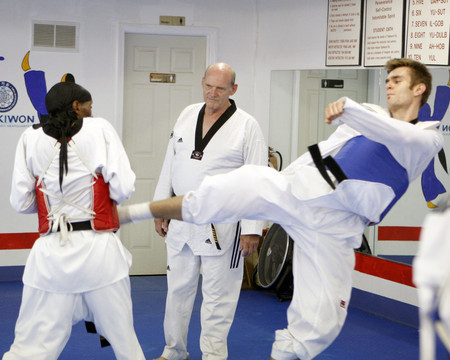 Las Vegas real estate appraiser Ruth Sunday has no more employees.
Sunday's Best Business Services shrank in 2007, letting workers go as housing sales plummeted. Today, the appraisal business is hopping, what with sales surging among foreclosures and other existing homes.
Sunday would like to hire staffers to handle the new business, but she said she can't. The Nevada Legislature nearly doubled the payroll tax on companies with more than $250,000 in annual payroll expenses, raising the levy from 0.63 percent to 1.17 percent of payroll.
Sunday said her only alternative was to bring on self-employed partners in her business, giving them a 1 percent to 5 percent cut of the action.
The Legislature's move makes little sense to Sunday.
"I've never understood why, in an economy when people have no work, when businesses have no clients and aren't earning money and they have to lay people off or cut hours, the government thinks they can get more money by increasing taxes. It does not compute," she said.
It's not computing for a lot of companies these days.
A recent poll commissioned by the Review-Journal found little support among ailing businesses for higher taxes the Legislature passed in the spring. They say they're beginning to raise prices and cut work forces to handle the new levies.
Among the 99 business owners and managers who participated in the survey, 58 percent said they don't support the higher payroll tax.
Another 76 percent said they oppose the Legislature's increase in the annual business license fee, which doubled from $100 to $200.
And 59 percent came out against a sales tax increase, which went from 7.75 percent to 8.1 percent in Clark County.
A third of all respondents said they have tweaked operations to accommodate the new taxes and fees. Among that group, 36 percent have raised their products' prices, 18 percent let workers go and 12 percent implemented a hiring freeze.
Businesses with less than $500,000 a year in sales have especially felt the hiring crunch, with 22 percent terminating workers and 17 percent stopping hiring.
Businesses that raised prices to account for the new taxes did so by 15 percent on average. Those that reduced staff did so by 25 percent. Companies that reduced payroll also did so by 25 percent on average. Those adjustments might not be enough, with 64 percent of poll participants reporting they would need to take additional action in the future.
State Sen. Steven Horsford, D-Las Vegas, helped steer the budget process that resulted in the new taxes. Horsford said he understands the difficult economic times Nevadans are experiencing, but the state's budget shortfall — its largest ever — demanded action.
The Legislature responded with a plan designed to balance the interests of consumers and businesses, and to ensure neither group felt unequal burdens, Horsford said.
For example, while the payroll tax rose for companies with annual payrolls above $250,000, it fell for companies below that threshold. Because 74 percent of Nevada businesses have an annual payroll below $250,000, the vast majority of businesses in the state got tax relief.
Horsford said the recession and its accompanying decline in business incomes began long before any new state taxes emerged. Some of the levies went into effect July 1, while others didn't start until Sept. 1.
It's probably too early to determine how the taxes will impact businesses, Horsford said, and he ascribed the reported changes in operations more to the economy.
Bob Fulkerson, state director of the Progressive Leadership Alliance of Nevada, advocated for the higher taxes. Yet, he won't quarrel with businesses' objections to the taxes or quibble with the economic challenges they face.
What's more important than all that, he said, is where new revenue will go. It's destined for public schools, public safety agencies such as the fire department and construction of infrastructure. All of those functions help the corporate world, Fulkerson said. An educated work force means an improved labor force for companies, and building projects put Nevadans to work and give them disposable income to spend with area businesses.
"We need to realize that we're all in this together. We're going to sink or swim together in this economy," Fulkerson said. "If the alternative is some kind of dog-eat-dog, 'Mad Max' type of society in which it's every man for himself, that would be horrible for business."
Besides, the newest increases come on top of a system already widely regarded as low-tax, Fulkerson said.
The Tax Foundation perennially ranks Nevada as one of the least-taxed states in the country, and a study from the American Legislative Exchange Council said the state has the nation's seventh-lowest tax burden. The council said Nevada has the fewest public employees per 10,000 residents. Publications from Forbes to Money have praised Nevada's low-tax business climate, Fulkerson said.
"Relative to the other 49 states, Nevada businesses have it pretty good," he said.
But it's not only about the taxes, said Michael Alter, president of SurePayroll, an Illinois firm that provides business services to small companies nationwide. The increases are relatively small, but you can't separate out one or two expenses and ask if they're reasonable.
"You have to look at what's going on all over for businesses. There comes a point where you fall over," Alter said. "The concern here is, will this be enough of an additional burden that it causes people not to take the risk of opening a new business or expanding?"
The cumulative effect of higher costs is the key problem for Joe Bennett.
Business at Bennett's World of Taekwondo School has slumped 70 percent compared with a year ago. Though the higher business-license fee consumes just $24 a month, it only adds to a mountain of other expenses such as utilities, Bennett said. Business has been so bad that Bennett will pay this year's license fee out of his personal income, because his company's revenue can't cover it.
Fulkerson said winners of the Nobel Prize in economics have given such business taxes the nod, asserting that boosting levies rather than cutting services is better for a state's economy.
Alter is not hearing it, though. Over the last 20 years, 94 percent of net new jobs in the economy have come from small businesses, not the government. Plus, if a company lets a worker go to cover a boost in the payroll tax, the economy loses more than it gains in new revenue, as the worker no longer has discretionary income to spend on goods that would ring up sales taxes, Alter said.
There's frustration even among survey respondents who haven't had to change their operations for the taxes.
Ron Rollwitz, owner of Northwest Pest Control in Las Vegas, has no employees, so he pays no payroll levy. He provides a service, so his clients don't suffer the bigger sales tax. His business income can more than cover the doubled license fee and the higher registration costs for his work truck. But it's the principle of it, Rollwitz said. His business is down 10 percent, and he doesn't see state and local governments feeling much pain.
"I think everybody should pay some taxes. I understand you can't have a civilized society unless you pay for certain things like roads, police and firefighters," Rollwitz said. "My problem is, we keep getting hit with more and more taxes, and there's an awful lot of waste that's out there. My clients, they're trimming their budgets and I'm trimming mine, but the government never seems to have to trim their budget. They just spend more and more."
Rachel Marcus, owner and director of Summerlin Therapeutic Massage, added: "I am an advocate of helping. I don't mind paying a little more if it helps the whole community; but if they increase taxes, it's kind of nondescript. What are they increasing them for? What are they using the extra money for? And do I, as a taxpayer, have any say in that? I would just like to be assured that the taxes are going to a positive source rather than just down a rabbit hole."
Businesses are looking to save where they can.
On top of not hiring employees, Ruth Sunday has turned to buying as much as she can on the Internet, where sales taxes don't apply on products bought outside Nevada. It's her only option. New laws require her to buy several thousand dollars' worth of appraisal software, and paying the higher sales tax on the computer programs would be "crippling."
Bob Potter, president of local general contractor Affordable Concepts, isn't sure how he'll swing the increased payroll taxes for his staff of 45, but he has asked his employees for suggestions. Whether it's cutting benefits or asking people to take on more work to negate the need for new hires, the company has to make some decisions.
"We certainly need to do something," Potter said. "I don't have an absolute answer. It will probably be a combination of a lot of things."
Contact reporter Jennifer Robison at jrobison @reviewjournal.com or 702-380-4512.
EFFECT OF HIGHER FEES AND TAXES
Precision Opinion of Las Vegas asked 99 business owners, partners and managers for their feedback on increases in payroll taxes, business-license fees, sales taxes and the state's minimum wage. Half of the businesses reported annual revenue below $500,000, and the other half had yearly sales above $500,000. The margin of error is 8 percent. Here are some of the highlights:
65 percent of respondents reported that their business is worse today than it was a year ago. That statistic held true regardless of business size, with 65 percent of those posting less than $500,000 in sales saying times were tougher and 64 percent of those with more than $500,000 in sales asserting the same. But 50 percent of all respondents forecast improved business a year from now. Another 36 percent said they expect their business to decline in the next 12 months.
Businesses overall found the payroll tax to be most burdensome, with 35 percent of respondents citing that levy as their top concern. The business license tax was the top concern for 27 percent of respondents, and the sales tax took No. 1 among 22 percent of survey participants.
Overall, 78 percent of Las Vegas businesses polled feel the Legislature should have looked for other taxes or found other ways, such as cutting the budget, in their efforts to balance the state budget.
Businesses supported Nevada's higher minimum wage, which is $7.55 an hour for businesses that don't provide health insurance for employees. Nationally, the minimum wage is $7.25 an hour. On July 1, the state rate will adjust to $8.25 an hour for companies that don't provide health benefits. But 76 percent of companies said the higher base pay had no effect on their operations. That could be because most businesses already pay more than the minimum wage, said Michael Alter, president of Illinois-based paycheck-servicing company SurePayroll.
LAS VEGAS REVIEW-JOURNAL