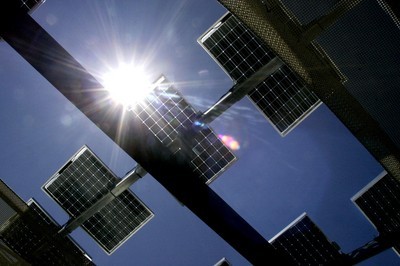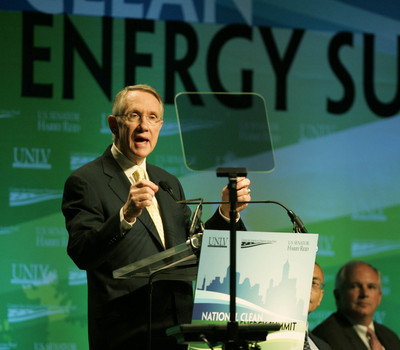 Clean energy will reduce greenhouse gases, protect the environment, create jobs and reduce U.S. dependence on foreign oil. But the federal government needs to lead the way.
That's the message from Senate Majority Leader Harry Reid, D-Nev., and a parade of public and business leaders speaking to 750 attendees at Tuesday's National Clean Energy Summit at the Cox Pavilion at the University of Nevada, Las Vegas.
"The energy situation can't be solved by the private sector, by consumers, and by state and local governments alone," Reid said. "The federal government must be a lead actor in this energy drama."
Oilman T. Boone Pickens, for example, suggested tax credits for renewable energy, such as wind and solar power, would cost taxpayers $15 billion, but he called that insignificant compared with the $700 billion that the nation spends on imported oil every year.
"I'm opposed to one thing, foreign oil," Pickens said.
Government financial assistance is also necessary to help jump start the renewable energy industry, other participants said.
Dan Reicher, director for climate change and energy initiatives at Google.org, told the gathering that renewable energy options will remain "boutique" industries unless their costs are cut to make them competitive with coal and other widely used power sources.
"There's a whole set of factors that go into the ultimate cost of energy," Reicher said after announcing a new plan for Google to invest more than $10 million to develop "enhanced geothermal systems" technology to generate energy from rocks deep below the earth's surface.
"These are all high capital costs projects," Reicher said.
Another area government can help is by funding research, Steven Chu, director of California's Lawrence Berkeley National Laboratory, said later in the day.
As examples, he said, government research funds could help reduce the cost of photovoltaic cells and help create synthetic yeast to make diesel and jet fuel replacements from biomass.
General Electric chief executive Jeff Immelt said in a video that the government and the business community need to move forward with renewable energy projects.
"The technology exists, the time is now," he said. "We need a call to action — not a call to go to another conference."
Pickens said he was calling for bipartisan support for energy policies and urged Republican presidential candidate John McCain and Democratic candidate Barack Obama to take action in the first 100 days of their administration when observers say a newly elected president typically gets the broadest support from Congress.
At the end of the conference, New York City Mayor Michael Bloomberg criticized the presidential candidates for not having a real debate about energy.
"They're treating us to a political silly season," Bloomberg said, not mentioning either candidate by name but citing ideas such as tapping the nation's strategic oil reserve or giving Americans a gas tax holiday.
"The best that can be said about these ideas is that they're pandering," Bloomberg said. "Far worse, they're distractions from the deadly serious business of creating a new national energy policy."
Pickens agrees that the lack of a new national energy policy is a problem. In fact, he compared the country to a boater approaching Niagara Falls without a motor or an oar.
"We are getting very close to a disaster," he said.
As proof, he noted that the country has gone from importing 24 percent of the oil it consumes in 1970 to 70 percent today, Pickens said.
"There is no question we have a (national) security problem importing 70 percent of our oil," Pickens said.
Pickens, who has invested billions in natural gas companies and a project to develop wind farms and transmission lines capable of supplying 20 percent of the nation's energy needs, called for tapping the strong wind resources found between Texas and Canada and the solar power concentrated in the desert Southwest.
As a bridge from oil dependence to clean energy sources, the oilman suggested the nation's trucking industry switch from diesel and gasoline, which are refined from oil, to less costly compressed natural gas, which he said is abundant domestically.
Trucking companies could replace conventional engines with motors that burn natural gas as they replace their fleets every 30 months.
That would reduce our oil import bill by $250 billion yearly within five years, Pickens said.
Jim Owen, a spokesman for the Edison Electric Institute attending the conference, said it would take a long time for the country to build up the number of natural gas refueling stations to make natural gas-powered truck fleets practical. Owen, however, said his group supports calls for tax credits "to jump start" the renewable energy industry.
Reid unsuccessfully tried to win Senate approval of renewable credits eight times, but Owen said he hears that congressional Democrats hope to win passage for green power credits when Congress returns after Labor Day.
The Senate leader said it will take 20 years for the country to increase oil production enough to add "a drop in the global barrel."
Michael Yackira, CEO of Sierra Pacific Resources, outlined several of his company's renewable energy projects but said little about controversial plans to build a $5 billion coal-fired power plant in Ely. Burning coal emits large quantities of carbon dioxide that scientists say leads to global warming.
Owen said the electric power industry believes that energy conservation and renewable energy must be coupled with coal-fired, nuclear and natural gas powered plants in order to satisfy an expected 30 percent increase in power demand nationally by 2030.
Edward Mazria, a founder of Architecture 2030 which promotes energy conservation for buildings to reduce carbon dioxide emissions from power production, took a different perspective.
The supply-side solution, he said, is "no more coal. It's a simple as that. It's the silver bullet."
The crowd applauded.
Other participants at the conference discussed what they are doing to conserve energy and resources and how it is impacting their businesses and states.
Arizona Gov. Janet Napolitano, a Democrat, for instance, said that the Arizona Department of Correction is preparing prison inmates for jobs by training them to install solar panels and then using them to install the panels in prisons.
In the afternoon session, the governors of Utah and Colorado explained converting to more efficient energy use in state buildings and vehicle fleets.
"We must move this whole debate from the abstract to the concrete," Utah Gov. Jon Huntsman said in his keynote address.
Colorado Gov. Bill Ritter said his state's "new energy economy," with the help of tax credits, has created thousands of new jobs in the wind turbine business.
Colorado has also put in place a state climate action plan.
"In this country we have to stop debating the fact of climate change and start debating the rate of climate change," Ritter said.
Jon Wellinghoff, a member of the Federal Energy Regulatory Commission and Nevada's first public utilities consumer advocate, stressed the importance of a "backbone system grid" for renewable energy to tap vast amounts of power from wind energy in the Rocky Mountain states.
Wilderness advocates from Nevada who attended the summit said they want to work closely with energy companies to ensure that development of renewable energy sources doesn't harm wildlife, cultural sites and habitat vital to threatened and endangered species.
"America and Nevada have a unique opportunity to develop our renewable energy industry and associated transmission lines in a way that is smart from the start," said John Tull of the Nevada Wilderness Project.
Contact reporter John G. Edwards at jedwards@reviewjournal.com or 702-383-0420. Review-Journal reporter Keith Rogers and The Associated Press contributed to this report.