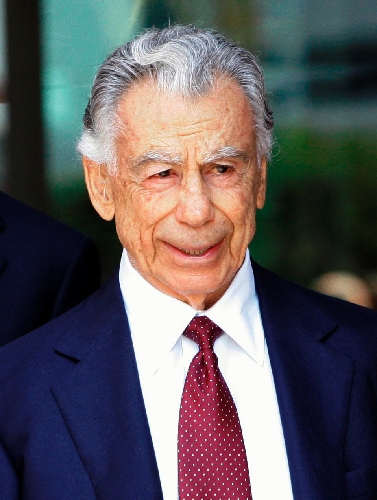 Kirk Kerkorian's engagement announcement last week is raising eyebrows among friends of the 95-year-old billionaire, and his age has nothing to do with it.
What baffled insiders was that Kerkorian took the highly unusual step of going public with the announcement, which was made by a representative from Tracinda, Kerkorian's Beverly Hills-based investment corporation.
The brief emailed statement sent from spokesman Tom Johnson to Review-Journal business writer Howard Stutz read: "At a dinner with friends this weekend, MGM Resorts founder Kirk Kerkorian and longtime friend Lu Beard announced their engagement."
Beard is a well-respected Oklahoma City woman who was married for 31 years to Bill Beard, a wealthy oil and gas executive, before his death last year.
One source said it was completely out of character for Kerkorian to make an engagement announcement unless it was to send a message that he was no longer engaged to Joan Dangerfield, the widow of comedy legend Rodney Dangerfield.
"The Joan thing was over a long time ago," the source said. "That was not a serious relationship. He was with a couple people after her."
What caught the attention of Kerkorian's friends was the claim by Joan Dangerfield in a June video that she was still his fiancée.
That's how she described herself in the elaborate video she apparently had shot when she surprised him on June 6, his 95th birthday, with a flash mob dance performance on the grounds of the Beverly Hills Hotel.
In the video, Dangerfield, 60, is standing in front of a large birthday cake topped with a crown, with a K above it.
"What do you give the father of Las Vegas" who was "a daredevil pilot," she asked.
She is then shown walking Kerkorian to a bungalow. As they are standing outside the door, dancers suddenly come out from behind palm trees and perform to the 1950s song "To Know Him is to Love Him." The video was posted a day later on YouTube.
"Anyone who knows Kirk knows he wouldn't have … allowed that and he would let you know it," one of the sources said. "He's so private he's almost reclusive."
Dangerfield, who formerly ran a flower delivery business when she lived with the comedian at Regency Towers in the Las Vegas Country Club Estates, could not be reached for comment.
THE SCENE AND HEARD
Barbra Streisand's 2007 appearance at the Planet Hollywood Resort opening ran about 40 minutes. It was misstated here in Wednesday's column that it ended quickly because of throat issues.
SIGHTINGS
Marc Anthony, celebrating his 44th birthday early at The Foundation Room nightclub and lounge (Mandalay Bay) on Friday night. He was in town for a stop on his Gigant3s Tour at the Mandalay Bay Events Center. … Comedian Carlos Mencia, having an ostrich burger and a green shake at Greens and Proteins in Henderson on Sunday. … Boxing champ Miguel Cotto, dining at Joe's Stone Crab (Forum Shops at Caesars) with his trainer and friends Saturday after the Saul Alvarez-Josesito Lopez fight. … "Wee" Matt McCarthy, a partner in Beacher's Madhouse, married Ali Chapman at the Chapel of the Flowers on Saturday. They met as cast members in Beacher's Madhouse after it relocated from Las Vegas to the Roosevelt Hotel in Hollywood a couple of years ago. She performs as a mini-Nicki Minaj. Among the attendees: McCarthy's business partner Jeff Beacher, who has been in talks to move Beacher's Madhouse, a theater troupe that features more than 20 little people, back to Las Vegas.
Norm Clarke can be reached at 702-383-0244 or norm@reviewjournal.com. Find additional sightings and more online at www.normclarke.com. Follow Norm on Twitter @Norm_Clarke.