Ensign fundraising dwarfed by legal fees
October 16, 2010 - 11:00 pm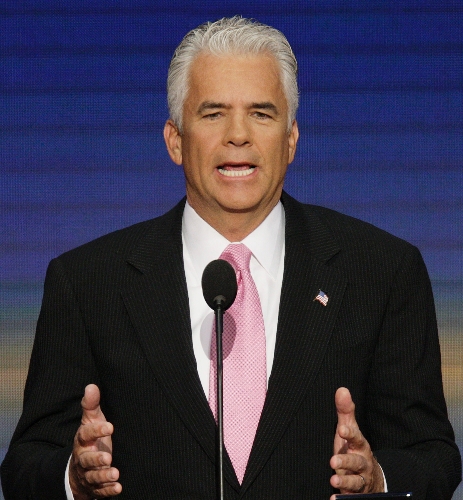 WASHINGTON — Sen. John Ensign raised $18,550 for his campaign fund over the past three months, a paltry sum that was dwarfed by more than $500,000 in legal fees for himself and aides drawn into ongoing investigations of his ethics.
Ensign wrote checks totaling $551,000 to a dozen law firms during the third quarter of the year, including some with high profiles and expensive hourly rates, according to a campaign report filed Friday. Overall, the Nevada Republican spent $700,534 from his campaign account, leaving him with only $280,200 cash in the bank.
At that rate of spending, Ensign's re-election fund could be exhausted by the end of the year, a time he will face tough decisions about seeking another term in 2012, whether or not a Senate ethics probe and a criminal investigation by the Justice Department have been resolved.
"Senator Ensign's focus has been on his constituents and the many town hall meetings that he has held across the state to hear directly from Nevadans on the issues that matter most to them," his spokeswoman, Jennifer Cooper, said in an e-mail. "Fundraising efforts have taken a back seat up until now, but Senator Ensign has every intention of stepping up his fundraising in the coming year."
David Damore, a political science professor at the University of Nevada, Las Vegas, said Ensign "is not in good shape, if he is spending all of what he had built up and has had a tough time raising money, and we don't know the outcome of the legal investigations."
Ensign's dwindling political fund is a consequence of the scandal that involved his relationship with former friends and aides Doug and Cindy Hampton of Las Vegas.
Ensign in June 2009 acknowledged an extramarital relationship with Cindy Hampton, a former bookkeeper for his political organization, that he said encompassed nine months in 2007 and 2008. During a period of that time, Doug Hampton served as the administrative assistant in his Washington office.
The Senate Ethics Committee and the Justice Department are conducting parallel investigations into whether Ensign broke laws or Senate rules in an attempt to cover up the affair.
In addition to hiring three law firms to defend himself against various accusations, Ensign offered to pay the legal fees of aides from his office who have been contacted by investigators for questioning.
No allegations have been raised against Ensign's staff.
The latest disclosures suggest nine assistants have taken Ensign up on his offer, unless some aides have required multiple representation.
Citing privacy reasons, Ensign has declined to identify the staffers, or to say whether his offer was extended to people no longer in his employ.
According to the report, payments were made to a handful of widely known law firms including $25,000 to Covington & Burling LLP; $8,166 to Akin Gump Strauss Hauer & Feld LLP, and $10,327 to DLA Piper LLP.
Former Ensign chief of staff John Lopez, who reportedly received a subpoena late last year from the Senate Ethics Committee, confirmed Friday he is represented by Robert Kelner, a partner at Covington & Burling. He declined to comment further.
Three firms Ensign has acknowledged are representing him — Fish & Richardson PC; Wiley Rein LLP; and Locke Lord Bissell & Liddell — were paid a combined $461,351.
Ensign formed a separate legal trust fund in May and sent out a fundraising letter in August. A report on its activities is due later this fall.
For the period between July 1 and Sept. 30, Ensign reported four donations from individuals, totaling $4,050. Political action committees donated $14,500.
While Ensign has said he plans to kick up his fundraising, College of Southern Nevada professor Mark Peplowski said the senator might find that difficult if he is serious about running for re-election.
"In this day and age, it is ludicrous to think that one in a seat like the Senate can hold off on their fundraising until the final year and a half before they run," Peplowski said. "From the day you are sworn into office, you have to start raising money."
Contact Stephens Washington Bureau Chief Steve Tetreault at stetreault@stephensmedia.com
or 202-783-1760.