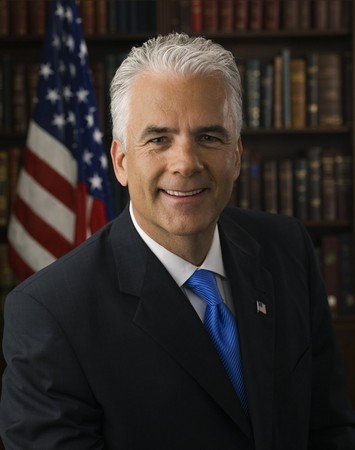 Sen. John Ensign, R-Nev., is still working on health care legislation he first mentioned Aug. 25 during an appearance at the dedication of a shooting range in Las Vegas.
He says the idea is to produce an alternative to the bills coming from majority Democratic members, which he says will be too costly.
Ensign says he envisions health reform similar to a program implemented by Safeway Inc., which reduced health costs as much as 40 percent in part through offering incentives for healthy behavior.
"We know right there, if you can encourage more people to quit smoking and eat right and exercise, you are going to save money," Ensign said last week.
Specifically, he wants to allow insurers to increase the percentage discount they can offer for healthy behavior from 20 percent to 50 percent.
Other measures he wants in a bill include tort reform that would restrict how much money courts could award victims of malpractice for pain and suffering. He says President Barack Obama has given the subject short shrift.
"What he has been trying to do on it is pretty pathetic," Ensign said of Obama.
Ensign says there's not much opposition in Congress to a few elements of reform, such as preventing insurance companies from denying customers with pre-existing conditions or rescinding insurance for people after they're sick.
But when asked if he supported extending insurance coverage to every American, a key goal for Obama and many Democrats, Ensign said, "Should every American get health care insurance? I don't know that our country can afford it."
He added, "There is no honest way to do that. You are either going to run up the deficit or (have) massive tax increases. I don't think the American people are ready for either one of those."
So far, Ensign says he hasn't identified co-sponsors ready to sign onto his proposals. He is hopeful to package his measures into a bill that would be an alternative to majority-sponsored legislation. But he acknowledges they may have to be offered as amendments.
He says the political fallout from an extramarital affair scandal and subsequent payments from his family to the family of the mistress he acknowledged isn't hampering his ability to work in Washington.
"I'm focused on doing my job up here. I have great relationships with my colleagues. I've found absolutely no problems working with my colleagues in any way shape or form."
HECK MAKES PLEDGE
To Heck with taxes.
That's what former state Sen. Joe Heck, now a candidate for governor in the Republican primary, said when he put his Joe Heck on a "taxpayer protection pledge" put forth by a group called Americans for Tax Reform.
Here's what Heck says about the decision on his Web site:
"By signing the pledge, Heck is making a commitment to the people of Nevada that he will not raise taxes. The pledge states that as Nevada's Governor, Heck will 'oppose and veto any and all efforts to increase taxes.'"
The pledge could become an issue in the Republican primary as new-to-the-field candidate Brian Sandoval says he won't sign.
"I've just never been a believer in signing pledges. I'm more than happy to sit down with everyone who wants to talk about those things, and I think anyone who is seeking for me to sign a pledge of any kind once they sit down with me they'll understand perfectly where I'm coming from when it comes to spending and that I'm very fiscally conservative," Sandoval said.
Whether anyone can adhere to the pledge-in-question and balance the state budget without making major cuts to education and other state services is another story.
Asked about the prospects of balancing the budget in 2011 — a $2.4 billion difference between revenue and expenses is now expected — with cuts alone, Jeremy Aguero of the economics research firm Applied Analysis said, "I don't know anyone who would believe that is possible."
Keith Schwer, director for the Center for Business and Economic Development at the University of Nevada, Las Vegas, was more blunt in response to Sandoval's claims he could cut the state's budget into balance.
"How many firemen and how many policeman does he want to fire? How many children are not going to have a teacher in front of them. Those are the decisions that go with that," Schwer said.
He continued by saying voters shouldn't expect campaigning politicians to even acknowledge the tough choices ahead, let alone offer realistic solutions.
"To get elected, prudence is not a word these people are familiar with," he said. "Unfortunately, governors are elected for a short period. The critical secret to economic growth is taking that long term view."
GOVERNOR'S RACE
That didn't take long.
Just days after former federal judge Brian Sandoval announced he was running for governor, the Nevada gubernatorial race became one of the highest-profile state races in the country.
Don't believe it? Ask the folks at Citizens for Responsibility and Ethics in Washington.
The Washington, D.C.,-based group already has dinged Sandoval, a Republican, by calling for him to answer questions about whether he engaged in campaign activity during his term on the federal bench that ended Sept. 15.
"Sandoval has set himself up as an ethics candidate in a race that will get national attention," said Melanie Sloan, executive director for the group, colloquially known as CREW.
An opinion Sandoval sought from the 9th U.S. Circuit Court of Appeals on what campaign related activity a still-serving judge can do restricted him to private consultations with a tight inner circle and no spending of money or polling.
"In other words, your initial foray into discussion of the issue should not involve any public solicitation, inquiry or polling," the opinion from judge Margaret McKeown stated.
CREW cites a caller to their office who said she received a call from a "push poll" that was clearly testing arguments in favor of Sandoval and against potential opponents. CREW also referred to reports of a poll done by the Republican Governors Association.
A spokesman from the Republican Governors Association says the group regularly uses polls to test candidates and even rumored candidates. The spokesman also said the poll that mentioned Sandoval wasn't shared with anyone outside the organization.
Sandoval has said political consultant Pete Ernaut told him results of independent polls, but both Ernaut and Sandoval say they didn't instigate any polling.
"Without any question he had no knowledge or participation in any polls," Ernaut said of Sandoval.
Ernaut also said his discussions with Sandoval were as a friend, the two men have known each other for decades.
"I'm not hired, nor am I going to be hired. I am a longtime friend of Brian's. I'm not going to take a paid role in the campaign at all," Ernaut said.
Sandoval is one of several candidates for governor on the Republican side. Others include former state Sen. Joe Heck, former North Las Vegas Mayor Mike Montandon and incumbent Jim Gibbons. On the Democratic side, Clark County Commissioner Rory Reid is the leading candidate. Reid has a Web site and has raised money but has not formally declared as a candidate in public.
'NO, NO, NO, NO'
Rep. Shelley Berkley, D-Las Vegas, is getting tired of all the publicity congressional Republicans are getting by attacking health reform proposals by emphasizing fears illegal immigrants will glom onto the system.
"This myth that illegal immigrants are covered under this legislation has now reached mythical proportions," she said a few days after Rep. Joe Wilson, R-S.C., interrupted a nationally televised speech by Obama.
"The bill says nothing, nothing that would indicate illegals are covered in some manner or fashion," Berkley said.
She also urged people to put themselves in the shoes of an innocent person seeking urgent health care and being accused of breaking the law.
"It is very insulting when the finger is pointed at you. All of a sudden it is demanded you show your citizenship before you get health care," she said. "What if you can't get your hands on it? What form of identification would be adequate."
She said it's especially exasperating when reform opponents demand the inclusion of restrictive amendments without any intention of ever voting for a bill.
"In general, you can't say no, no, no, no," she said.
Contact reporter Benjamin Spillman at bspillman@reviewjournal.com or 702-477-3861.