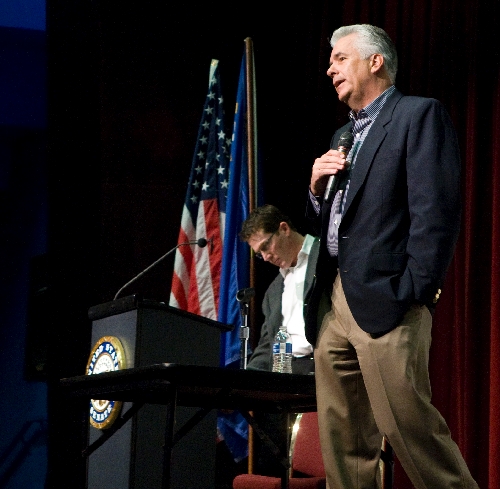 "Have you repented to God for your affair?"
The abrupt question for U.S. Sen. John Ensign elicited gasps and startled "ohs" on Tuesday from a Sun City audience of senior citizens, mostly conservatives who represent the Republican's core supporters.
A staunch Christian, Ensign said he had repented to "my Lord … but also to my family and to anybody else that I hurt."
"It's something I will regret for the rest of my life," he said. "If I could ever take back anything that I've ever done, this is it."
Yet Ensign can't. And the affair the two-term senator had with a former staffer and wife of a close friend continues to shadow his political career, haunting him on the campaign trail 18 months after he publicly confessed.
"I get asked it every once in a while, not very often," he told the town hall after a moderator read the question from a stack of cards submitted by the audience. Ensign said he was warned that the query was coming and decided, "I'm not going to duck it."
In an interview after the meeting, Ensign said he remains determined to run for re-election in 2012 despite deep misgivings from GOP leaders in Washington and Nevada who have said privately that they want Rep. Dean Heller, R-Nev., to run instead. No Republican leaders have expressed that to him, Ensign said: "Nope, nobody's even approached that."
"We are working our rear ends off for re-election," Ensign said, ticking off cities he had just visited in five Nevada counties over five days, including Clark County on Tuesday. "Does that sound like somebody who's not running for re-election?"
Ensign said he has a meeting Friday to discuss fundraising for the 2012 race that he estimated could cost $12 million. In early March, political action committees for telecommunications giants AT&T, Verizon and CTIA are holding an event for him in Washington. There's also an Ensign fundraiser at the National Republican Senatorial Committee headquarters, although the organization is simply lending him the space and is not involved in the effort, according to The Washington Post.
At the end of last year, Ensign had about $220,000 in the bank for his campaign even as he has been raising money separately to pay legal bills. The senator remains under investigation by a Senate ethics panel, but not by the Justice Department.
Ensign acknowledged some GOP jitters because of his personal troubles, but he said he's getting encouragement, too.
"Some people are apparently spooked by it," he said. "But I've had very good feedback from here in Nevada."
Since Friday, the senator has been appearing at Lincoln Day dinners across the state with fellow GOP leaders, including Gov. Brian Sandoval and Heller, who last week released a poll that found he could beat Ensign in a primary by double digits. Reports from people who attended suggested Ensign got a polite but cold welcome while other leaders were warmly received.
"If Dean Heller runs, that's his own business," Ensign said, although Heller has not announced his intentions. "I think Dean's done a good job as a member of Congress, and I said that at every Lincoln Day dinner I did this weekend."
Asked if he thinks he could win re-election, Ensign said, "I would not run if I did not think I could win."
"Experts have written me off before," he added, noting he was called a "sacrificial lamb" before he won a House seat in 1994 when the GOP took control of Congress. "Even my parents didn't think I could win."
The Sun City crowd was largely forgiving of Ensign. Most had come to see him after receiving an e-mail newsletter about the forum. Only about 60 people were in the 312 seats of the Starbright Theatre for the hourlong town hall at 1 p.m.
Ruth Green, 79, sat knitting a green and white sweater as she waited for Ensign to appear on stage to talk about the runaway $14 trillion national debt and criticize President Barack Obama's spending policies.
"I know a lot of people don't like him because of his personal problems," Green said of Ensign. "I don't like that he did it, but he's at least doing things to help us. I get a newsletter from him once a week. I'd sure vote for him again."
Art Mahan, 70, said he was surprised that Ensign got the affair question and thinks he should be forgiven for his mistake.
"I'd rather vote for him than Heller," Mahan said. "He's an old-timer in the Senate and I trust him."
Ensign plans to hold another town hall today in Henderson and on Thursday in Reno.
Democrats are targeting Ensign's seat as the party tries to retain control of the Senate in 2012. Democrats are defending 23 Senate seats in the 2012 elections compared with 10 for Republicans, including Ensign's seat.
Rep. Shelley Berkley, D-Nev., is considering running for Ensign's seat, but national party leaders also are looking at recruiting several other possible contenders who now hold statewide office. Democratic officials have said they believe Berkley will not be challenged in a primary if she runs, but they want to have a Plan B in hand if she decides to stay in the House.
Guy Cecil, executive director of the Democratic Senatorial Campaign Committee, is meeting in Nevada with grass-roots organizers as well as Secretary of State Ross Miller, Treasurer Kate Marshall and Attorney General Catherine Cortez Masto.
"We have complete confidence we will have a top-tier candidate, and we will make sure we allocate resources to Nevada to take back that seat," Democratic Senatorial Campaign Committee Communications Director Eric Schultz said Tuesday, calling Nevada "a top pickup opportunity."
Stephens Washington Bureau Chief Steve Tetreault contributed to this report. Contact Laura Myers at lmyers@reviewjournal.com or 702-387-2919.