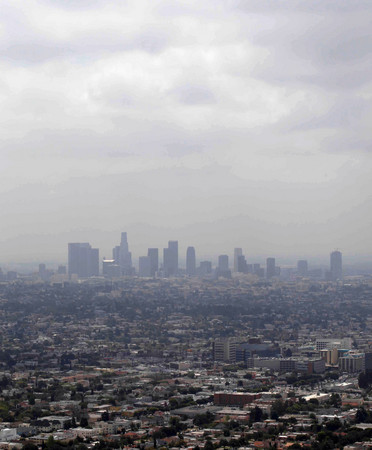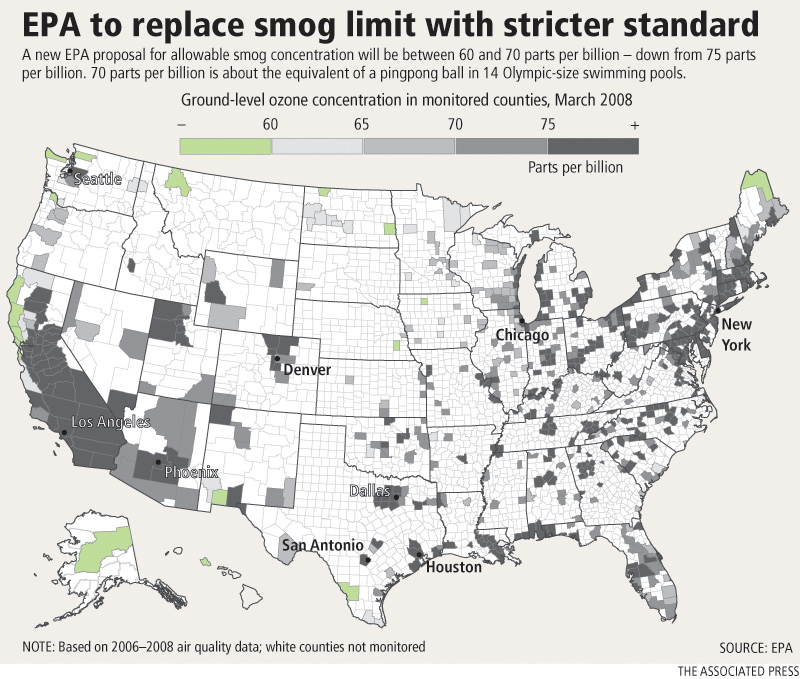 Stricter new air quality standards were proposed Thursday by the Environmental Protection Agency, and Clark County is expected to have a tough time meeting them.
"It's a very tight standard. It will be very difficult to meet," Dennis Ransel, air planning manager for the county's Department of Air Quality and Environmental Management, said about the agency's effort to reduce levels of harmful ground-level ozone, a major component of smog.
At minimum, Clark County in a few years probably will be required to submit a plan to the EPA for reducing ozone pollution that will entail such measures as requiring the sale of cleaner gasoline and boosting its smog-check and voluntary ride-sharing programs.
Failing to comply under a state plan could result in federal management of a more effective plan or loss of federal highway funding in the county and other noncompliant areas in the state, an action that EPA officials previously have said would be remote.
The county faces an uphill battle to curb ozone, considering five out of 13 of its monitoring stations do not meet the current standard that was set in 2008 by the Bush administration amid controversy spurred by scientists who contended it was too lenient.
EPA's proposal is to replace the current 75 parts per billion limit on allowable concentration of ground-level ozone with a more strict standard of between 60 to 70 parts per billion.
For illustration purposes, 70 parts per billion is about the same volume as one pingpong ball in 14 Olympic-size swimming pools.
"Everything in the Las Vegas Valley will exceed the standard, even our (monitoring) site at Jean will exceed it," Ransel said.
After a new EPA smog standard is finalized in about a year, Clark County and hundreds of other areas across the nation are expected to be designated in August 2011 as areas that violate the standard. Then the county will have until 2013 to develop a plan for demonstrating compliance.
Depending on how severe the ozone problem is, the EPA will give Clark County a time frame for compliance. More congested areas such as those in California will have longer periods to demonstrate compliance. "We have less of a way to go to meet the standard," Ransel said.
But he expects state and county officials will try to persuade the EPA to make exceptions for Nevada's ability to comply with the standard when smog from wildfires and pollution sources drifts into the state from Southern California and other areas of the West.
If the final standard turns out to be less than 70 parts per billion, there would be little room for improvement, Ransel said, considering that 40 parts per billion — which amounts to slightly less than two-thirds of ozone standard — can be attributed to volatile organic compounds released by natural sources such as trees and plants in addition to emissions from wild-land fires.
Scientific research shows the compounds from plants and trees are harmless unless they react in the air with nitrogen oxides from man-made sources such as the burning of fuel by motor vehicles and power plants and from some industrial processes.
These compounds and nitrogen oxides in the presence of sunlight create ozone, a summertime pollutant that irritates the lungs and especially affects children, the elderly and people who suffer from asthma and heart and lung diseases.
Nationwide, hundreds of communities far from congested highways and belching smokestacks could join big cities and industrial corridors in violation of the stricter ozone limits.
Costs of compliance could be in the tens of billions of dollars, but the government said the rules would save other billions — as well as lives — in the long run.
The tighter standards, though costly to implement, will save billions of dollars in avoided emergency room visits, premature deaths, and missed work and school days, the EPA said.
"EPA is stepping up to protect Americans from one of the most persistent and widespread pollutants we face," agency administrator Lisa Jackson said. "Using the best science to strengthen these standards is long overdue action that will help millions of Americans breathe easier and live healthier."
Former President George W. Bush personally intervened in the issue after hearing complaints from electric utilities and other affected industries. His EPA standard of 75 parts per billion was stricter than one adopted in 1997 but not as strict as what scientists said was needed to protect public health.
Environmentalists endorsed the new plan. "If EPA follows through, it will mean significantly cleaner air and better health protection," said Frank O'Donnell, president of the advocacy group Clean Air Watch.
EPA estimates meeting the new requirements will cost industry and motorists from $19 billion to as much as $90 billion a year by 2020. The Bush administration had put the cost of meeting its threshold at $7.6 billion to $8.5 billion a year.
With the primary ozone standard for human health, the EPA is proposing a secondary standard to protect the environment, particularly plants and trees that become prone to disease when repeated ozone exposure reduces growth and damages leaves.
Nevada has been able to meet compliance standards when the rules were looser, allowing 80 parts per billion for ozone. From 2004 to 2006 the Silver State was in compliance, with a single violation in 2007.
Michael Elges, chief of the Bureau of Air Pollution Control for the Nevada Division of Environmental Protection, said he wouldn't be able to guess as to what the compliance plan for the primary standard will require or what it will cost to implement.
"I just don't know," he said by phone from Carson City. "It's going to be difficult not only for Clark County, but we're going to have to take a hard look at other areas we're monitoring in Nevada.
Even where ozone is monitored by the National Park Service in a pristine area of White Pine County, levels from natural, background sources are at or near the upper range of the proposed EPA standard, Elges said.
The Associated Press contributed to this report. Contact reporter Keith Rogers at krogers@reviewjournal.com or 702-383-0308.